Parc de la Butte du Chapeau Rouge in Paris

This is a very little known park in Paris, yet offers meandering paths along with other neo-classical features from the 1930s including statues and an ornamental fountain, plus, located on a hill where there were originally quarries, it provides lovely views over the city, has plenty of grass areas for picnics, impressive flora, a childrens playground, water points, and more.


About Parc de la Butte du Chapeau Rouge

Originally, the area where you can find the Parc de la Butte du Chapeau Rouge was a vast network of gypsum quarries, and originally known as the Square de la Butte du Chapeau Rouge, it got its last part of the name from an old tavern that used to be in the area, which translates to Red Hat.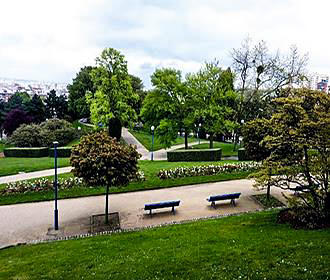 The park was first laid out in 1939 in a neo-classical typical 1930s style by the landscape architect Leon Azema, who original trained as a classical architect and won the Prix de Rome in 1921. And he worked with two other architects, Jacques Carlu and Louis-Hippolyte Boileau to create this park, just as they had all done for the hillside, fountains and features of the Trocadero Gardens for the 1937 World Fair in Paris, when the Palais de Chaillot was inaugurated.

Spread over an area of more than 4.5 hectares, at the lower level of the Parc de la Butte du Chapeau Rouge by one of the entrances on the Boulevard d'Algerie you will be able to discover a fountain that has a cascade style effect, created using brick and concrete like some of the other features in the park. And on the top of this fountain, you can admire a statue called Eve, which was produced by the artist Raymond Couvegne.

From here you climb up this hillside via two sets of stairs or via two long alleys, which are located on either side of the park and its large expanses of grass, that are perfect for relaxation, sunbathing or having a picnic.
There are also two winding paths like spirals that go up to two belvederes, which are basically an architectural feature put in place for viewing points or platforms, and surrounded by groves of trees, these provide lovely views over Paris. Yet there are also other paths that lead even higher up in the Parc de la Butte du Chapeau Rouge to a terrace area where you can get a panoramic view of the city.

But also within one of the grass areas you can discover a statued group called Deux Femmes et un Enfant, which translates in English to Two Women and a Child, and this particular statue in Paris was created by the artist Pierre Traverse.

Now when it comes to flora, you can discover numerous different species of trees including a Weeping Pagoda or Sophora, a Ginkgo Biloba, olive and tulip trees plus many others along with perennials, rhododendrons, bushes and numerous flowerbeds, which are especially beautiful in the spring.

Yet, if you are wondering about keeping children happy at the Parc de la Butte du Chapeau Rouge, then you may be pleased to know that there is a sand pit for the young ones, a childrens playground plus two table tennis tables, not forgetting WiFi access in certain areas of the park.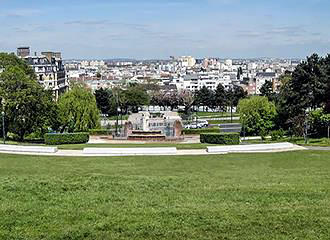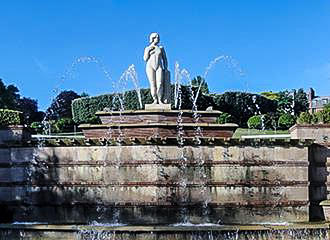 So, as you can tell, this unusual and very little known park has a lot to offer, and never gets as crowded as some of the other parks in Paris like the Parc des Buttes-Chaumont, which is also located in the same area of the city on former quarry ground.


Visiting Parc de la Butte du Chapeau Rouge

As we mentioned before, this is a very little known park in Paris, which is possibly due to its location right on the outskirts of the city in the 19th Arrondissement. And therefore there are not many other tourist attractions very close by, and all would require a bit of walking to get to, unless you are utilising the Velib self service bike scheme.

But it can still be reached easily via public transport in Paris including the Metro station called the Pre-Saint-Gervais stop, serving line 7bis. However, the Tramway line T3b also runs alongside the Parc de la Butte du Chapeau Rouge, and the nearest Tram stations are the Hopital Robert-Debre stop in one direction or going towards the Parc de la Villette you have the Butte du Chapeau Rouge stop.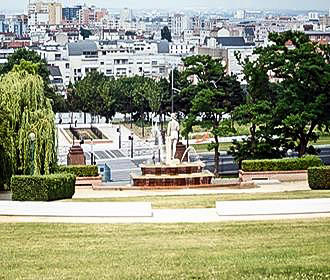 Now this park is normally open from 8am, yet has different closing times depending upon the time of year, and although one entrance is on the Avenue Debidour, there are two other entrances on the Boulevard d'Algerie, one of which, is where you will find the fountain that we spoke about earlier.

And because of the layout of the Parc de la Butte du Chapeau Rouge, not all areas are accessible to the disabled, plus there are two sets of steps within it, and some of the pathways are quite steep, so it is worth bearing these points in mind.

Yet you may be pleased to know that there are public toilets, four different water points, which are like the traditional Wallace fountains, and even WiFi zones, amongst the other features of the park.