La Grande Halle de la Villette

This building was first constructed in the 1800s and having been fully restored it is classed as an historical monument in Paris, that although once a slaughterhouse, is now an entertainment venue for exhibitions, concerts and more, located within the cultural Parc de la Villette.


A bit of history

It all started when Baron Haussmann was reorganising Paris during the Second Empire, and he decided that the Villette area should become home to a cattle market, so in 1858 he instigated the project for the slaughterhouses de la Villette, which would then group all of them together under one roof, which in turn led to this area becoming the largest cattle market in France.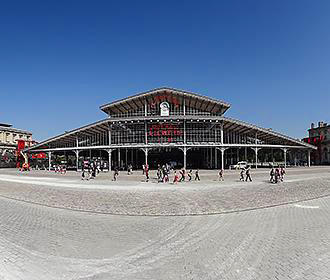 ---
The plan for the abattoirs and the market were devised by the architect Louis Janvier and in 1865, Baron Haussmann commissioned the architect Jules Merindol to come up with the design for the Grande Halle, and the area first open in 1867.

Now the Grande Halle was the centre piece of the project and was made of cast iron and glass, including a glass roof, also the building was open on three sides and had two smaller market halls either side, then in front of the Grande Halle is the impressive Fontaine aux Lions, where cattle used to drink from.

Then in 1923, the slaughterhouses and cattle market needed modernising, with the addition of refrigerators and much needed repair work, and by this time the area had also a nickname by butchers of the Cite du Sang or City of Blood, but by the 1950s much of the slaughterhouse area needed completely reconstructing, including adding a new sales room.

However, by 1970 the slaughterhouse and cattle market operations at La Villette were dwindling due to being insufficient and needing even more modernisation, and by 1974 all operations were ceased, and the 15th March 1974 saw the last cattle pass through the Grande Halle.

And one of the main reasons for this was due to the modern Rungis market being better equipped and from opening in 1969, this site gradually took over from La Villette, although it officially took over as the true meat market in 1973.
From then, the Villette area lay dormant and some old buildings were demolished or used for other purposes, however, the city launched some studies to look into a new planning project for the area that would be a complete urban development for the city and its visitors to enjoy.

But in between then and 1981, the area was used by fairgrounds, exhibitions, for a skate park and La Villette even had concerts organised for well known bands including the Rolling Stones, and fortunately, the Grande Halle was added to the inventory of historical monuments in Paris in 1979, which saved it from being destroyed.

And it was in the July of 1979 that a public establishment was created in order to develop the site into an open city park in Paris, along with providing cultural forms of entertainment such as a museum of science and technology, now known as the Cite des Sciences, and an auditorium for music and dance.


About the Grande Halle de la Villette

Now as we mentioned earlier, La Grande Halle was saved from destruction, and was completely renovated during the start of the 1980s and officially re-inaugurated by the President of the French Republic, Francois Mitterrand, on 5th January 1985, and has now been classed as a National historical monument in France.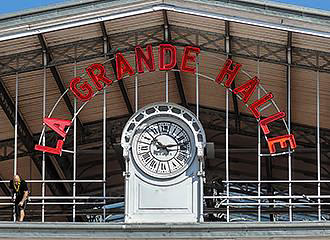 ---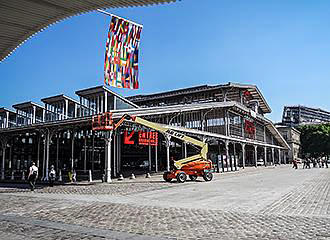 This large building that is constructed of cast iron and glass covers an area of approximately 20,000 metres squared, and the Grande Halle had to have more renovation work undertaken during 1995 through to 1997, yet has now become an icon of the Parc de la Villette, with its unique architecture.

Even though it used to see around 4,500 cattle pass through daily in the height of the cattle market era, today, the Grande Halle is a cultural centre that has a vast, varied and rather eclectic programme ranging from exhibitions through to concerts and other performances, yet still maintaining the originally glass and iron structure with its unusual glass roof.

And under the peristyle you can also find La Petit Halle, which is a cafe and coffee shop that also has a terrace and garden, which is open daily from 10.30am through to 10.30pm.

So, if you fancy a beverage, a quick snack such as a hotdog, burger, pizza or charcuterie board, a Ben and Jerry's ice cream or maybe a speciality beer, cocktail or one of the unusual French wines, then this is a place to relax and enjoy prior to, or after an event taking place here, which has become popular with locals as well as tourists on holiday in Paris.


Visiting La Grande Halle de la Villette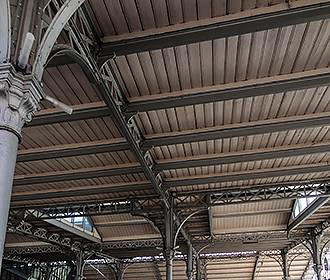 ---
As we mentioned earlier, the Grande Halle now plays host to numerous different exhibitions, concerts, dance and music shows, themed events and much more, with something that will no doubt be of interest to everyone, and you can find out more, plus book tickets directly from their website.

Now when it comes to getting to La Grande Halle cultural venue, you will find this located in the Parc de la Villette in the 19th Arrondissement very close to the southern entrance by the Avenue Jean Jaures, which is where you can find the tourist information centre in one of the Folies and the Fontaine aux Lions de Nubie positioned in the square outside.

As for getting here via public transport in Paris, the nearest Metro station is the Porte de Pantin stop serving line 5, however, this is also a Paris Tramway stop for line T3b, yet the Bus lines 75 and 151 will also get you close by.

There is also another Metro station at the opposite end of the Parc de la Villette close to the Cite des Sciences and The Geode, which is called the Porte de la Villette stop and serves Line 7. In addition to this, there are also the Bus lines 139, 150, 152 and 330 along with the Noctilien Night Bus Service via Lines N13, N41, N42, N45 and N140 that will also get you within walking distance of La Grande Halle.

However, if you are arriving in Paris with your own vehicle, then you may be pleased to know that there is a secure car park open 24 hours a day, 7 days a week that is located under the Cite de la Music, with a pedestrian exit that comes out opposite the fountain, only a few metres walk from the entrance to the Grande Halle, but we would like to point out that there is a height restriction.