Goutu Cafes in Paris

If you are on a tight budget and want something quick to eat at a reasonable price, then you cannot go wrong with the Goutu cafes, which have different locations around Paris and provide sandwiches from €1 and a formula of soup, sandwich and drink for only €8.


About Goutu Cafes and takeaways in Paris

Goutu was first established back in 2009, with the concept of providing reasonably cost snacks that are made to order, and with such a resounding success that followed, there are now several of these cafes in Paris dotted all over the city.
---
From the Parc de la Villette through to the Porte Maillot, and the Jardin du Luxembourg through to the Tour Saint Jacques, the Goutu cafes and takeaways are situated close to these and numerous other well known locations, which means they are ideal for both business people and those on a budget holiday in Paris.


The Cuisine at Goutu in Paris

So with a motto of Eat and Smile, which you can very easily do when you see the prices, Goutu provides three set Formulas called the Menu Decouverte with 2 sandwiches, a drink and dessert or the Menu Soupe, which includes a soup and toppings, sandwich and drink, both for €8 as of 2018. There is also a Menu Fraicheur for €8.50, which consists of a salad, sandwich and drink or dessert.

The soups on offer do change depending upon what fresh ingredients are available, and these could be a leek and potato or cream of mushroom soup for instance, but so do their fresh salads, and the fruit salad for a dessert.
However, Goutu also have on offer some warm toasted sandwiches for those of you that would like something hot instead of a soup, and these even include a hotdog option with mustard, ketchup and crispy onions for only €3 as of 2018.

Yet there are also the standard sandwiches that Goutu offer, which are made to order, but are outstanding value, especially for the city of Paris, and priding themselves on this concept, yet still with good quality, for only €1 you could have a pate and pickle, ham or a cream cheese, cucumber and mint sandwich for example.

For €2 a sandwich at these cafes in Paris could consist of crème of tuna with coleslaw and black olives, crispy chicken tartare with tomatoes and avocado smoothie, cheese tagliatelle with tomato confit, rocket salad and mustard or ham with butter, apple and poppy raisons to name a few.

Yet for €3 as of 2018, the Goutu provides sandwich delights such as prawns with egg mimosa and avocado smoothie, kebab meat with herb sauce, onions, a tartare and crispy salad, or marinated salmon with cream cheese and salad is another.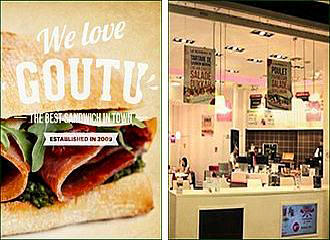 ---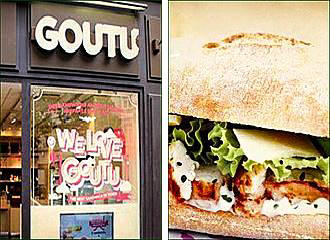 But you could opt for pastrami with onions, rocket salad and mustard, a sandwich with chicken Caesar salad and parmesan, or cheese tagliatelle with bacon, cream cheese and salad, etc.


Addresses and Contact Details
GOUTU Peletier
Goutu
51 Rue le Peletier
75009
Paris

Tel: +33 (0) 9 50 86 99 76

Open Monday to Friday from 10:30am to 3:30pm to eat in or takeaway.


GOUTU St Honore
Goutu
11 Rue du Marche Saint-Honore
75001
Paris

Tel: +33 (0) 9 51 56 41 39

Open Monday to Friday from 10:30am to 3:30pm to eat in or takeaway.


GOUTU Haussmann
Goutu
13-15 Rue Taitbout
75009
Paris

Tel: +33 (0) 9 54 19 37 51

A stylish cafe that can cater for 30 people dining at a time, open from 10:30am through to 3:30pm on a Monday to Friday.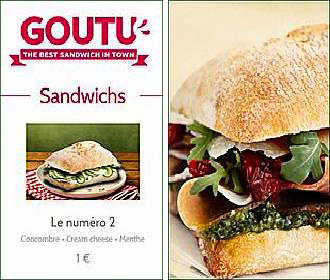 ---
GOUTU La Villette
Goutu
Parc de la Villette
Folie P7
Allee du Zenith
75019
Paris

Tel: +33 (0) 9 52 30 53 54

Spread over two floors along with a terrace with views over the park located in between La Grande Halle and Le Zenith, it is open on a Monday to Friday from 10:30am through to 5:30pm, and seven days a week during summer. Plus it opens during the evenings that concerts and other events are being held in the Parc de la Villette, and spaces can be privatised for birthday parties.


GOUTU Maillot
Goutu
Palais des Congres de Paris
2 Place Porte Maillot
75017
Paris

Tel: +33 (0) 9 53 96 74 12

A warm and friendly space that seats up to 65 people at any one time, this cafe is open seven days a week from 8:30am through to 7:30pm without interruption.


GOUTU Soufflot
Goutu
26 Rue Soufflot
75005
Paris

Located in between the Jardin du Luxembourg and The Pantheon, it is open on a Monday to Saturday from 9:30am through to 7:30pm without interruption.


GOUTU St-Augustin
Goutu
22 Rue St-Augustin
75002
Paris

This has a capacity for up to 50 people dining at any one time and is open on a Monday to Friday from 10:30am through to 3:30pm