Peniche Demoiselle floating entertainment venue in Paris

Located on the Bassin de la Villette from September through to June, this barge provides a range of events from music like folk, pop rock, and French chansons through to dance performances along with exhibitions, shows, yoga sessions and even courses such as learning the tango for instance.


About the Peniche Demoiselle

The Peniche Demoiselle is a floating entertainment and cultural venue on the Canal de l'Ourcq, that is run by an association that puts together numerous different events based upon cultural and artistic values, with live performances of music or dance through to providing workshops and courses, exhibitions and more.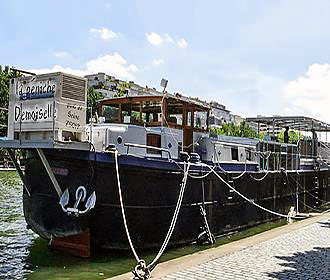 In fact, every year you will be able to discover an unusual programme that includes world music from numerous different genres such as pop rock, French chanson and folk through to exhibitions, concerts, shows and other performances, etc.

Yet there are also more traditional concerts along with the opportunity to not only enjoy watching dancing in different forms, but the Peniche Demoiselle also offer courses and dance lessons, which are available for adults and children for those of you that would like to be able to tango for instance.

There are also yoga classes offered, and during the nice weather are outdoors, yet inside the Peniche Demoiselle when the weather is not being so kind, and these are available throughout the school year, when you feel the need for a bit of relaxation and your own time.
This barge also has a bar, which is open during dance practises and concerts, plus you have the opportunity to purchase the odd few sweet and savoury snacks that they offer. Yet this converted barge is also available to rent for functions such as wedding receptions, parties, seminars, etc, so it is always worth double checking the agenda prior to arriving.


Visiting the Peniche Demoiselle barge and entertainment venue

As we have mentioned before, this floating entertainment venue is only moored on the Bassin de la Villette between the months of September and June, and is close to numerous other tourist attractions in Paris, but we would like to point out that it is not there when the Paris Plages beach event is organised during the summer months.

Concerts, shows and music events vary in cost along with the programming times and days, and as of 2018 could be as little as €2 up to €12 plus, and this is the same scenario for dance lesions and yoga sessions, so you would need to contact them to find out more.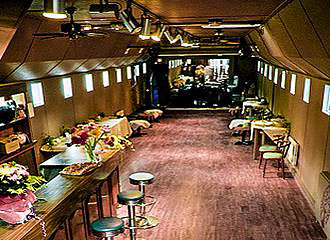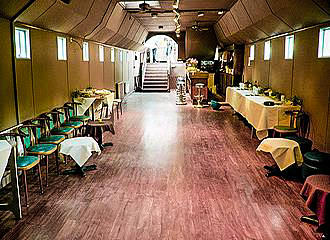 Times of events also vary such as a Salsa evening from 8:30pm through to 2am, or Jam sessions from 7:30pm through to 11:30pm for instance, and their website provides the full programme with costs, although some activities are available during the daytime.

Now when it comes to accessing the Peniche Demoiselle via public transport when it is moored up along Quai de Seine, you will find that the nearest Metro stations are the Riquet stop that serves line 7 or the Stalingrad stop that serves lines 2, 5 and 7.

However the bus lines 54 and 60 will also get you close by, but the bus lines 26 and 48 along with the Noctilien Night Bus Service via lines N13, N41, N42 and N45 are also within walking distance of the Bassin de la Villette and this floating entertainment venue.