The Aux Petits Joueurs Restaurant and Music Venue
NOW CLOSED
A friendly and warm atmosphere awaits you at this restaurant and entertainment venue where you can enjoy live music from numerous different artists and bands, ranging from jazz, latin, rhythm and blues, rock, etc along with traditional French cuisine like you would expect from your grandmothers kitchen.


About Aux Petits Joueurs in Paris

Spread over an area of approximately 300 metres squared, the Aux Petits Joueurs has the concept of a convivial, friendly atmosphere where you can enjoy live music, whilst enjoying a meal with friends or family, which is laid out almost like a bar style with wooden tables and chairs, yet also has an open kitchen, which cannot hide any secrets from its paying guests.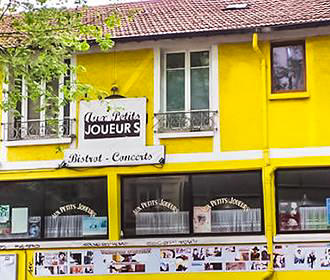 Also, you could choose one of the large tables if there is a group of you, a table for two tucked further out of the way so you can chat comfortably, or be right near the stage so that you can enjoy the full effects of the music and watch the performers, whether it be one of the resident artists or a new talent.

And when it comes to the types of entertainment in Paris that the Aux Petits Joueurs has to offer, you could end up enjoying blues, Jazz, rock, gypsy swing, funk, even brass bands and much more. So with a full programme running virtually every evening all year round, there will be something to cater to virtually all tastes at this music venue.


Cuisine at the Aux Petits Joueurs Restaurant
You will find that the Petits Joueurs provides traditional French cuisine with a seasonal menu along with cold cuts, cheese platters, etc , and with wholesome food that will not break the bank, it will definitely remind you of a home cooking style.

Now one of the things that restaurant in Paris offers is a full Formula, which is only €30 as of 2015 and comes complete with a Kir aperitif, starter, main course, dessert, a quarter of wine and coffee, or alternatively, if you do not want to go the whole hog, you could just opt from their menu selection.

You could opt for a Mature cheese board at €16, a cold cut board at either €8 or €16 for a large platter as of 2015, however the Aux Petits Joueurs, also offers a full menu as well. So a starters could be a warm goats cheese salad, or an Auvergne ham platter for €6 or Chanterelle mushrooms in parsley for €8.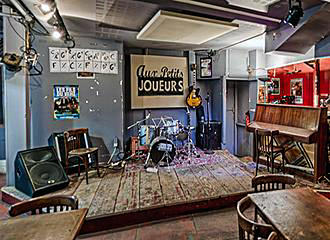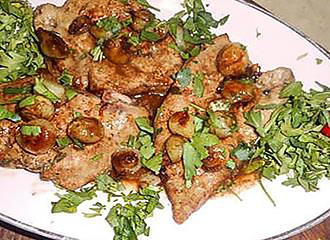 Main courses at €14 could include Duck confit with garlic potatoes, Ricotta Ravioli Porcini, Salmon tartare or an Auvergne omelette with bacon, potatoes and Saint Nectare cheese, but for €18 as of 2015 you could opt for an Entrecote steak, which is a minimum of 300 grams.

Then desserts at the Little Players, which is what we would call this restaurant and music venue in English, could be delights such as chocolate crepes, a traditional French Tarte Tatin, or artisan Italian ice cream in a range of flavours that you can mix and match.


Visiting Aux Petits Joueurs Restaurant and Music Venue

You will find the Aux Petits Joueurs located in the 19th Arrondissement close to the beautiful, yet little known Parc de la Butte du Chapeau Rouge, and it is open on a Tuesday through to a Saturday from 6pm to 2am and food is served from 7.30pm through to 11pm, yet there is a €6 entrance fee as of 2015.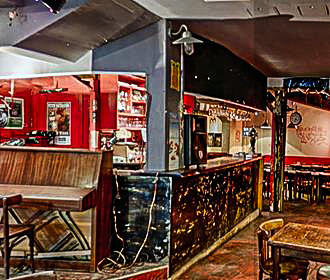 Now when it comes to getting to this restaurant and music venue via public transport in Paris, you will find that the nearest Metro stations are the Pre Saint-Gervais stop serving line 7bis. Alternatively, a little further away you have the Place des Fetes stop serving lines 7bis and 11 or the Porte des Lilas stop that serves lines 3bis and 11 of the Metro along with the Tramway line T3b.

However, the Paris bus lines PC2, PC3, 48 and 75 will also get you close by, and if you are thinking about leaving at closing time, then you would need to utilise a Noctilien night bus, and the Noctilien N12 line leaves from the Port des Lilas.