The Geode Cinema in Paris

The Geode is the most attended cinema in France that not only has a unique structure but also has the largest hemispherical screens in the world showing large format movies, and it is located within the cultural area of the Parc de la Villette, which is also the largest park in Paris and home to other cultural centres such as theatres and the Cite de la Musique.


The construction of the Geode

The Geode is an architectural feat of engineering, which is often classified as a sculpture or an impressive modern landmark in Paris and is a site not to be missed with its perfectly smooth sphere and unique structure.

It was designed and constructed by Adrien Fainsilber and Gerard Fainsilber and took over two years to complete before it was first inaugurated in 1985, and it was Adrien who was also the architect for the Cite des Sciences et de l'Industrie, which is the largest science museum in Europe located opposite the Geode.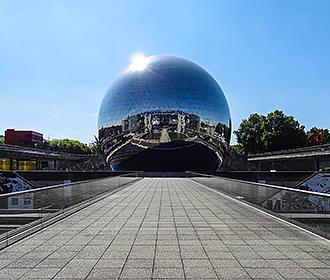 ---
When it comes to some of the technical feats, these are exceedingly impressive and this geodesic sphere is 36 metres in diameter, which make it equivalent to that of a 12 storey building and hence also how it got its name.


Some technical statistics, facts and figures

There is a central pillar of reinforced concrete with its tree structure that approximately 5000 tons of weight, but in additional to this, the frame of this geodesic structure is formed by 2,580 bars of steel tubes.

On the outside there are 6,433 triangles of preformed polished stainless steel, which is what makes the Geode shimmer and act like a mirror reflecting its surroundings. However, due to climate changes each triangle had to be put in place with absolute precision and were assembled 1/10 of a millimetre apart from each other so they work independently, and they can then expand when the temperature rises.

But the interior is just as impressive and the giant hemispherical screen of The Geode measures 1000 metres squared and 26 metres in diameter, which makes it one of the largest screens in the world and covers almost the entire room.
In fact, for Omnimax films, these occupy the whole screen and reach ten 10 times those of a classic cinema, yet when digital images are shown they can also be up to 25 metres wide and as the screen is also curved the picture being shown goes far beyond the field of vision for the viewer, which also provides a unique experience.

Plus for films in 3D, these digital images can be up to 400 metres squared and up to 25 metres wide and since 2007 The Geode has offered movies in 2D and 3D along with high definition video capture of live performances via satellite.

But the facts do not stop there! Incredibly, the projector itself weighs in at over 2 tonnes and provides an immense amount of power with a brightness equivalent to a lighthouse, and if the Geode was opened up, the light could be seen from the moon. Yet because the lamp gets to such an extraordinary temperature, this in itself required a sophisticated air and water cooling system to function.

Yet the sound system is just as impressive and has incredible power of 21,000 watts, which also makes this completely unique in the world, so by discovering The Geode, this will be an experience of a lifetime and one you will never forget.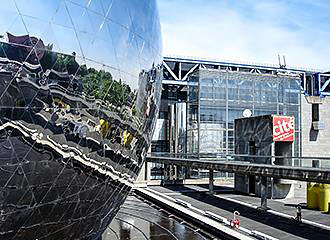 ---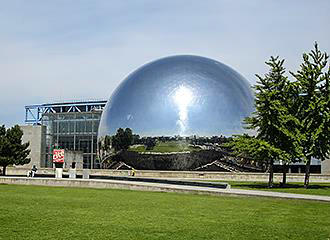 Access to The Geode in Paris

The Geode is open on a Tuesday through to a Sunday with various screenings taking place from 10:30am through to 8:30pm, except for when there are special events, but on a Monday, even though it is open, the times do vary, so it is wise to check prior.

For a standard movie the cost is €12 and a 3D movie is an additional cost of €1.50, however you do need to rent 3D glasses, walthough concessions for certain people are available, but at this stage we would like to point out that children under the age of three are not permitted, and The Geode is not recommended for pregnant woman more than six months expecting.

And although you do not have to purchase a ticket in advance, this is highly recommended for special events, broadcasts and concerts or at busier times such as during school holidays, plus this is also the case if you are disabled, as due to safety reasons there are only a maximum of four wheelchairs allowed per session.

But one major benefit of the Geode is the fact that the majority of films shown do have an English version, but for those that do not, or you require a different language then you can obtain an audio in your chosen language free of charge in exchange for a form of identification that you get back at the end of the film.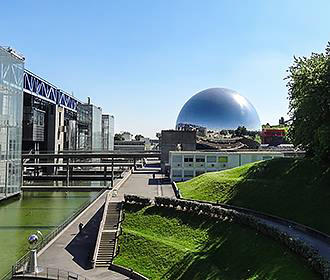 ---
Now we mentioned earlier that it is within the Parc de la Villette, which is in the 19th Arrondissement of Paris behind the Cite des Sciences et de l'Industrie, and it is on the outskirts of the park close to the Canal Saint-Denis and the Porte de la Villette.

The nearest Metro stations are either the Porte de la Villette or the Corentin Cariou stops on line 7, plus there is paid parking available at the Cite des Sciences, which also has dedicated disabled spaces and these can be accessed via Boulevard Macdonald or the Quai de la Charente.

But you can even access The Geode and the Parc de la Villette with its many different tourist attractions via boat with Paris Canal or Canauxrama, along with the Tramway on line T3B.

Another Metro station is located at the opposite end of the park called the Porte de Pantin stop that serves line 5, plus the Bus lines 75, 139, 150,151, 152 and 330 along with the Noctilien Night Bus Service via Lines N13, N41, N42, N45 and N140 will also get you within walking distance of The Geode.

Not forgetting that this is a lovely place to spend a whole day and even enjoy a picnic, listen to some live music, or visit one of the museums, concert venues or exhibition centres that are also located within this popular park in Paris, and if you are feeling fit, you could utilise the Velib self service bike hire scheme where there are four different stations located around the Parc de la Villette.