Le Balcon restaurant in Paris

Le Balcon is a gourmet bistro restaurant designed with a contemporary style that is located within the Philharmonie de Paris and offers panoramic views over the Parc de la Villete, which has an a la carte menu, platters and a bar serving cocktails along with a wide range of French wines.


About Le Balcon Restaurant

Le Balcon translates in English to The Balcony and was designed in a very contemporary style by the architect and designer Frederic Druot, to provide a space that enhances and animates the new concert hall of the Philharmonie de Paris.

The staging of the restaurant has been designed in such a way that there are a total of 180 seats that are located within different areas and spaces, including the main contemporary room, its terrace, the chef's table, at the bar and within private lounges, not forgetting there is a majestic counter and glass kitchen.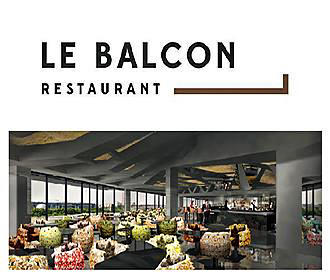 ---
With fluffy upholstered chairs in exceedingly bright colours that provide a complete contrast to the grey tables that have unusual shapes and some tables for two set up in such a way that you both have a view looking out over Paris, this is a popular restaurant for a pre-concert meal.


The cuisine at Le Balcon

The contemporary, yet informal setting was designed to highlight the high end gourmet style bistro cuisine, where the menu follows the seasons utilising fresh ingredients served in typical a la carte portions.

You will find that this restaurant in Paris provides a very limited menu of only approximately four to six choices per course, which was designed this way to make the service more efficient, especially due to the fact that they cater for a lot of people who have booked an evening concert within the Symphonic Hall of the Philharmonie de Paris.

For quick bites you could opt for a Chicken Caesar salad, Quiche of the day, Noodles and sauteed vegetables, a Cheese or Meat platter, or a Mixed Platter for example, which are an approximate cost of around €18.
Now do bear in mind, as we mentioned earlier, the menu is always changing, but some of the items on offer could be starters such as a Rabbit terrine with herbs and coleslaw, Cauliflour soup, goats cheese and saffron, Crab lasagne with Granny Smith apple and avocado, Green Puy lentils with Mascarpone cream, herbs and nuts or Smoked herring and potato served like a sushi with sesame oil juice.

Main dishes, or Plats as they are called in French, could be Saint-Jacques scallops served with a parmesan and marjoram chorizo croute and Jerusalem artichoke puree, Beef casserole like a Bourguinon with carrots, turnips, potatoes, Fillet of sea bass with Deutz champagne, a leek fondue and a light flan of organic carrot, Roast guinea foul with parsley pastille, wild anise, cumin and candied lemon, Cod with mesclun salad, Fillet of beef with sauce of the day and potato gratin for instance.

Desserts could be a Pomegranate panna cotta, Destructured Black Forest cake, Tapioca and hibiscus, Apple custard with four spices, and a caramel ice cream or a Cafe gourmand with an assortment of homemade sweets.

As we said, the cuisine at Le Balcon changes frequently, and therefore these dishes are just as a guide, with an average cost of €14 for a starter, €25 for a main course and €12 for a dessert as of 2018.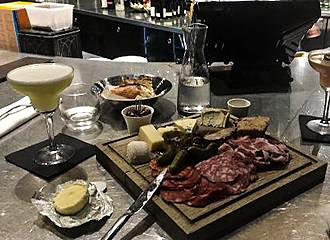 ---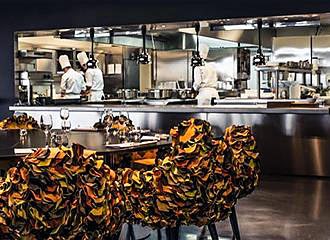 The Bar of Le Balcon

You will find that the bar of The Balcony is imposing, yet fitting with its environment and partly a cocktail bar in Paris the head barman creates different cocktails based on Deutz Champagne, where he mixes his own juices and homemade syrups in different concoctions, plus you can also have a bespoke tailor made cocktail with your favourite drink.

Le Balcon has chosen the House of Deutz, or La Maison Deutz in French, for its signature drink of champagne, which has been running since 1838 and provides fine quality wines with personalities including finesse, vinosity or complexity.

Each cocktail has an original signature so clients of Le Balcon will cherish the freshness of the flavours such as fresh mint leaves, fresh ginger, freshly squeezed juices like lime along with homemade ginger syrup, cane sugar syrup and so on, that could be accompanied by products such as Havana white rum, Absolut vodka, Angostura bitter, the Deutz Champagne and many more to tempt your taste buds.

As well as the signature cocktails, aperitifs such as Kir or whiskies, along with different mineral waters, fruit juices, fizzy drinks, beers and a variety of hot beverages are available at this bar in Paris where you could enjoy a pre-concert drink.

There is also a great range of wines from different regions of France including, white, red and rose, many of which are AOC or AOP and the majority of these can be purchased by the glass, although some are only available by the bottle, not forgetting there are two types of Deutz Champagne available as well.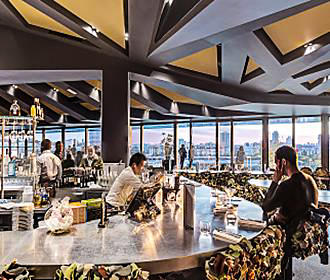 ---
Access to Le Balcon Restaurant and Bar

You will find that Le Balcon is open to the general public as well as for people who have purchased a ticket for one of the concerts, so with this in mind, reservations are highly recommended, which can be done by telephone.

The Balcony restaurant is open on a Tuesday through to a Saturday from 6:30pm, yet it is closed on a Sunday. On a Monday it is also closed, unless there are certain concerts that have been organised. However, when there are no concerts planned at either the Philharmonie de Paris or the Cite de la Musique, we would like to point out that the kitchen closes at 9:30pm.

There are also certain times when this restaurant in Paris has exceptional closures such as between 15th February and 19th in 2018, so it is also advisable to check on their opening hours in order not to be disappointed.

Now when it comes to public transport, you will find that the nearest Metro station is the Porte de Pantin stop serving Line 5, which is located at the southern end of the park close to Cite de la Musique and the Grande Halle.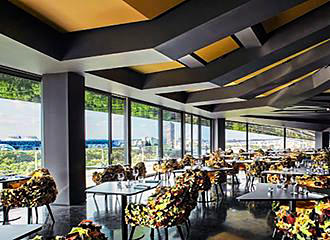 ---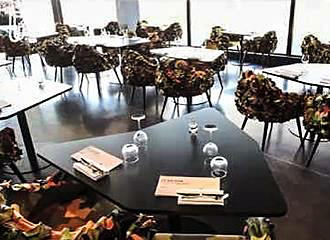 There is also the Tramway serving Line T3B located close by, plus the bus lines Bus Lines 75 and 151 are the closest, although other bus lines 139, 150, 152 and 330 along with the Noctilien Night Bus Service via Lines N13, N41, N42, N45 and N140 will also get you within walking distance of the Parc de la Villette and in the vicinity of Le Balcon. However, there is also a Velib station for the self service bike hire located next to the park at the Avenue Jean Jaures.

For those of you with your own vehicle, you will find that there are several different public car parks with 24 hour surveillance that you can utilise and one of these is located under the Cite de la Musique.

However, there is another called Q-Park Philharmonie, which is located underneath the Philharmonie de Paris and has direct access to this concert venue and Le Balcon gourmet bistro restaurant. Although do bear in mind that there are height restrictions on these, yet they do have dedicated disabled spaces as well.

In addition to these options, you could always enjoy a canal cruise, or even rent your own boat on the canal, and one company offering cruises and even a shuttle service on the Canal de l'Ourcq by the Parc de la Villette during the summer months is Canauxrama.