History of Musee de la Musique in Paris

The first museum dedicated to music opened its doors to the public in the 1800s, however, the Musee de la Musique museum in Paris, which is located in the Parc de la Villette cultural centre only opened its doors in 1997 and has become famous throughout the world.


The beginnings of a music museum

It all started back in 1795 when the Conservatoire National de Musique was first founded and they decided to not only have musical instruments used at the time and those of perfection, but they added an additional collection of ancient and foreign musical instruments.

And although the heritage of musical instruments was one of the missions of the Conservatoire National de Musique, unfortunately the need to teach more people music took over, which was much to the detriment of conservation.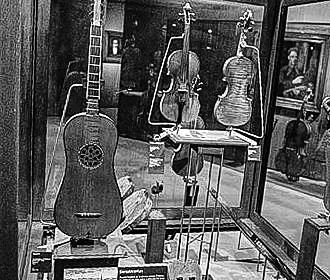 ---
It was not until 1861 that an instrument museum in Paris was finally opened to public when the French state purchased a collection from the composer Louis Clapisson and these were added to the original collection of the Conservatoire National de Musique. However, there are only a few pieces of the original collection that have survived, which include violins, cellos and horns, yet unfortunately, these are all severely damaged.

Important gifts then followed, which enriched the collection dramatically and some of the first notable ones came from Victor Schoelcher in 1872 and from Rajah Sourindo Mohun Tagore in 1879. Another important collection gifted to this museum came from Paul Cesbron in 1934 and then the museum received another collection from Genevieve Thibaut de Chambure, who was the Conservatoire National de Musique curator from 1961 through to 1973.


The beginnings of Musee de la Musique

With the ideas of changing the former cattle markets and abattoirs at the Villette into a cultural centre and park in Paris, which is called the Parc de la Villette, a project was started to build things such as the Cite des Sciences et de l'Industrie, show venues and a Cite de la Musique within this area.
This innovate museographic project is housed in a building designed by Christian de Porzamparc and incorporates two concert halls and a media centre and it was at the planning stage that it was decided to move the music museum into the Cite de la Musique building within this park, and renamed the Musee de la Musique.

Classified as a Musee de France, this museum in Paris was first opened in 1997, and more than just a musical instrument museum, the project has been copied by other music museums throughout the world due to its innovative aspects, such as the sound tour that lets its visitors discover recordings from the collection of instruments held here.

And yet the Musee de la Musique has not stopped there, as there have been numerous additions to the collection, which now totals close to 6,000 objects, that has made it one of the most important collections in the world.

And in fact there are some exceedingly rare musical instruments in the collection, such as a Pleyel Piano dating from the 19th century that belonged to Frederic Chopin, 17th century harpsichords, instruments from the quartet of the Cremona School including a Stradivari and Amati and even one of the harpsichords dating from 1652 is classified as a national treasure.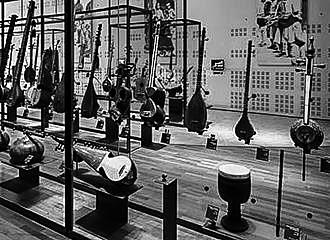 ---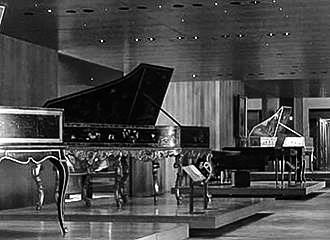 But the Musee de la Musique is still more than just any old museum as one of its objectives is the conservation of musical instruments along with constantly gaining more knowledge old and new, and to this end there is a complete laboratory that has been set up for restoration and to ensure that certain instruments are maintained in playing condition.

Which this also then leads on to a part of the museum that holds concerts with many of the original musical instruments, but there is also a centre for research and they regularly hold meetings and study days for historians and professionals. Yet this also means that the Musee de la Musique is often called upon for support, technical advice and more from other music and instrument museums all over the world, especially since they were also a founding member of the International Commission of Musical Instrument Museums and Collections.

And the Musee de la Music is still continuing to expand and provide the public and budding musicians through to professionals and historians with a greater insight into the world of music from all different perspectives including instruments, the instrument makers such as Sax, music in different cultures like India, composers, musicians and much more.