The Peniche Antipode floating cafe, bar and entertainment venue in Paris

The Peniche Antipode is a converted barge located on the Bassin de la Villette, and run by the Abricadabra company they provide shows for young children along with concerts, cabarets and music events for adults in the evenings, plus there is a bar and cafe providing artisanal and fair trade products at a reasonable cost.


About the Peniche Antipode

The Peniche Antipode first started life in 1942 in Belgium and for almost sixty years this iron barge carried cargo on numerous European canals, before it was stopped being used as a commercial cargo vessel.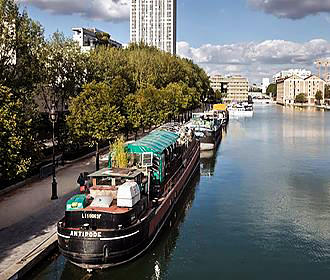 Then came along the Abricadabra, which is a children's theatre company, who decided to renovate the barge and create a second lease of life for it as a cultural venue, which got moored up in Paris on the Bassin de la Villette in 2002.

Since then, this venue for children's entertainment in Paris along with concerts, shows, cabarets and music events held during the evenings for adults has continued to thrive, being just as popular with both locals and tourists, with over 300 events being organised each year.

When it comes to the children's shows, these could be anything from mime to magic and puppet shows through to songs and even comedy acting, which cater for a young audience from around the age of three to eight. Although there are certain performances for slightly older children and even those as young as a year old can enjoy specific events that are organised, and these are always held during an afternoon.

As for the adults, of an evening you can enjoy numerous different concerts organised each year, which vary greatly from Jazz through to Funk and Reggae through to Blues, yet there are also evenings dedicated to theatre performances and even DJ nights are organised, so there is always something different on the agenda.

The Peniche Antipode also pride themselves in being a place dedicated to providing artisanal products, which are those that are hand-made rather than being commercially mass produced, plus they also supply a large range of Fair Trade products.
The bar of the Peniche Antipode

So even at the bar, which is open from midday, providing everything from soft drinks through to numerous different teas and coffee and of course the inevitable alcoholic beverages, you will not find any brand names, on offer, yet a fabulous choice and at a very reasonable cost for a bar in Paris.

Especially when you consider a fruit juice is only €2.50, a hot chocolate is only €3, and one of the numerous varieties of teas is only around €2.50 as of 2018, and we counted around twenty to choose from!

But you also have the alcohol based beverages including cocktails like a Mojito for €5 or €9 for a 40cl, a pint of beer for between €4 and €6.50, wines from €3 a glass and €16 a bottle and even only €40 for a bottle of champagne as of 2018.


The Cuisine at the Antipode Cafe in Paris

Now when it comes to the cuisine at the Peniche Antipode Cafe, you will again find that only artisanal and Fair trade products are utilised, but they carry the same concept of providing good value with ethics including sustainable farming, etc.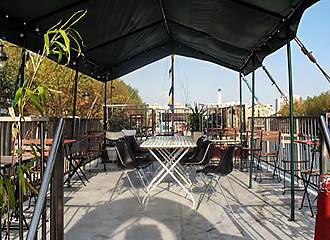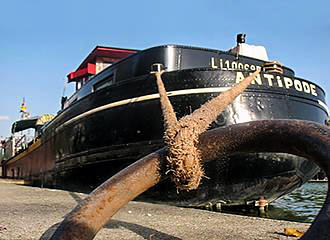 This cafe, or shall we say, floating restaurant in Paris, always has a soup on offer as a starter, which is basically a vegetable soup utilising the vegetables of the season and what is available from their very specific suppliers and this is a cost of €3 for 20cl or €5 for double the quantity called the Grande.

The Antipode Cafe also provide a range of Tostadas, which are €8.50 as of 2018 and these can be accompanied by a soup or a salad for a small amount extra, and the Tostadas could be a Wrap style with breaded chicken and salad with a white or hot mayonnaise or a Wrap style with smoked salmon, avocado, shrimps, peppers, onions, lemon, salad and your choice or white or hot mayonnaise. Yet another choice could be a Sandwich style with ham, basil, tomato, mozzarella, salad and again either with hot or white mayonnaise sauce.

A plate could be a minced chicken masala with chick peas, rice flavoured with tarragon, crudites consisting of tomatoes, cucumbers, carrots and red onions plus a chef sauce that combines tomato, garlic, ginger, yogurt and parsley. Items such as charcuterie or cheese assortments, fried potatoes, sausages, cheese donuts and sardines are also available and range in cost from approximately €4 up to €12 as of 2018.

However, the Peniche Antipode also provides the option of desserts, which are a cost of around €4.50, yet at specific times on set days, which are on a Thursday and Friday evening plus daytime and evening on a Saturday, you could also enjoy tapas at this restaurant and entertainment venue.

The tapas could be very tempting options such as Camembert cheese baked with parsley, prawns with olive oil and spiced, house special guacamole and nachos, chicken skewers or Spanish omelette, but you can also opt for a selection of tapas as well, and these are of course ideal for nibbles and sharing.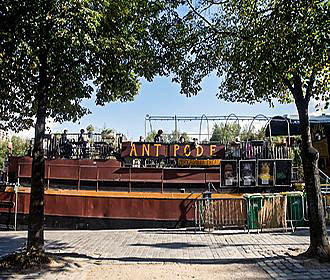 Visiting the Peniche Antipode in Paris

Now as you have already gathered, the Peniche Antipode is located on the Bassin de la Villette in the 19th Arrondissement close to numerous other tourist attractions in Paris, and although the address for accessing the barge is Quai de la Seine, for administration purposes, any post has to be directed to Cie Abricadabra, 94 bis, Quai de la Loire, 75019, Paris.

You can reserve your place and book tickets for one of the shows by telephone on +33 (0) 1 42 03 39 07 between the hours of 10am and 7pm on a Monday to Friday, and some of the concerts do have to be booked in advance, whereas others do not, but you are requested to arrive at least 15 minutes prior to a show or concert starting.

The Peniche Antipode bar in Paris is open daily from midday through to 2am, and the Antipode cafe is open on weekdays from midday through to 2.30pm and then from 7pm through to 11pm, whereas at a weekend the lunchtime service is extended from noon until 4pm and evening service remains the same times.

No reservations are required to enjoy a meal at this floating cafe in Paris unless you are going to be arriving in a large group of ten plus people, and then you would need to book by mobile telephone on +33 (0) 6 69 09 55 10, although being such a popular venue, in general reservations are recommended.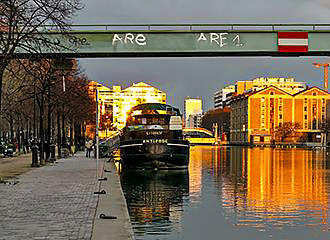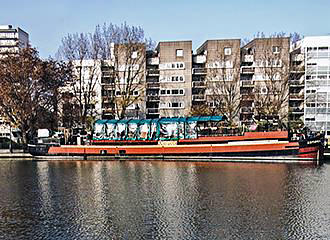 However, we would like to also point out that the tapas option we mentioned above is only served in the evening on a Thursday through to a Saturday and tapas is also available at lunchtime on a Saturday.


Access to the Peniche Antipode

When it comes to getting to this cafe and entertainment venue via public transport in Paris, the nearest Metro stations are the Riquet stop via line 7 or the Jaures stop via lines 2 and 5.

The bus lines 54 and 60 will also get you close to this unique venue run by the Abricadabra company, however a little further walk away and you have the Metro station called the Stalingrad stop serving lines 2, 5 and 7 along with the bus lines 26 and 48.

There is also the option of the Noctilien Night Bus Service if you are leaving the Peniche Antipode late when the day buses and Metro are not running, and you would require the lines N13, N41, N42 and N45.
Address and contact details
Peniche Antipode, Bassin de la Villette, 55 Quai de la Seine, 75019, Paris, Ile de France, France

Show Reservations:
Tel: +33 (0) 1 42 03 39 07
Restaurant Reservations:
Mobile: +33 (0) 6 69 09 55 10


Related information
Bassin de la Villette
Canal de l'Ourcq
Attractions at Bassin de la Villette
Passerelle de la Moselle
Pont Levant de la Rue de Crimee
La Rotonde de la Villette
Grand Masrche Satalingrad
Place de la Bataille de Stalingrad
La Peniche Opera
Peniche Demoiselle
Belushi's bar
Cafezoide Childrens Cafe
Le Bastringue Brasserie
Paris Plage
Pleasure boat cruises
Canauxrama
Paris Canal
Marin d'Eau Douce
Transport options
Paris Metro lines 2, 5, , 7, 7b
Bus line 26
Bus line 48
Bus line 54
Bus line 60
Bus lines 82, 87
Night bus line N13
Night bus lines N41, N42, N45
Attractions close by
Canal Saint-Martin
Square Marcel Mouloudji
Point Ephemere Cultural Centre
Parc de la Villette
Geode Cinema
Cite des Sciences et de l'Industrie
Grande Halle de la Villette
Le Centquatre cultural arts centre
Bizz'Art Restaurant
Parc de la Butte du Chapeau Rouge
Aux Petits Joueurs Restaurant
Square Frederic Lemaitre