Point Ephemere Cultural Centre in Paris

Point Ephemere is located in an old brick warehouse right by the Canal Saint-Martin and has been transformed into a cultural space with an industrial style design where you can enjoy a bar and fast food restaurant, concerts, exhibitions, shows, DJ clubbing nights, workshops, dance lessons, etc.


A bit of history

The building itself, originally known as Point P, was an industrial warehouse located on an industrial quay of the Canal Saint-Martin and was first opened back in 1922 in an art deco style.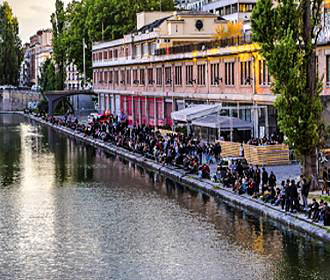 At one point, this building was even equipped with a ballroom and a playground that the entrepreneur Suchet installed in order to keep his employees even happier, however, over the years the Canal Saint-Martin went into decline and the trade vessels ceased using the canal and warehouses, so they became derelict.

However, with the City of Paris renovating areas such as the Bassin de la Villette and designing the Parc de la Villette, along with turning the Port de l'Arsenal into a leisure marina, the Canal Saint-martin started to become a popular tourist attraction for pleasure craft, which also meant that many of the buildings started to become renovated.

And this is exactly what happened with Point P, where it had once been utilised as a construction material store, the 1400 metres squared area was renovated into a cultural centre for the arts that opened on 13th October 2004.
About Pont Ephemere Cultural Arts Centre

There are specific artists spaces for residents at the venue, which include a dance studio, four artists studios and five music rehearsal studios, not forgetting that there is an exhibition space, a concert hall, a bar and restaurant, etc.

The resident artists are only there for six months and are chosen by a committee of professionals from each of the disciplines including music and dance, and you will find that many of the performances they put on for the public are completely free to see.

Art exhibitions from the resident artists are also able to be viewed for free at Point Ephemere, however, there are concerts and other themed nights that you can enjoy, just like a Brazilian night, but there is a charge for these, and these range in cost from around €15 to €20 as of 2015.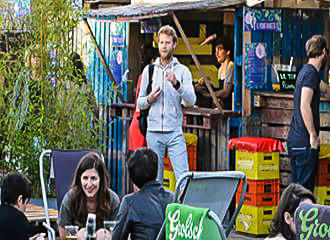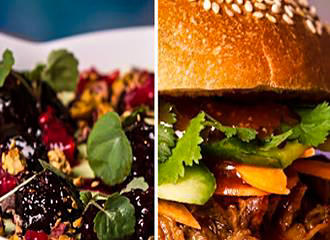 Also bearing in mind that this is a cultural centre, workshops, discussions, conferences and lectures are also on the agenda, along with music and dance lessons, and even art classes are sometimes available, although these all do have to be booked in advance.

Plus there is a restaurant for fast food, known as the Thai Street Food along with a bar, which are run by the association who founded Point Ephemere, and there is a lunchtime formula of a starter and main course for only €10 or €12 for the evening formula. But there are also hot dogs, French fries, a club sandwich, salads, etc that are also available at a very reasonable cost, yet on a Sunday, they provide a buffet from 1pm to 4pm, which is a cost of €18 as of 2015.


Visiting Point Ephemere Cultural Centre in Paris

Now as we have mentioned before, you will find Point Ephemere located on a quay on the bank of the Canal Saint-Martin within the 10th Arrondissement close to the Bassin de la Villette and numerous other tourist attractions in Paris.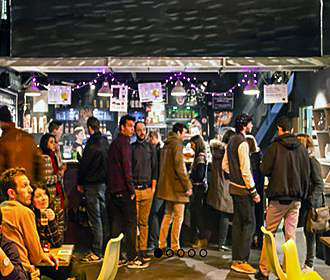 The bar is open on a Monday to Saturday from midday through to 2am and on a Sunday from midday through to 9pm, however the Fast Food - Thai Street Food restaurant is open daily from midday through to 11pm. But the formulas are only available from 12.30pm to 3pm and then from 7pm until closing, and the service for thiis is via the bar.

The shows and performances held in the dance studio are completely free of charge to attend, although we would like to point out that you must book in advance via telephone on +33 (0) 1 40 34 02 48.

These along with art exhibitions and concerts are held at different times and on different days to provide a very varied programming schedule, and tickets for concerts or themed nights are always on sale prior to the event by contacting Point Ephemere, and not normally available on the day, so it is wise to check prior to turning up.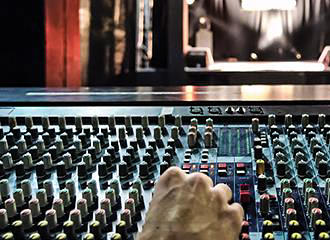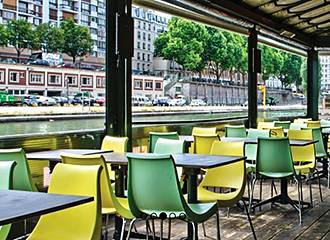 And as for getting to this cultural venue via the public transport in Paris, you will find that the nearest Metro stations are the Jaures stop via lines 2 and 5 or the Louis Blanc stop via line 7, however, the bus numbers 26, 46, 48 and 54 will also get you close by.