Grand Marche Stalingrad - La Rotonde

Having been renovated and restored La Rotonde opened as a restaurant in 2007, yet has since been redesigned again and classed as a cultural place, it is now called the Grand Marche Stalingrad - La Rotonde, which has several different food and drink areas including a restaurant, boutiques, an art gallery and the Miniclub for partying until dawn.


A quick bit of history

When you look back at the history of La Rotonde, you will find that this was constructed as part of the Wall of the Farmers General as offices for collecting taxes on goods entering Paris.

Eventually this impressive building went into disrepair, but classified as an historical monument this was fully restored and renovated, with the interior being designed by Renaud Barillet who was the founder of Cultplace factory, in order to open up the La Rotonde brasserie and restaurant, which also had one of the largest landscaped patio terraces in Paris.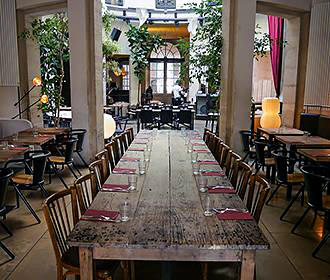 La Rotonde has continued to evolve over time, and has been undergoing a complete transformation, so this brasserie closed in order to reopen as the Grand Marche Stalingrad - La Rotonde, which is based upon the idea of appealing to lovers of design and culinary pleasures.


About the Grand Marche Stalingrad - La Rotonde

The Grand Marche Stalingrad translates in English to the Great Market Stalingrad and is named after the area and square where it is located at the Place de la Bataille de Stalingrad, which is still evolving even today.

The concept was to bring different aspects of culture together, which includes restaurants and bars providing a wide choice of cuisine at varying costs, boutiques including one specialising in Japanese and unusual plants, another as a concept store offering old and new objects, plus an art gallery and music events including a nightcub called the Miniclub.

Different events are hosted throughout the year including waterfront markets, which feature themes on countries from around the world that are normally held on a Tuesday or Saturday, plus there are exhibitions and in keeping with La Rotonde as is was, there are still the Record event days with old vinyl records you can purchase.
In fact, talking of purchasing different items, you can obtain what is classed as an Object Menu for both the atrium that is home to the Trattoria restaurant and for Le Refuge. Virtually everything you see within the Grand Marche Stalingrad - La Rotonde is actually for sale, even down to your cutlery, tables, mirrors, lights and much, much more, which is a very unusual aspect with prices ranging from €5 up to around €10,000.


Food and Drink at the Grand Marche Stalingrad - La Rotonde

There are actually a total of five different options for food and drink at the Grand Marche Stalingrad depending if you wish to enjoy a quick snack or full meal, and all vary in cost and are open at various times.


Trattoria

This is a gourmet restaurant with a relaxed atmosphere providing Italian cuisine, but with an unusual Corsican influence that goes back to the roots of the head chef, so you could experience Antipasti such as a cheese and charcuterie assortment for Corsica and Italy or a salad for instance.

Main dishes could be a cannelloni, ravioli or lasagne dish, but there are also meat and fish dishes like veal with San Marzano tomato sauce, carrots, large onions and pasta or Fish of the day, according to our friend of the local fish market, served with grilled vegetables.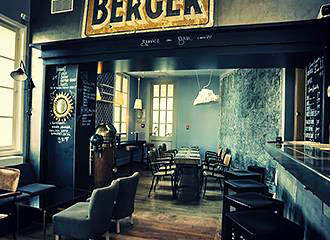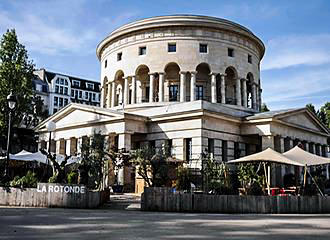 There are also a wide variety of handmade pizzas cooked within a traditional wood oven, which are available including a Vegetarian option, a Vegan option and many others with different meats or fish plus the classic and authentic Margherita.

You will find the Trattoria can seat approximately 100 people at any one time within the airy atrium area of the rotunda, which is open every day from 9am through to 1am with continuous service. However, we would like to point out that only pizzas are available on a Monday.


Le Refuge

You will find that The Refuge has a large counter and bar with vintage decor that provides the feelings of an intimate and warm atmosphere where you can enjoy a drink, which includes a wide selection of cocktails.

The iconic bar is a great place for socialising with friends or colleagues along with enjoying the tapas to accompany your drink, which includes delights such as a tapenade, grilled porcetta, focaccia, a selection of cheeses and charcuterie plus marinated vegetables and many others.

You will find that Le Refuge within the Grand Marche Stalingrad - Le Rotonde is open on a Wednesday through to a Saturday from 6pm through to 2am.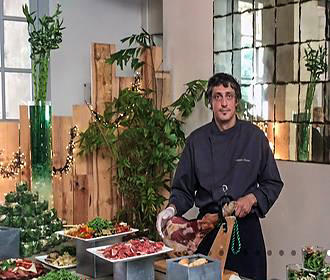 La Serre Stalingrad

When translated to English the name of this venue within the Grand Marche Stalingrad is The Greenhouse Stalingrad that is basically a drink and snack venue, which opens up onto a fantastic terrace, although now covered and heated in winter, it has become an all year round venue, rather than just a summer haunt.

With a large counter and cosy furniture you can enjoy things such a mulled wine even if it is not the festive season, and snacks also available all year round consist of items such as sweet or savoury crepes, waffles, churros, baked potatoes and burgers, plus there are oysters when these are available.

You will find that La Serre Stalingrad is open on a Tuesday through to Friday from 6pm to midnight, yet on a Saturday and Sunday it is open from 4pm through to midnight, although this snack bar in Paris is always closed on a Monday.


The Kiosques of The Terrasse

Spelt kiosk in English but kiosque in French, these are permanent wooden hut style kiosks that are located within the enormous terrace of the Grand Marche Stalingrad, which offer a convivial and friendly atmosphere for a variety of different drinks and food.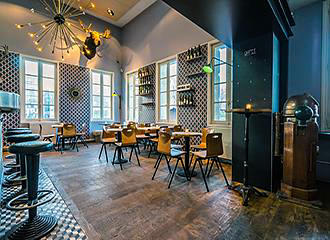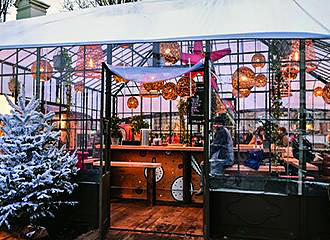 To start with you have Le Jardin, which provides fresh drinks, craft beers, wine and cocktails along with a small selection of freshly cooked pizzas.

Then you have Zarma, which is a Greek style snack eatery offering kebabs, with even a vegetarian option available that can be accompanied by French fries or corn on the cob when available.

The terrace and these snack kiosks are open on a Tuesday to Friday from 4pm through to 10pm, whereas on a Saturday and Sunday they are open from 2pm through to 10pm, but are also close on a Monday, which is the same scenario for many fast food outlets and restaurants in Paris.


Miniclub Nightclub at the Grand Marche Stalingrad

However, if you fancy dancing the night away after having had a few drinks or cocktails at Le Refuge, then the Miniclub could be the perfect place, which provides a programme of different groups along with up and coming DJs.

You will find that the Miniclub is open every weekend, although there are often groups organised on a Thursday as well, and opening its doors at midnight, it does not close until 6am in the morning, with an entrance fee of €6 as of 2018.


Boutiques and Gallery at the Grand Marche Stalingrad

An intriguing place, just like a bazaar or covered market, the concept of the Grand Marche Stalingrad was to provide different areas that would mix cultural aspects with pleasures that the majority of people could enjoy through experiencing things such as shopping and art, along with food, drink and entertainment as we have mentioned above.

To start with, there is a concept store with many curiosities available to purchase from old and new, shabby chic, contemporary and old fashioned period pieces.

There is also PikaPlant, which is an usual concept of keeping plants through a self watering system, making these perfect for those that do not have green fingers such as the Jar, where a plant, like a coffee plant is within a jar and has its own sustainable eco-system that is small enough to be placed on a side board or your work desk.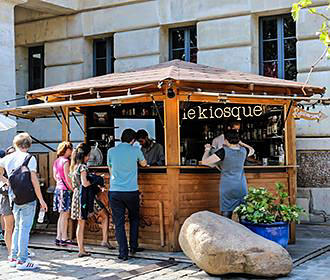 You could also opt for a shelving system of plants called the PikaPlant One that is also self watering and great as a display or even room divider, with some of the houseplants that help with regulating humidity and removal of toxins from the environment.

Yet another concept is the PikaPlant Tableau, which is also a self watering system utilising a tray for fresh herbs or floral houseplants that has a wet and dry cycle for the plants, just as nature intended without the use of electricity.

Now when it comes to the gallery, temporary exhibitions are held on different themes from up and coming artists such as one that was called Rhizomes of the Living and the gallery is normally open between 2pm and 7pm on a Monday to Friday.

Alongside these art exhibitions where the works can be purchased, you can also sometimes enjoy workshops that are organised with some of the artists that are involved with the theme of the time, which are normally held on a Friday or Saturday.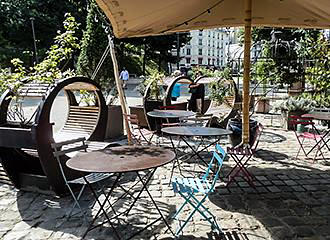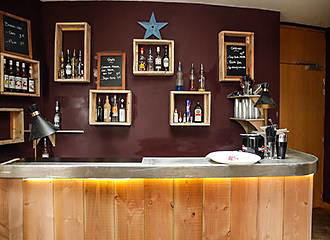 Access to the Grand Marche Stalingrad - La Rotonde

Each of the different restaurants, bars and kiosks along with the Miniclub night club, the boutiques and gallery at the Grand Marche Stalingrad all have different opening times, which are mentioned above, but even when it is not open, La Rotonde historical monument is still well worth seeing if you are in the area.

Talking of area, you will find The Rotunda and the Great Stalingrad Market are located in the 19th Arrondissement of Paris at the Place de la Bataille de Stalingrad by the Bassin de la Villette.

So when it comes to getting here via public transport, the nearest Metro station is the Stalingrad stop serving lines 2, 5 and 7, although there is the Jaures stop and the Riquet stop a little further walk away in the direction of the Canal de l'Ourcq and the Parc de la Villette.

Alternatively, the Bus Lines 26, 48, 54 and 60 will get you within walking distance, not forgetting the Noctilien, which is the Night Bus Service that runs when other transport such as the Metro has stopped for the night and to utilise this service you would need the Noctilien Lines N13, N41, N42 and N45.