Marin d'Eau Douce boat rental in Paris

Rather than going on one of the sightseeing cruises on the River Seine or the canals in a large boat with one of the tour companies, you now have the opportunity to navigate the Canal de l'Ourcq on your own with your family or friends in a small electric boat that can accommodate up to a maximum of 11 people where you can travel along the canal and stop at your own leisure to have a picnic.


About Marin d'Eau Douce boat rental

The company provide electric freshwater marine boats that have been manufactured by a shipyard in Nantes, France, that have a long standing of reliability along with aesthetically pleasing features for a please trip with family or friends.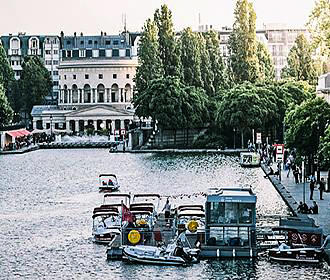 And with no noise or pollution from the engines along with three different sizes of boat to choose from, one of the main features is that you do not need a licence to navigate one of these along the canal, so you can be your own captain for the duration of your experience.

The smallest boat within the Marin d'Eau Douce fleet is call the Ace that can accommodate up to a maximum of 5 people, whereas the Scoop can accommodate up to a maximum of 7 people, and you have the option of requesting a table added, so that you can enjoy a drink and food onboard.

However, the flagship boat known as The Most, can accommodate up to a maximum of 11 people, yet can still be controlled as easily as the Ace or Scoop, and this has an ideal layout for enjoying appetisers, lounging around, parties, etc.
All of the boats are safety checked, have lifejackets available, which are compulsory for children under the age of 16, and sufficient power for the duration of your journey, plus as another safety feature, they can only travel at a maximum of 8km an hour.

Also, when you first arrive, you do get a safety briefing plus initiation so that you know how to manoeuvre the boat you have opted for. You learn the basic rules required for navigating the Bassin de la Villette and the Pont de la Rue de Crimee through to the Canal de l'Ourcq, along with mooring, if you wish to stop on the side of a bank for a picnic etc.


Accessing Marin d'Eau Douce in Paris

The Marin d'Eau Douce offer the option of a 1 hour, 2 hour, 3 hour, or a half day boat rental in Paris, which is classed as 4 hours, and these are available for all the different sizes of freshwater marine boats, ranging in cost from €40 up to €220.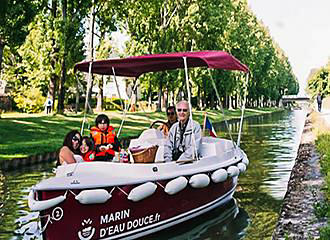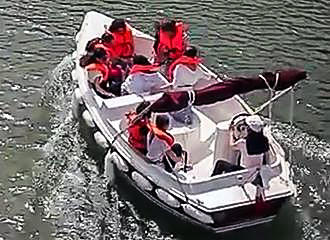 However, by choosing one of the boats with larger capacities of people, you can also opt for what they call a whole day boat rental, which is actually 6 hours in total, and for the Scoop is a cost of €200 and The Most is a cost of €300 as of 2015, with the option of adding a table on board for an additional €10.

You can also rent games such as petanque and badminton sets, and appetiser picnic baskets with fresh French food can also be arranged if you do not wish to bring your own snacks with you, so that you can enjoy a fun day along the Canal de l'Ourcq. Yet unfortunately, the Canal Saint-Martin going down to the River Seine is not possible to navigate without a licence due to the number of locks that have to be navigated.

Now you may be pleased to know that children are welcome from 6 months of age, and even small dogs are allowed, but an adult must be on board as the captain, and there are no discounts available for young children, as they still take up a place on the boat.

But we would like to point out that you must arrive a minimum of 15 minutes prior to your booking time in order to sign a rental agreement and pay a security deposit in case of damage, although this fee is not taken from your credit card unless something actually happens, just like with all rental companies.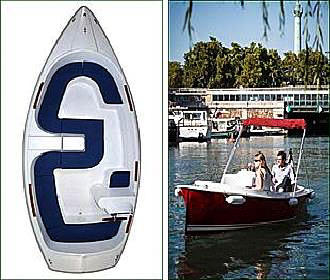 You will find that Marin d'Eau Douce is open 7 days a week including public holidays, yet they do close during the winter, and do not re-open until around the end of March. Although this is understandable, considering that the boats are open and a leisure cruise on the canals in Paris is far more enjoyable or romantic on a lovely day.

It is located on the Bassin de la Villette between the MK2 cinema and the Passerelle de Moselle, and they also have a terrace that you can enjoy before or after your cruise, where a range of cold drinks along with cold meat or cheese platters, salads, appetisers and tapas are available.

And as for getting to the Marin d'Eau Douce Boat Rentals in Paris, you will find them located on the Quai de la Seine, which is your departure and return point, and the most convenient Metro station is the Stalingrad stop serving lines 2, 5 and 7.