Le Bastringue Brasserie in Paris

This is a reasonable cost bistro, brasserie and bar in Paris that serves French cuisine in a cosy atmosphere and an idyllic location by the bank of the Canal de l'Ourcq, which is very popular with the locals.


About the Bastringue Bistro and Brasserie

Bastringue is French for a type of music and dance, and this brasserie restaurant and bar was named by the owner, who was one of the people that enjoyed this particular era and atmosphere.

You will find a warm and friendly welcome from the staff, but with a semi circular bar, the atmosphere is even more inviting for a drink with friends or colleagues. Yet there are two family rooms, as Le Bastringue calls them, which are utilised as the dining rooms, with small tables that are quite tightly packed in due to its popularity.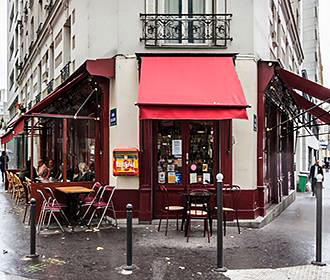 Plus there are a few tables set out on their terrace of this bistro in Paris during the warmer months, so if you are lucky enough to be able to sit at one of these, you will have fabulous views of the boats moored on the Bassin de la Villette.


The Cuisine at Le Bastringue

You will find wholesome traditional French cuisine at Le Bastringue, with a menu that is constantly changing depending upon what produce is available, and there are always specials of the day including a soup and salad of the day.

Now when it comes to starters, these could be charcuterie, Fluffy egg and Foie Gras, chicken samosas, etc with an average cost of around €6 although there are also platters of cheeses or charcuterie plus a large salad that are an approximate cost of €10 as of 2018.
Main courses at this restaurant in Paris are an average cost of €14 as of 2018 and could be salmon with tomato and basil sauce, veal cutlet, steak with a blue cheese sauce, duck confit, sea bream and vegetables, and several others plus daily specials written on a blackboard.

Then for tempting desserts, which are a cost of €5 as of 2018, could be a cheese assortment, tiramisu, chocolate mousse, etc, but as we mentioned earlier, do bear in mind that the menu constantly changes at this brasserie in Paris.

There is also an extensive drinks menu with a wide range of beers, aperitifs, spirits, non alcoholic drinks, hot beverages and numerous French wines available by the glass, as a 25cl, 50cl and some including champagne by the bottle.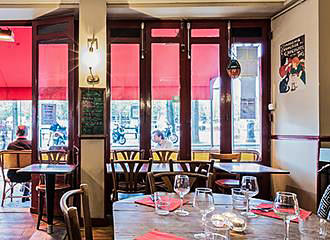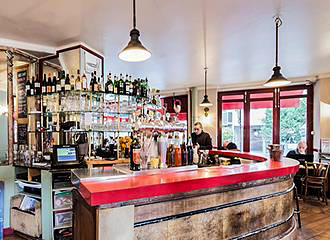 Visiting Le Bastringue in Paris

Located on the bank of the Canal de l'Ourcq at the Bassin de la Villette in the 19th Arrondissement you will find the Bastringue Bistro in Paris open on a Monday to Friday from 9am through to 2am. It opens on a Saturday from 5pm through to 2am and on a Sunday from 10am through to 8pm.

Le Bastringue serves lunches from noon and dinners, although we would like to point out that of an evening meals here do not start until 7.30pm and the menus are mainly written on the chalk boards with only a couple of printed menus available of an evening.

Also, it is very popular with local Parisians, both as a bar and as a restaurant, plus there is WiFi available, so it is an idea to get to this bistro and brasserie early, and perhaps enjoy a drink or two prior to your meal, which will not break the bank.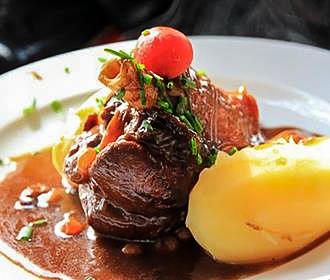 You may also be pleased to know that pets are welcome plus there is also a takeaway service available for those of you in a rush, or just wishing to enjoy French cuisine in the comfort of your own home, apartment or hotel in Paris.


Access to Le Bastringue

When it comes to getting to Le Bastringue via public transport, you will find that it is only a short walk from the Metro station called the Riquet stop via line 7, or on the opposite bank a little further away you have the Laumiere stop via line 5, but even further still and in a westerly direction you have the Stalingrad stop serving the lines 2, 5 and 7.

Alternatively, the Bus Line 54 and the Noctilien Night Bus Service on Line N42 will get you closest to this bistro, however the other bus lines 26, 48 and 60 along with the Noctilien lines N13, N41 and N45 are also within walking distance of this restaurant.
Address and contact details
Le Bastringue, 67 Quai de la Seine, 75019, Paris, Ile de France, France

Tel: +33 (0) 1 83 76 19 58


Related information
Bassin de la Villette
Canal de l'Ourcq
Attractions at Bassin de la Villette
Passerelle de la Moselle
Pont Levant de la Rue de Crimee
La Rotonde de la Villette
Grand Masrche Satalingrad
Place de la Bataille de Stalingrad
La Peniche Opera
Peniche Antipode
Peniche Demoiselle
Belushi's bar
Cafezoide Childrens Cafe
Paris Plage
Pleasure boat cruises
Canauxrama
Paris Canal
Marin d'Eau Douce
Transport options
Paris Metro lines 2, 5, , 7, 7b
Bus line 26
Bus line 48
Bus line 54
Bus line 60
Bus lines 82, 87
Night bus line N13
Night bus lines N41, N42, N45
Attractions close by
Canal Saint-Martin
Square Marcel Mouloudji
Point Ephemere Cultural Centre
Parc de la Villette
Geode Cinema
Cite des Sciences et de l'Industrie
Grande Halle de la Villette
Le Centquatre cultural arts centre
Bizz'Art Restaurant
Parc de la Butte du Chapeau Rouge
Aux Petits Joueurs Restaurant
Square Frederic Lemaitre