Pont Flottant de la Villette

This is a floating bridge, which is put in place on the Canal de l'Ourcq within the Parc de la Villette for the warmer months to aid tourists getting across the canal, and originally aimed at cyclists, the disabled and families with young children, it has been a resounding success, and is now a yearly attraction.


About the Pont Flottant de la Villette

It was realised that even though there are footbridges over the canal de l'Ourcq within the Park Villette, because they are quite high to allow for river traffic to pass underneath, this unfortunately caused a problem for the disabled. And even though lifts were put in place to counteract the problem, these were not always reliable, and these bridges were also hard for cyclists and families with young children in pushchairs to navigate between areas of the Parc de la Villette.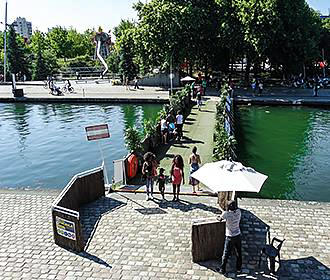 ---
So, the Parc de la Villette in conjunction with the regional Committee for Tourism in Ile de France and Tourism in Seine Saint-Denis got together and came up with the idea of a floating bridge that would be implemented for the high tourist season during the summer months.

The design of this floating bridge was handed over to a company called the Contrast Association, who are based within the Ile de France region and specialise in entertainment and sailing events within the area.

Now the design concept was for a mobile floating bridge in Paris, and it has been constructed utilising integral rendered floating caissons, which are basically watertight retaining structures that are often used in engineering for maintenance work on the piers of bridges.

And often regarded as floating boxes, these modules or caissons are linked together and the floating bridge has a small motor, which makes this bridge like a mobile pontoon, that can be rotated round and positioned lengthways next to the bank of the Canal de l'Ourcq in order to allow river traffic to flow past.
The mobile floating bridge was named the Pont Flottant de la Villette, and was first launched in 2008 on 4th July, and incredibly, within six hours of operation it saw around 4000 people utilise it to cross from one bank to the other of the Canal de l'Ourcq.

So, with the resounding success of this temporary crossing, which was initially only in place for July and August, the time frame has increased and the Pont Flottant de la Villette is now in place at this park in Paris from mid May through to mid September for the benefits of thousands of tourists that visit each year.


Visiting the Pont Flottant de la Villette

You will be able to discover this floating bridge in Paris between mid May and mid September on the Canal de l'Ourcq within the Parc de la Villette in the 19th Arrondissement.

It is open daily from 2.30pm through to 8.30pm and can carry up to a maximum of 200 passengers at any one time, and there are no set times for the short crossing of the canal, as the Pont Flottant de la Villette is required to wait for any river traffic to pass prior to its manoeuvring into position for people to cross.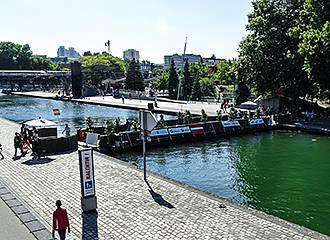 ---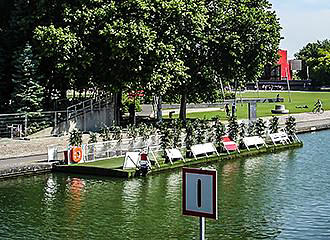 Yet we would also like to point out that for safety reasons it can be closed in adverse weather conditions, for instance, when the wind speeds reach in excess of 30km per hour, and all cyclists must dismount their bikes prior to the crossing.

You will find that the Canal de l'Ourcq cuts right through this enormous park in Paris, which is why this floating bridge has become so popular, and getting here is very easy via public transport with numerous different options such as the Metro stations called the Porte de la Villette stop serving line 7 and the Porte de Pantin stop serving line 5.

We mentioned earlier that the Pont Flottant has to weight for river traffic in order to get into position, and another way of reaching the Canal de l'Ourcq is via one of the sightseeing cruises such as Canauxrama, who also provide a shuttle service up and down the canal during the summer months.

Other option of public transport to get to the Parc de la Villette include the Bus Lines 75, 139, 150, 151, 152 and 330 along with the Noctilien Night Bus Service via Lines N13, N41, N42, N45 and N140, plus there is the Tramway via Line T3b.

Yet for those of you that like cycling, there are dedicated cycle paths located along the banks of the canal, which is a tranquil way of seeing this part of Paris, with the Pont Flottant making it easier to cross as you read earlier. However, even if you do not have your own bicycle, then you will be pleased to know that there are four Velib stations for the self service bike hire scheme located at different points around the park.