Bibliotheque de l'Arsenal Library in Paris

The Bibliotheque de l'Arsenal is an historical library with documents and books dating back to its origins in the 1600s, and part of the Bibliotheque Nationale de France since 1934, this library is open to the public in a restored historical building and also has temporary exhibitions showcasing some of the rare items it holds.


About the Bibliotheque de l'Arsenal Library

There is a rich history of the Bibliotheque de l'Arsenal that you can discover, with the building itself, its architecture and the interior design elements, along with historical collections.

One collection is of old printed books dating from before the 1880s that includes sections on case law, theology, history, etc, yet there are more modern printed books including novels, illustrated books, precious bindings, etc.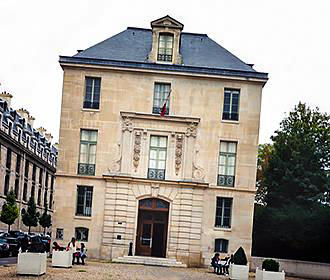 Today the Arsenal library has a collection of over 12,000 manuscripts from the Middle Ages to more contemporary times, along with over 100,000 prints including portraits and caricatures dating from the French Revolution and the Restoration, city plans, etc.

Mainly dating from the 17th century and 18th century there is a large collection of handwritten and printed music scores along with a large collection of old reviews, plus there have been two deposited collections including the archives of Georges Perec and the Oulipo archives, but these latter two can only be viewed by prior appointment.

So as you can tell, there are some very historical records and rare items within the collections of the Bibliotheque de l'Arsenal, yet they also host temporary exhibitions such as one at the start of 2015 on the Oulipo.

Plus, even if you do not wish to go to the library for study, you can also visit it to admire its architecture and impressive rooms such as the music room, or Salon de Musique in French, which is located on the first floor and was fully restored in 2009 including a set of panelling's.

Other impressive features of the building include the original facade, the Cabinet de la Meilleraye in the Louis XIII style along with lounges that once played host to literary evenings organised by Madame de Genlis and Charles Nodier.
Visiting the Bibliotheque de l'Arsenal Library in Paris

You will find the Arsenal Library located in the 4th Arrondissement close to numerous different tourist attractions in Paris including the Place de la Bastille and you will find that the reading room is open from 10am on a Monday to Saturday, and normal closing time is 6pm, yet 5pm on a Saturday.

However, when there are exhibitions taking place at the Bibliotheque de l'Arsenal, these are only accessible between the hours of midday and 6pm every day except for a Monday.

Yet you can also have a tour on a Wednesday at 3pm and a Saturday at 10:30am lasting 90 minutes for a cost of €3 as of 2018, where you get to discover the many old decorations including the music room and lounges, but we would like to point out that this is only available in French.

Although, there are certain days that the Bibliotheque de l'Arsenal is always closed including all National French holidays, plus they have an annual closure each year, which is normally from mid April through to around the second week in May.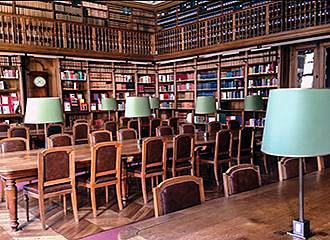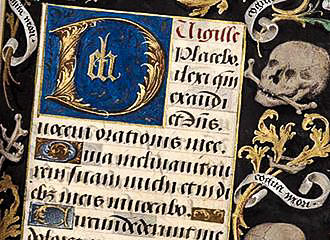 Access to the Bibliotheque de l'Arsenal

Now when it comes to getting to this historical library via public transport in Paris, the nearest Metro stations are the Sully - Morland stop via line 7 or the Bastille stop via lines 1, 5 and 8.

Alternatively, the bus lines 67, 86 and 87 will also get you close by, plus there are a couple of Velib stations near for those you wishing to utilise the self service bike rental scheme in Paris.

However, also within walking distance close to the Place de la Bastille you have the Bus lines 20, 29, 65, 69, 76 and 91 along with the Noctilien Night Bus Service via lines N01, N02, N11, N16 and N144 in addition to those mentioned above.