Musee de l'Institut du Monde Arabe Museum

Known as the Musee de l'Ima for short, this is a fully redesigned and renovated museum that showcases the diversity of the Arab world from anthropology through to fine arts, which are presented in different themes.


About the Musee de l'Ima or Museum

After three years of renovation works and a completely new layout and organisation of the museum, it reopened its doors to the public in 2012 with a far more coherent and easier approach, to enable the public to get a greater understanding of the Arab culture, its history and its diversity.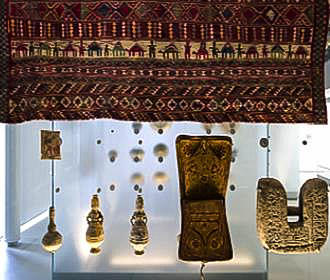 Called the AWI Museum in English, which stands for Arab World Institute Museum, this is spread over four floors, yet being fully accessible to the disabled, you will be able to discover over 560 items on display that are exhibited by themes such as the Sacred, Divine Figures, Heritage and the Arabias.

The exhibits on display focus on the 22 Arab countries that have all now become a part of the Institut du Monde Arabe. There are different areas and disciplines being portrayed, such as Islamic art through to anthropology, and it showcases the diversity of the civilisations that have marked these territories.

Having brought together historians, archaeologists, religious historians and many others from different disciplines, along with being able to obtain artefacts and art works from numerous institutions including The Louvre museum and the Musee Quai Branly, in addition to private collectors and churches, the Musee de l'IMA is now the most complete museum dedicated to the Arab World.

Yet there are also spaces within the museum that are dedicated to contemporary artists who bring together an even more complete picture of the living Arab world. So as you can no doubt tell, whether you have little or no understanding, or wish to discover more about the heritage, culture and diversity of these nations, then the Musee de l'Insitut du Monde Arabe has got to be on your list of places to visit while in Paris.
Visiting the Musee de l'Ima Museum

The Museum of the Arab World Institute in Paris is open on a Tuesday, Wednesday and Friday from 10am through to 6pm, however, on a Thursday and Saturday it opens from 10am through to 9pm and on a Sunday plus some holidays from 10am through to 7pm.

However, it is always closed on a Monday and on certain National French holidays such as 1st May and we would like to point out that the ticket office close 45 minutes prior to the museum closing.

The full cost of entry to the Musee de l'IMA is €8 as of 2018, however there is a reduced cost applicable to those on job seekers allowance or those from outside the EU that are under 26, but only upon providing proof.

Yet there is also free entry for those under the age of 18 who are residents of the EU and also for the disabled, and yes, you will be pleased to know that the museum is fully accessible to those that have disabilities.

For individuals, you can purchase tickets at the ticket office on the day of your visit to this museum or by telephoning +33 (0) 1 40 51 38 14. However, if you will be in a group, then reservations must be made at least two weeks prior and arranged by telephone on +33 (0) 1 40 51 38 45 on a Monday to Thursday between the hours of 10am and 5pm.

Guided tours are also available on specific days for an additional charge of €4 per individual as of 2018 on top of the normal entry cost. But again, if you are arriving as a group and would like a guided tour, then different rates and times apply and need to be booked well in advance. Tours can also be conducted in English and Arabic as well as French, but these also have to be arranged.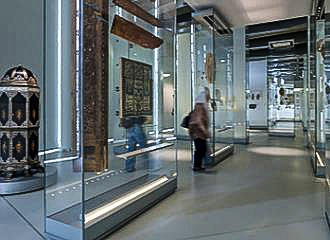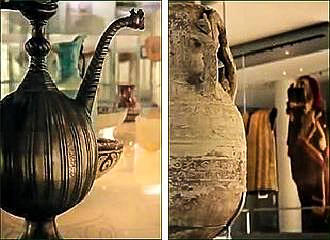 Access to the Musee de l'institut du Monde Arabe

Now when it comes to getting to this museum in Paris, you will find that it is located in the 5th Arrondissement within the Institut du Monde Arabe cultural centre, where you can also discover exhibitions, a library and the Zyriab restaurant that has incredible views to Notre Dame Cathedral.

The nearest Metro stations are the Jussieu stop serving lines 7 and 10, the Cardinal Lemoine or Maubert - Mutualite stops via line 10, or on the opposite side of the River Seine you have the Sully - Morland stop that serves line 7.

Yet the bus numbers 24, 63, 67, 86, 87 and 89 along with the Noctilien Night Bus Service via lines N15 and N22 will also get you close by to the Musee de l'Institut du Monde Arabe, as will the Batobus water bus that travels up and down the River Seine.

Alternatively, if travelling by train you would need the Gare d'Austerlitz train station that can be found on the opposite side of the Jardin des Plantes, which services the TER, Intercities and the RER trains for the RER C Line, plus this is also a Metro station serving lines 5 and 10.
Address and contact details
Musee de l'Institut du Monde Arabe, Institut du Monde Arabe, Place Mohamed-V, 1 Rue des Fosses Saint-Bernard, 75005, Paris, Ile de France, France

Individuals Tel: +33 (0) 1 40 51 38 14
Groups Tel: +33 (0) 1 40 51 38 45


Related information
Institut du Monde Arabe
History and Building
Le Zyriab Restaurant
Chanel mobile Art Pavilon
Transport options
Paris Metro lines 7, 10
Bus line 24
Bus lines 63, 67
Bus lines 86, 87, 89
Night bus line N15
Night bus line N22
RER Train line C
Water bus service
Attractions close by
River Seine
Jardin Tino Rossi
Pont de Sully
Square Barye
Petit Musee de la Table de La Tour d'Argent
Pont de la Tournelle
Musee Boleslaw Biegas
Square Henri-Galli
Jardin des Plantes
Place Emile Male
Square Paul Langevin
Square Jean XXIII
Notre Dame de Paris Cathedral
La Nouvelle Seine Restaurant