Musee du Quai Branly in Paris

This museum in a contemporary and high tech building opened in 2006 presenting over 3,500 exhibits from its collections that focus on Africa, Asia, the Americas and Oceania with artefacts, instruments, costumes and much more.


About Musee du Quai Branly museum in Paris

The Musee du Quai Branly first opened its doors to the public after being officially inaugurated in the June of 2006, and took the name of the quay and road where it is located that was named after a French inventor. Yet do not get this confused with the Musee Edouard Branly, which is an entirely different museum in Paris and is dedicated to this particular person.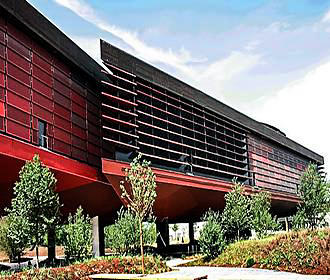 ---
So, getting back to the Musee du Quai Branly, this museum came about from the amalgamation of specific objects and artefacts that were once held within the Musee de l'Homme, which is the museum of mankind located at the Palais de Chaillot, along with the Musee Nationale des Arts d'Afrique et d'Oceanie, which used to be housed within the Palais de la Porte Doree.

And with over 3,500 different artefacts on display just within the permanent collections, these focus on four areas of the globe, which are Asia, the Americas, Oceania, and Africa, yet there are in fact over 250,000 items within the complete collection, which means that there are also temporary exhibitions related to specific themes presented at different times.

The permanent collections highlight the history of the different cultures that are presented along with traditions and their cultures, which takes on many different forms including multimedia displays that depict specific tribal dances through to ancient ceremonies and much more, which will give you a greater understanding of the countries that are themed.

There are artefacts from Polynesia, Australia, etc within the Oceania section, and over 900 objects are portrayed for the Americas that goes from Alaska to the Andes and depicts pre Columbian America through to the present.
Also you can discover the African collections from North Africa through to South Africa with exhibits such as furniture and embroidery through to carpets, pottery and jewellery and even items from the Berber culture, plus more in this section that you can discover.

You also have items from Equatorial Africa through to Madagascar and Ethiopia to name a few others within this section but then the is the exhibition related to Asia with over 850 different items on display including weapons, garments and more that are for ceremonial issues through to everyday use.

Yet the Musee du Quai Branly still has much more to offer including temporary exhibitions that are related to a theme and these change on a regular basis, plus there is a theatre and an open air theatre, or amphitheatre, where shows, concerts and lectures are held.

And you have a major research section with archives and a library, along with the Cafe Branly that provides snacks, salads and warm meals ranging in cost from €9 to €23 along with afternoon tea and a choice of a cake for €10 as of 2014, which can tempt you to linger a while longer and relax.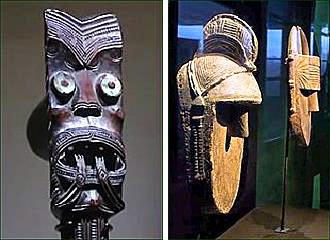 ---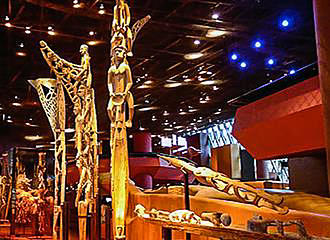 But do not forget about the Musee du Quai Branly building gardens, which are just as much of a tourist attraction, and there is even the gourmet restaurant in Paris known as Les Ombres, that is located on the top section of the museum, if you would rather have a refined lunch or dinner after visiting the museum.


Visiting Musee du Quai Branly in Paris

The Musee du Quai Branly is open on a Tuesday, Wednesday and Sunday from 11am through to 7pm and on a Thursday, Friday and Saturday it is open from 11am through to 9pm, yet we would like to point out that it is always closed on a Monday and on certain National French holidays such as 1st May, plus last entry is 1 hour before closing time.

Now the garden of the Musee du Quai Branly is open from 9.15am on a Tuesday through to a Sunday, with late opening until 9.15pm on a Thursday, Friday and Saturday, yet on the other days, the impressive garden closes at 7.30pm.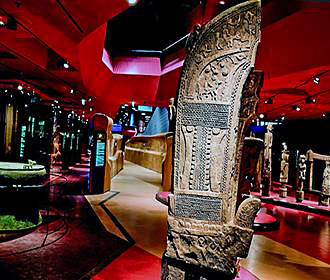 ---
You will also be able to relax with a drink or enjoy a quick bite to eat at the Cafe Branly which is open until an hour prior to the museum closing, yet you could also enjoy a gourmet meal at Les Ombres with its panoramic views on the roof terrace, and this is open even when the museum is closed.

So when it comes to visiting the Musee du Quai Branly, the cost of entry is €9 for the permanent collections and also €9 for the temporary exhibitions in the garden gallery, however, you could purchase a combined ticket to enjoy both aspects, which is a cost of only €11 as of 2014.

But as well as the permanent collections and temporary exhibitions, there are also different shows, concerts and lectures organised throughout the year along with workshops for children and adults that all have different costs, but a show is an average of €20 as of 2014.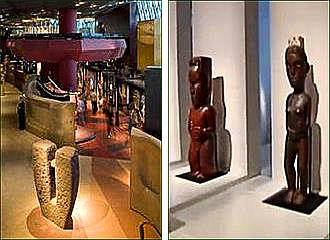 ---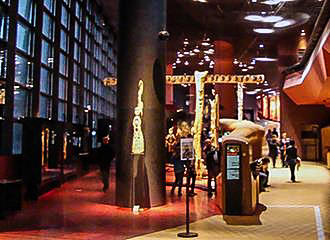 Now when it comes to getting to this museum via public transport in Paris, you will find that the nearest Metro stations are the Alma-Marceau stop or the Iena stop serving line 9, but you also have the Ecole Militaire stop serving line 8 and Bir-Hakeim stop serving line 6.

As for the RER train stations, these are the Pont de l'Alma stop and Champ de Mars - Tour Eiffel stop both serving line C, yet there is also a Batobus water stop close by just at the dock by the Pont d'Iena. But in addition to this, the bus numbers 42, 63, 69, 72, 80, 82, 87 and 92 will get you within easy reach of this museum and numerous tourist attractions in Paris that are located in the area, plus the bus tours in Paris such as l'OpenTour also stop right nearby.