Les Ombres Gourmet Restaurant at Musee du Quai Branly in Paris

This is a gourmet restaurant located on the roof of the Musee du Quai Branly that offers panoramic views of Paris and the Eiffel Tower in a refined, elegant setting that is open daily for lunch and dinner and offers world gourmet cuisine with formula menus as well as an a la carte option.


About Les Ombres Restaurant in Paris

This magical place in the heart of the city is located on the roof of the Musee du Quai Branly and its name translates to The Shadows in English, which is rather apt because of the shadows that get cast over this gourmet restaurant by the Eiffel Tower at certain times of the day.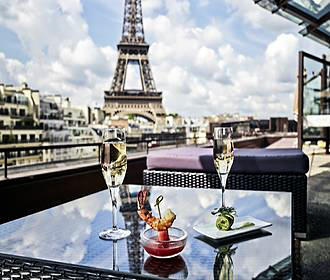 ---
Located on the east side of the panoramic terrace, the architectural design encompasses large windows for the panoramic views over the city as well as a dome roof that has triangular windows set on a metallic frame, that reminds of the Eiffel Tower.

The decor is elegant and refined with pale oak panelling, furnishings that are in subtle colours of reds, browns, coffee and burgundy, plus there is a lovely outside garden terrace that is scattered with ponds, which is for the exclusive use of people dining at Les Ombres.


Cuisine at Les Ombres Gourmet Restaurant

For lunch there are two Formulas that you can opt for, which are a starter and main course or main course and dessert for a cost of €32 and a three course for €42 as of 2014, and these are known as a business lunch, which are available on weekdays, but not on holidays.
Of an evening there are also Formulas available with a three course for €68 and has a choice of three different selections for each course such as Pasta in risotto style, razor clam and octopus, shellfish emulsion followed by Duck breast, roasted pear, Jerusalem artichoke and dark brown mushrooms and then a tempting dessert.

Yet there is also a Menu Invitation for €95 as of 2014 where you get wine with each course, along with a glass of champagne to start with and coffee to finish.

Now some of the other tempting delights on the a la carte menu at Les Omnbres gourmet restaurant include starters such as Lobster salad and celery tagliatelle, sliced romaine lettuce, hazelnut and lobster mayonnaise, Poached egg, sliced and chopped cep mushrooms and hazelnut espuma or a Terrine of duck foie gras, stewed quince and apricot focaccia.

A meat main course could be Poached and truffled chicken breast with forgotten vegetables, beef bouillon or Roasted young partridge breast, cabbage cannelloni stuffed with bacon, tender carrots and stewed partridge legs. Whereas a fish course could be Roasted sea brill, cep mushrooms and cauliflower cream or Sole tempura style with sugar peas, Pak choi cabbage, soja and Thaï sauce.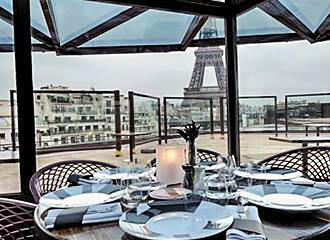 ---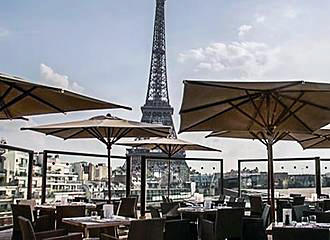 Visiting Les Ombres Restaurant in Paris

Now you will find that Les Ombres is open every day of week for lunch and dinner regardless of whether the Musee du Quai Branly is open or not, and there are actually two entrances. One is at 206 Rue de l'Universite and the other, which is what you would need to use when this museum in Paris is not open, is at 27 Quai Branly.

The restaurant is open for lunch between midday and 2.15pm and for dinner from 7pm through to 10.30p, and of an evening there are two services, one at 7pm and the second service is at 9.30pm.

Now when it comes to getting to The Shadows restaurant via public transport in Paris, the nearest Metro stations are the Alma-Marceau stop or the Iena stop serving line 9, but you also have the Ecole Militaire stop serving line 8 and Bir-Hakeim stop serving line 6.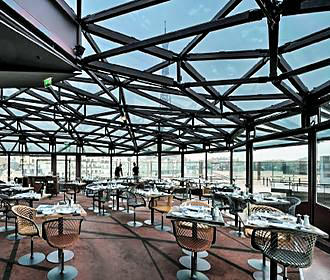 ---
As for the RER train stations, these are the Pont de l'Alma stop and Champ de Mars - Tour Eiffel stop both serving line C, yet there is also a Batobus water stop close by just at the dock by the Pont d'Iena.

In addition to this, the bus numbers 42, 63, 69, 72, 80, 82, 87 and 92 will get you within easy reach of Les Ombres and the numerous tourist attractions in Paris that are located in this area, plus the bus tours in Paris such as l'OpenTour also stop right nearby.

However, if you have your own vehicle or are renting a car in Paris, then there are also car parks located near, and you may also be pleased to know there are designated disabled parking spaces plus a direct access elevator to enable you to still enjoy this gourmet restaurant and its panoramic views.