Square Henri-Galli in Paris

Created in 1925, this square has a childrens playground, park benches and a vestige, which was discovered in 1899 and was a part of one of the towers of the former Bastille prison.


About Square Henri-Galli

The Square Henri-Galli was first designed and laid out back in 1925 and was named after Henri-Galli who was a French journalist, politician and Deputy of the Seine and although it is classified as one of the squares in Paris, it is in fact almost a triangular shape.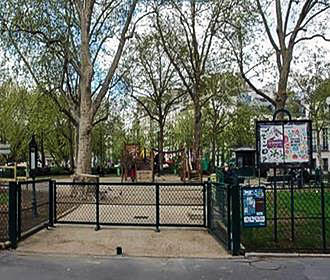 With a green fence surrounding its border and a plaque from the Mayor of Paris located by the gate, when you enter you will see lots of different trees and plants including lime, yew and plane trees, not forgetting the hedges and beautiful flowers such as tulips within its gardens.

There are several park benches where you can sit and relax plus there is also a childrens playground, yet there is also a major part of the history of Paris located within this garden..

Many people have heard about the French Revolution and even the Storming of the Bastille, which was an event that took place on 14th July 1789 at the Bastille prison in Paris, which is why you have the Bastille Day celebrations held each year in Paris on this day.
Now this infamous prison was originally constructed as a fort with eight towers, but was turned into a prison under Richelieu, and it held many famous people such as Voltaire, yet was destroyed completely after the events in 1789.

However, when a Metro line running from Vincennes was being constructed, a part of the Tour Liberte, or Liberty Tower, which was one of the eight towers of the Bastille fortress, was discovered, and so this bottom section of the tower was removed and reconstructed stone by stone.

Today, this vestige, which really looks like just a pile of stones, can still be found within the Square Henri-Galli, yet there is also a plaque located by this that states where they came from, which as you can gather, is from one of the most notorious places in the history of Paris.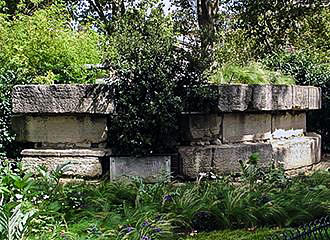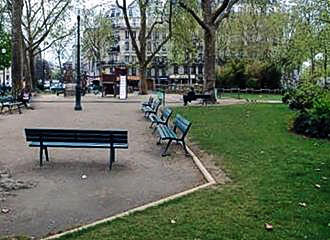 Visiting Square Henri-Galli Paris

The Square Henri-Galli is located in the 4th Arrondissement of Paris and is open 24 hours a day every day of the year, and you may be pleased to know that it is accessible to the disabled, plus this garden in Paris has also been labelled Green Space Eco.

You will find this square in Paris located right by the River Seine facing the Ile Saint-Louis island, and when it comes to public transport, the nearest Metro station is the Sully-Morland stop via line 7, yet the bus numbers 67, 86 and 87 will also get you close by.