Square Marie-Trintignant in Paris

Originally laid out in the 1990s but redesigned and renamed in 2007 after a French actress, this small garden and square is located close to the River Seine opposite the Ile Saint Louis island.


About Square Marie-Trintignant

Originally this small garden in Paris was called the Square de l'Ave Maria because of its location and it was first created and laid out in 1993 in an area between the Hotel des Sens and the River Seine.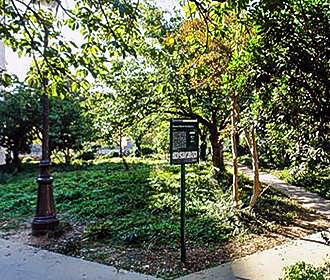 However, a decision was made by the Paris Council to get the square completely redesigned with a carpet of greenery and trees such as fig and lilac were planted, which completely transformed the area from the boring concrete square in Paris that it used to be.

With an almost wild side to it, the Square Marie-Trintignant looks far more haphazard than many others in the city, but has some park benches where you can sit and enjoy some greenery for while and even utilise the free WiFi available here.

And it was renamed to the Square Marie-Trintignant after the French actress who tragically died in 2003, and in the presence of family and people who were close to her, the square was inaugurated by Bertrand Delanoe, the Mayor of Paris, on 13th May 2007.
Visiting Square Marie-Trintignant in Paris

The Square Marie-Trintignant is located in the 4th Arrondissement close to many tourist attractions in Paris and there are two ways to access this small garden, which is open 24 hours a day. The first is via 11 Rue de l'Ave Maria which is accessible to the disabled, yet on the by the Quai des Celestins there are stairs to negotiate.

Now when it comes to reaching this square via public transport in Paris, the nearest Metro station is the Pont Marie stop or alternatively you have the Sully - Morland stop in the opposite direction and both of these serve line 7.