Pavillon de l'Arsenal Museum and Exhibition Centre in Paris

The Pavillon de l'Arsenal is an information, documentation and exhibition centre, plus a museum, which is dedicated to the history of architecture and urbanisation of Paris through the ages in addition to providing information along with 3D models on future projects that are planned for the city as well.


A bit of history

The building itself was first constructed back in 1878 for the wood merchant and amateur painter Laurent Louis Borniche, and was designed by the architect Clement, and the owner always wished that the building would eventually be used an an exhibition space.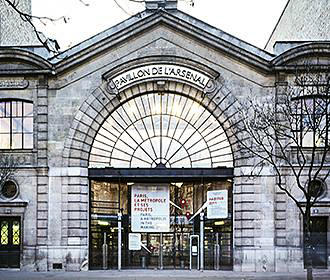 However, this did not happen for many decades, and it was only after the building was purchased by the City of Paris and renovations were undertaken during 1988 and 1989 that the realisation of a museum and exhibition centre was born.


About the Pavillon de l'Arsenal

Today the Pavillon de l'Arsenal is a unique place in Paris that provides its residents with information and plans relating to ongoing, planned and future development of the city, so that residents can be involved.

However there is also a permanent exhibition, which is classed the Pavillon de l'Arsenal Museum, that covers an area of over 800 metres squared that is dedicated to the history of Paris through its architecture and its development, including the reorganisation that took place with Baron Haussmann during the Second Empire.
And when visting the museum you will be able to discover well over 1,000 documents, photographs, maps, plans and films that trace the origins the territory and its development and how the metropolis has evolved over the years to the Paris we recognise today.

Plus, from a 1/2000 scale model of the city of Paris that was designed in the 1990s, there is now one major aspect and impressive addition to this museum in Paris, which is a world first digital and interactive model that was only installed in 2011 in partnership with Google and JCDecaux.

And called the Paris Metropolis 2020, this digital model measuring 37 metres squared is laid out on the floor, which was developed using Liquid Galaxy Software and Google Earth, and for the first time visitors to this permanent attraction can view the city in HD. And it is a completely interactive experience with terminals that are suitable for both children and adults alike, and you can discover projects that are ongoing and planned for the future. Yet, it is also able to be updated, so that it will never become an outdated museum attraction.

But putting the permanent museum at the Pavillon de l'Arsenal to one side, there are also temporary exhibitions organised throughout the year on the first floor, and these always have specific themes that relate to Paris city life. And they often relate to things we take for granted such a green spaces, transport, water, etc, with historians as well as developers, planners and architects all being involved.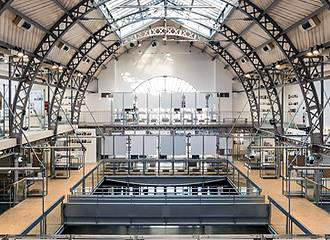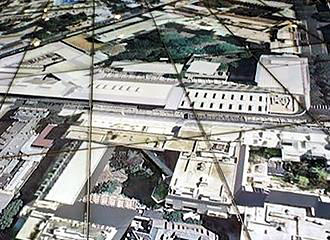 Some of these temporary exhibitions have been on subjects such as the development of Les Halles area, works undertaking since 1949 to the 1990s, the Tramway, shops in Paris, Parisian houses, the Paris Metro, and sports is the major theme for 2014.

And on the second floor on the north mezzanine of the Pavillon de l'Arsenal, you will find temporary exhibitions of French and foreign architecture that are worked in collaboration with the said countries whether it be America and France, etc.


Visiting the Pavillon de l'Arsenal Museum

You will find the Pavillon de l'Arsenal exhibition centre and museum in Paris dedicated to architecture and development of the city, is open on a Tuesday through to a Saturday from 10.30am to 6pm.

It is also open on a Sunday from 11am through to 7pm, yet is closed on a Monday and on National French holidays, but you may be pleased to hear that it is completely free to visit, and even workshops for children are organised on specific themes such as one in 2014 relating specifically to table tennis.

There are free guided tours organised every Saturday at 3pm and on a Sunday at 4.30pm, however we would like to point out that these are conducted in French, and for more information on these or to reserve a place, you would need to telephone +33 (0) 1 42 76 33 97. Yet organised tours on specific subjects and themes are also organised for groups, although there is a cost involved for these, and again you would need to contact the Pavillon de l'Arsenal to find out more.

And when it comes to getting to the Pavillon de l'Arsenal, you will find the exhibition centre and museum located in the 4th Arrondissement opposite the Ile Saint Louis close to the Pont Sully bridge and only a short walk from the Canal Saint Martin, and the nearest Metro station is the Sully - Morland stop.