Sanz by Bizz'Art Restaurant and Nightclub

Having been running for over 15 years, even in 2015 it was one of very few nightclub in the area to be open until 5am, and on a Friday and Saturday night you can even have a three course meal in the restaurant with last orders taken after 3am, and along with after work happy hours and a great line up of DJs, this is a popular place for a night out.


About Sanz by Bizz'Art restaurant and Nightclub in Paris

The Sanz venue has been running for over fifteen years, but they were taken over in 2012 by Bizz'Art who have another entertainment venue in Paris located in the 10th Arrondissement of Paris by the Canal Saint-Martin, which was when the name changed to Sanz by Bizz'Art.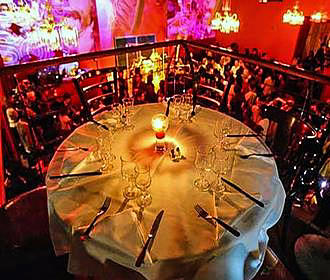 But this restaurant, bar and nightclub are still just as popular as ever, and not only is it one of very few places in the area to be open until the early hours of the morning, you can even order dinner until 3.30am on a Friday and Saturday night.

The restaurant itself is in a baroque style with red and gold and for the upstairs area it is comfortable, relaxing and more intimate, whereas you can also dine downstairs in a more lively and bold setting. But it is this nightclub in Paris along with a well stocked bar and a reputation for some of the best Mojitos available in the Bastille area, that still bring the crowds flocking to the international clubbing scene with incredible DJs.
And with a fun loving friendly atmosphere at Sanz by Bizz'Art, there are even the After Work Happy Hours on a Tuesday to Saturday from 6pm to 9pm with soft drinks for only €3, a 25cl Amstel beer for €3, cocktails like Bloody Mary and Tequila Sunrise for €6.50 instead of €10 and Mojitos €7 instead of €11. Yet on a Thursday evening you also get free entry and the Happy Hour lasts until 11pm, with even House Fries available for only €2.


Cuisine at Sanz by Bizz'Art Restaurant

When it comes to the cuisine at the Sanz by Bizz'Art you will find an a la carte menu with French cuisine that combines International dishes and flavours for a more exotic and contemporary dining experience that will tantalise the taste buds, plus you can also see a menu in English.

Now when it comes to starters, there could be Crispy prawn fritters with ginger cream, Yakitori chicken skewers with vegetable salad, Wok fried noodles with prawns, vegetables and sesame seeds or Sashimi style raw tuna glazed in maple syrup with an average cost of €8 as of 2015.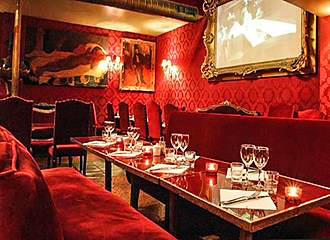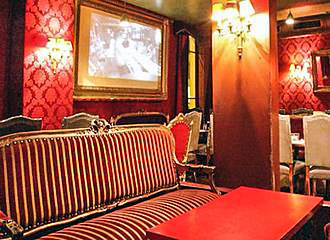 As for the main courses at this restaurant in Paris, you could choose delights such as Fillet of Gilthead Bream with candied vegetables, pilaf rice and a lemon cream sauce, Pork tenderloin with pan-fried vegetables and mashed potato or Salmon steak breaded with sesame seeds, accompanied by green vegetables and a creamy risotto and are an average cost of €18 as of 2015.

Plus they do what are known as The Big Salads, which are classed as a main course and could be an Italian, Caesar or Beef Carpaccio salad, along with a main course option of a 300g Entrecote steak with hash browns and either a pepper or Roquefort sauce.

In addition to this, the Sanz by Bizz'Art restaurant offers two Formula Menus with the first being The Decouverte Menu, which consists of a starter and main course or main course and dessert for €24, or you have the Sanz Menu, which is a three course option for €30, and on both you choose from the a la carte menu. However, as of 2015, we would like to point out that if you choose to have the Entrecote steak, there is an additional charge of €5 added to the above costs.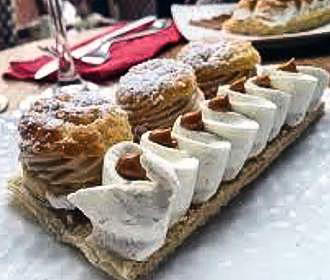 Visiting Sanz by Bizz'Art in Paris

The Sanz by Bizz'Art is open on a Tuesday through to a Saturday from 6pm, yet does not close until 5am the following morning, so if you are staying in this area close to the Bastille Square, then this is perfect for you night owls.

We have already mentioned that there is a Happy Hour from 6pm to 9pm, but there is also an entrance fee, as there is with most nightclubs in Paris, however, there is free entry on a Thursday evening during the Happy Hours of 6pm to 11pm.

As for the restaurant of Sanz by Bizz'Art, this is normally open only during the evening. However, on a Friday and Saturday, there is continuous service until last orders are taken at 3.30am in the morning, which is also quite a novelty for somewhere providing decent French cuisine, unless you go somewhere like the Au Pied de Cochon that never closes.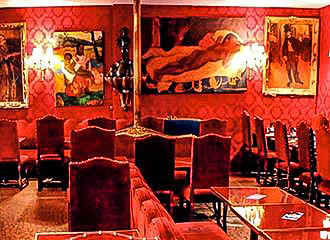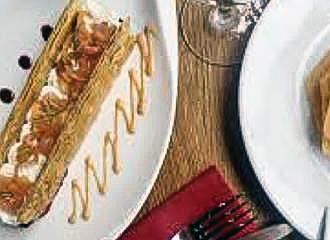 Now when it come to getting to this restaurant, bar and nightclub via public transport in Paris, you will find that it is located in between the Metro stations of the Bastille stop serving lines 1, 5 and 8 and the Ledru-Rollin stop serving line 8.

Alternatively, the bus numbers 20, 29, 61, 65, 76, 86, 87 and 91 will get you close by, however, do bear in mind that the usual public transport system does not operate during the early hours, so when you are leaving you may have to consider the Noctilien night bus service or one of the Paris taxis to get you back to your accommodation.