Le Train Bleu restaurant in Paris

Le Train Bleu is the elegant and sophisticated restaurant in Paris that is located on the first floor of the Gare de Lyon train station, and providing gourmet French cuisine in an elegant and refined atmosphere, this restaurant will take you back in time to the days of luxury travel with its impressive interior.


About Le Train Bleu restaurant

Although the decor of the Train Bleu restaurant can be classed as over the top for some people with its extravagance and plush interior, it has been on the list of historical monuments in Paris since 1972 and still retains all its original features such as the 41 fabulous paintings.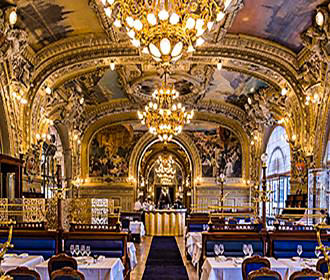 The history of the Train Bleu with its 1900s decor, parquet flooring, leather upholstered seats, wood panelling, gilt and painted ceilings contrasting with the crisp white tablecloths, provides the perfect atmosphere for gourmet dining within the Gare de Lyon train station, where you can follow in the footsteps of the rich and famous people who have traveled though this restaurant.

And since it first opened customer and tourists on holiday in Paris have been flocking to this restaurant, which still serves around five hundred people every day, who wish to come and admire the beautiful setting overlooking the railway tracks of the gare de Lyon train station, while sampling the French cuisine.

And yet, there is a also a bar called the Big Ben Bar that serves a brunch on a Sunday along with coffees, cakes and gourmet snacks such as club sandwiches on all other days, which is located next to the main dining room and still has that air of elegance and prestige of the Train Blue.
The Cuisine at Le Train Bleu restaurant in Paris

The Train Bleu provides traditional French cuisine mixed between the brasserie style and gourmet style dining and there are different menus available such as the Tasting Menu, which is served per table of an evening with a half bottle of champagne per person for a cost of €98 per person.

Slightly less in cost at €70 per person is the Sarah Bernhardt Menu with a choice of starter, main course and dessert plus coffee, or if you are on an even tighter budget, then you could opt for the Rejane Menu at a cost of €56 per person as of 2012, which again is a three course meal with a glass of wine or mineral water.

However, as you would expect, there is a true A la Carte option available and for starters that range in cost from €20 up to €29 as of 2012, you could have delights such as Home-smoked slice of Scottish salmon, crunchy vegetable spring roll and balsamic cherry dressing or Lyon pistachio sausage, mashed potatoes in chives and mustard dressing.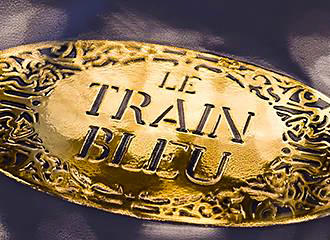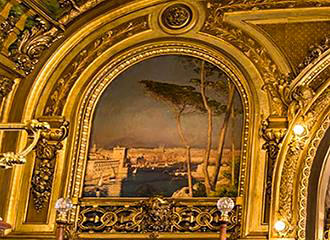 The main courses are fish dishes such as Scorpion fish and white flesh of scallops A la plancha, a creamy shellfish risotto and cuttlefish ink dressing and meat dishes could be Charolais beef steak tartare prepared to your taste, traditional or lightly seared with home-made French fries and mixed salad or Roast leg of lamb and potato gratin with Fourme d'Ambert cheese. The main courses range in cost from €30 up to €45, however, you can also opt for a whole grilled turbot with pan fried vegetables served for two at a cost of €95 as of 2012 or a vegetarian option.

Then there are the very tempting desserts, which Le Train Bleu restaurant call the Indulgences, and these could be a tempting vintage Rum Baba with whipped cream, a lemon and lime tart or a bourbon vanilla layer cake to name a few.

There is also a Brunch served on a Sunday within the bar lounge and as of 2012 this is a cost of €40 per person or €20 for children under the age of 12 and you start with a buffet selection of things like bread, jams, fruit juice, cheeses, hot drinks, etc then the starter is served at your table followed by a main hot dish of meat or fish and finishes with assorted desserts.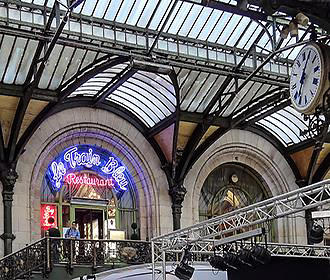 Access to Le Train Bleu restaurant

Located within the 12 Arrondissement and situated in the heart of the Gare de Lyon train station in Paris on the first floor overlooking the railway tracks, this restaurant in Paris is open every day of the year.

The Big Ben Bar is open on a Monday to Saturday from 7.30am through to 11pm and from 9am through to 11pm on a Sunday and on French National holidays serving, beverages, pastries and gourmet snacks.

But the Brunch is served within the bar lounge on a Sunday from 11.30am through to 2.30pm, except for during July and August yet it is highly recommended to book by telephone in advance for this.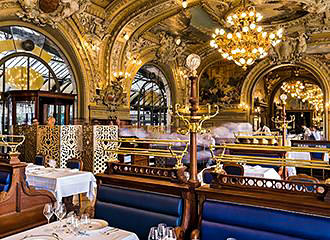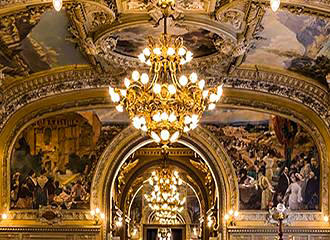 The Train Bleu restaurant itself is open from 11.30am through to 3pm for lunch and from 7pm through to 11pm for dinner, however, last sitting and orders for dinner are normally at least an hour prior. Plus this restaurant in Paris is open every single day of the year to welcome you.

Groups, business lunches and special events are also catered for, yet you would need to contact Le Train Bleu to find out more on +33 (0) 1 43 43 09 06.

Getting to this restaurant is of course very easy, considering it is located within the Gare de Lyon train station, which is served by the RER on lines A and D and the Metro lines 1 and 14. However, you can also get to the Train Bleu via bus on numbers 20, 24, 29, 57, 61, 63, 65, 87 and 91 or the Balabus.