Cafe Barge floating restaurant in Paris

Situated close to Bercy on the banks of the River Seine this barge is a floating restaurant in Paris with a warm yet chic atmosphere and has a DJ on Saturday night, but it is also able to cater for private events such as receptions, parties and seminars.


About the Cafe Barge

The Cafe Barge is a popular venue, whether it be for dancing in a unique setting, a romantic dinner or drink looking out onto the river seine, or a get together with friends or family.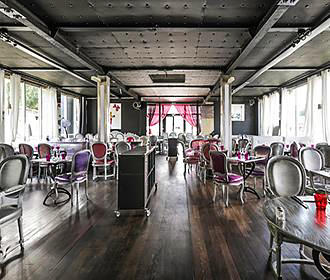 An elegant and chic, yet warm atmosphere awaits you when you board this floating restaurant in Paris with large windows that allow beautiful views of the city of lights, but there is also a dance floor and on a Saturday night with a live DJ playing a wide range of different music for added enjoyment.


Cuisine at the Cafe Barge Restaurant

You will find gourmet cuisine served at the Cafe Barge and they provide some Formulas as they are known for dinner, where you can have a three course meal during the week for €39 or a starter and main or main and dessert for €29.

On a Saturday evening the three course formula is €43 or again a two course is €37, but instead of these, you can opt for the A la carte menu, with a starter being €13, a main course being €24 a dessert for €13 and a coffee to finish for €3.
There is also a formula lunch menu at the Cafe Barge for €30 or a two course for €23, and there is also a childrens menu available for those aged up to 11 years old for a cost of €15 as of 2014.

Now when it comes to the cuisine on offer at this floating restaurant in Paris, some of the delights on offer could be starters such as Foie Gras with a fig chutney and toasted bread, and Italian salad with vegetables and Mozzarella or a sea bream tartare with mango, coriander and a vanilla emulsion.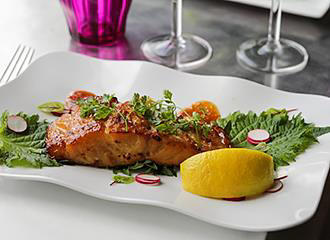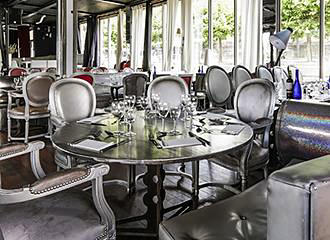 You could then opt for fish as a main dish such as scallops a la plancha with a parmesan risotto or skate with butter, lemon and sweet mashed potatoes, whereas the meat dishes could be Charolais beef tartare and apples, a burger with caremilised onions, foie gras and spicy potatoes or lamb stuffed with herbs and parmesan with Armenian rice.

Pasta dishes such as cheese ravioli or Gnocchi with truffle cream are also available, then you could have a cheese dish served with mesclun salad prior to one of the tempting desserts like a lemon cheese cake or crème brulee with Madagascar vanilla.


Visiting the Cafe Barge

This floating restaurant along with its bar and music on certain nights is located on the right bank of the River Seine in the 12th Arrondissement close to the Parc de Bercy and overlooks the Cite de la Mode et du Design with its modern green structure, which is situated on the opposite bank.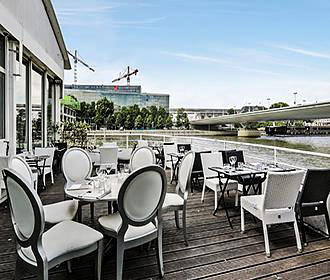 You will find that the Cafe Barge is open from a Tuesday to Friday for lunch and dinner, and on a Saturday of an evening, which is when they also have a DJ playing modern music you can enjoy dancing to. However, a Sunday and Monday are reserved for private functions and therefore only opens on demand.

And when it come to getting to the Cafe Barge, there are numerous means of different public transport in Paris available that are close by such as the Gare de Lyon train station that serves the Metro lines 1 and 14 along with the RER on lines A and D, or you have the Gare d'Austerlitz train station that serves the Metro lines 5 and 10 along with the RER line C.

Parking is also available if you have your own means of transport just before the venue for free or directly at the port for a cost of €8 per vehicle as of 2014, plus there are public car parks at both of the train stations in Paris and there are also Velib cycle stations located close by as well.