Nix Nox Barge and Latin Club in Paris

The Nix Nox is a barge located on the River Seine in Paris that is a night club providing Latin American music including salsa, etc and open to the early hours with a large dance floor, fully licensed bar, terraces and even dance lessons available, this is a popular weekend spot for both locals and tourists.


About the Nix Nox Latino Club

Having been running for over seven years, the Bateaux Nix Nox barge provides a very unique setting for a different form of nightclub in Paris in a fully renovated boat that has a 250 metre squared dance floor with parquet flooring and two bars.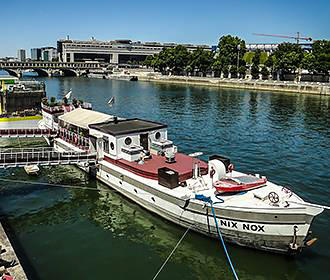 There are also two terraces, one of which is covered and can even be heated, and the cocktail bar is ready to tempt you with a Mojito or other exotic delight so that you can relax on a sun lounger, dance, party, or even enjoy a BBQ.


Evenings at the Bateaux Nix Nox in Paris

Every Saturday you can enjoy a true Latin evening, which has become so popular that it has been running for over 7 years and attracts on average around 500 people each Saturday night, and the evening starts at 8pm with an introduction with a teacher for four traditional Latin dances including the salsa.

Then, from 10.30pm through to midnight there is a happy hour aspect where you can purchase one cocktail and get another free, then from midnight, you can dance the night away until 5am in the morning and the cost of entry is €15 as of 2014.
Every Sunday you will find the Nix Nox opens its doors for free from 7.30pm through to 2am, but there is also a dance class available from 8pm to 9pm for a fee of €5, and you could also opt for a BBQ on the terrace, again for a charge.

And on a Monday evening there are dance lessons available for beginners and intermediate levels of Latin dances with the doors opening at 8pm and closing at 2am, yet there is an entrance fee on this night.

Now other nights are specific themed nights and events that take place randomly throughout the year, but the Nix Nox barge also provides the option of having private functions from wedding receptions through to seminars, so for ideas and more information on these you would need to get in touch with the company.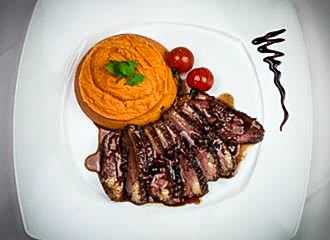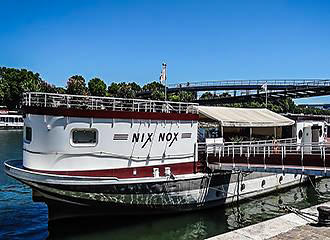 Visiting Nix Nox Club in Paris

You will find the Nix Nox barge located in the 13th Arrondissement on the Quai de la Gare below the Bibliotheque Francois-Mitterrand library and right by the Passerelle Simone de Beauvoir pedestrian bridge that goes over the River Seine to the Parc de Bercy.

And as we have previously mentioned, the Nix Nox club opens of an evening until the early hours depending upon the day of the week, but we would like to point out that it is not suitable for the disabled due to stairs having to be negotiated.

Also, there is a very strict dress code with items such as hats or caps, baggy clothes, hoodies, sportswear, tracksuits, trainers or sneakers, etc will not be allowed.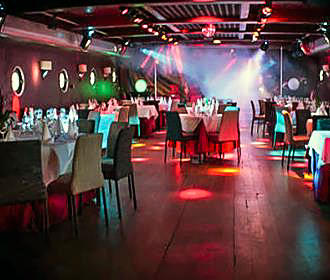 In addition to this, any person looking to already be under the influence of alcohol will be refused entry, along with anyone the management feels could cause a disruption or have a bad attitude to cause problems with other guests. Yet this does mean that there is a friendly and welcoming atmosphere for all to enjoy and party the night away.

But as for getting to the Nix Nox Latin nightclub in Paris, the nearest Metro station is the Quai de la Gare stop via line 6, or alternatively you have the Bibliotheque Francois-Mitterrand stop via line 14, which is also an RER train station for line C. Yet a point to note is that the metro normally stops running around 1am to 1.30am, so if you are leaving the Nix Nox club late, then you would need to make alternative means of transport back to your hotel or other accommodation in Paris.