Jardin Cyprian Norwid in Paris

This is a more recent landscaped garden in Paris dedicated to a Polish poet who died nearby and has plenty of grass areas to relax and soak up the sun, but also a childrens playground, public toilet and fresh drinking water point.


About Jardin Cyprian Norwid

When the area was being redeveloped, it was decided that a new garden needed to be added, and the design was entrusted to the landscape architects Sylvie and Francis Farges from the Tournesol workshop.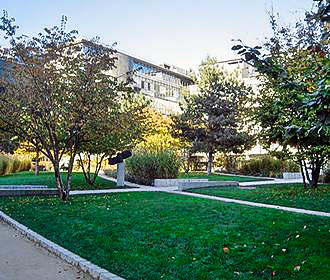 It was inaugurated in 2006 with the name of Jardin Cyprian Norwid, who was a Polish poet that had come to Paris in 1854 and was friends of Frederic Chopin and Adam Mickiewicz. And the garden is very close to where he lived within a nursing home run by Polish nuns of the Sisters of Charity, which is where Cyprian Norwid lived from 1877 until he died in 1883.

There are three banks of garden area with numerous flowers and other plants, which make the area form a terrace style, and it has some straight paths with sloping lawns where you will often find students relaxing in the nice weather.

You will also find that there is a childrens playground here, plus there is a sculpture in the Jardin Cyprian Norwid, which was produced by Alekander Slima and represents an open book, with inscriptions on it that are taken from the romantic element of works Cyprian Norwid produced. Yet you can also find out more from the board produced by the Mayor of Paris, which is located on the railings next to the entrance gate.
Visiting Jardin Cyprian Norwid in Paris

The Jardin Cyprian Norwid opens at 8am during the weekdays and 9am at weekends and on national French holidays, but the closing times do vary from around 5.45pm in the winter months, yet later as the evenings become lighter, especially during the summer months.

Now you may be pleased to know that this garden in Paris is accessible to the disabled and those with reduce mobility, plus there is a fresh water point you can utilise to fill up your water bottles and there is even a public toilet.

Yet one of the entrances to the garden on the Rue du Chevaleret has a staircase lined with honeysuckle, plus we would like to point out that the garden is also sloping and has almost like terraces.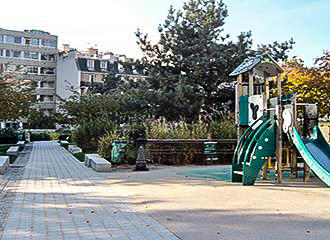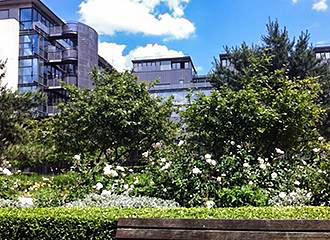 But as for getting to the Jardin Cyprian Norwid Garden, the nearest Metro station is the Bibliotheque Francois Mitterrand stop via line 14, which is also an RER station serving line C. Plus the bus numbers 62, 64 and 89 will also get you close by.