Place d'Italie square in Paris

The Place d'Italie is like a large roundabout or intersection in Paris, which has become a major traffic and business area, yet has a lovely green space with a fountain in the middle of it, and numerous restaurants close by.


About Place d'Italie

The Place d'Italie was once where there was a wall of the Farmers General, which was a tax enclosure constructed during the reign of King Louis XVI in order to obtain taxes on goods, but as you can no doubt appreciate, this type of taxation was not something that was welcomed, and many were torn down over the years.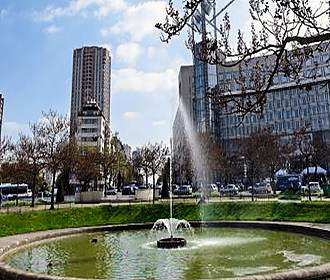 Over the decades this area had become a major point for people going out of Paris to the suburbs and arriving in the city, yet it was named the Place d'Italie due to the route that a person would take from Paris if they were going to be travelling to the country of Italy.

It is unclear as to exactly when the Place d'Italie was first named or developed, however, there was a major plan put in place in the 1960s to completely redo the area and add high rise buildings, including a skyscraper that would have been taller than the Tour Montparnasse Tower.

However, with so much criticism and lack of support, the project was somewhat abandoned, even though it is still a major intersection with more than eight roads that converge on it.

Yet a few new buildings were constructed, which are now home to offices and a shopping centre and there was a cinema here, which is now closed.
But on this square in Paris you will also find the mayors office for the 13th Arrondissement in a lovely architecturally designed building, and in the small area behind there is a sculpture that was produced by Ossip Zadkine.

Plus there is a small area outside the shopping centre, which was named Place Henri-Langlois after the gentleman that collected film archives and set up a cinema here. And now through the efforts of Henri Langlois, there is a museum in Paris called the Musee de la Cinematheque, which is located within Parc de Bercy.

Yet in the centre of the Place d'Italie square in Paris you will find it is not any old roundabout, as it has been made into a garden with a water feature.

In addition to this the entrances to the Metro station have also been added to the supplemental list of historical monuments in Paris as well, which were originally designed by Hector Guimard.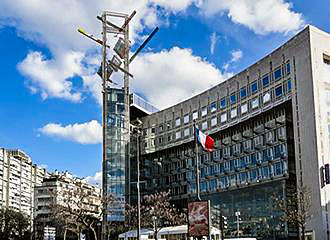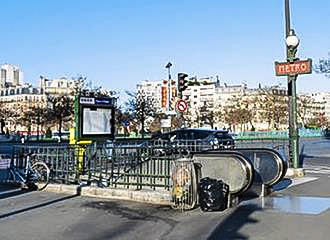 And you will be able to find numerous restaurants in Paris that are located close by, plus this area is a hive of activity of an evening. Yet also being historical, you can find the Manufacture des Gobelins near here as well, that was first founded as a tapestry factory back in the 1600s and now has a museum as well.


Visiting Place d'Italie in Paris

As we have mentioned before, the Place d'Italie is located in the 13th Arrondissement and has numerous roads converging on it including the Avenue d'Italie, the Boulevard Vincent Auriol, the Rue Bobillot, the Rue Godefroy and the Boulevard Auguste Blanqui to name a few.

And when it comes to reaching the square and its garden, the nearest Metro station is right there and called the Place d'Italie stop, that serves lines 5, 6 and 7 of the Paris Metro.