Jardin du Monument aux Meres Francaises

Although it is classed as a garden of a monument to French Mothers, it is actually more like a square, yet was designed to recognise the women who had to bring up their children alone after their husbands died during World War I with a large monument to this effect.


About the Jardin du Monument aux Meres Francaises

This garden was first created in 1938 by French architect Paul Bigot in order to honour the women who had to suffer and raise children on their own while their husbands went to fight for France during World War I. But it was also to designed to be dedicated to, and remember, those that never knew what happened to their spouses and still raise their children alone.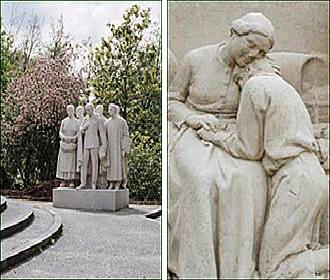 There are stack reminders of the atrocities of war throughout the world, and the city of Paris has always tried to recognise these, whether it be through victories or through suffering, and hence a large monument was produced in order to recognise the selfless acts of individuals left behind.

This large monument in Paris was inaugurated on 25th October 1938 by Albert Lebrun, who was the French President of the Republic at the time, and consists of three different statue groups, which were sculptures produced by the artists Henri Bouchard and Alexandre Descatoire, and were made of stone.


Visiting Jardin du Monument aux Meres Francaises

For over thirty years Mothers Day was recognised at this particular statue in Paris, however, it was closed for several years before reopening, and today, this so called garden can be visited during its opening times.
Therefore, from either 8am or 9am depending upon the day of the week, through to as early as 5.30pm in winter or as late as 8pmin summer, you can enter the Jardin du Monument aux Meres Francaises.

And you will be able to discover the Jardin du Monument aux Meres Francaises in the 13th Arrondissement of Paris close to the Parc Kellerman, which is actually on the outskirts of the city, and you may be pleased to know that there are a few park benches where you can sit and relax.

So when it comes to getting to the Jardin du Monument aux Meres Francaises via public transport in Paris, you will find this in the 13th Arrondissement, and the nearest Metro station is the Porte d;Italie stop serving line 7, however, this also serves the Tramway on line T3a.