Jardin Francoise-Giroud garden in Paris

An unusual place to find a garden, it is actually located in the centre of a large roundabout at Place d'Italie, yet has a lovely water fountain and a statue you can admire.


About Jardin Francoise-Giroud

Francoise-Giroud had a fruitful career including being an editor for Elle magazine, co founding a magazine, which she became director of a few years before being requested to participate within the French Government, and she has a lasting memory for many.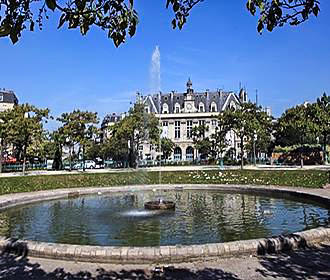 And the Jardin Francoise-Giroud is a garden in Paris that was named after this journalist, screenwriter and politician, who although born in Switzerland she became a French national and died close to Paris.

You will often see water features and fountains in Paris as you are driving or walking around the city, and this particular garden is in an unusual location, set on the middle of a roundabout or intersection of the Place d'Italie, yet you can still find a basin and water fountain here.

In fact, it is a small marble water fountain called Avant la Bain, which in English generally translates to Before the Bath, and this was produced by Louis d'Ambrosio and the pool or basin is surrounded by sloping grass areas, a pathway and planted gardens of roses and other flowers and shrubs.
You can also find a statue within the Jardin Francoise-Giroud that was envisioned by the architect Henri Cantie for where it would be placed, which was sculpted by the artist Andre Greck and produced by Daniel landowski, which was put in place in 1983. And this statue is of Alphonse Juin, who was a Marshal of France.


Visiting Jardin Francoise-Giroud garden in Paris

Now you will find the Jardin Francoise-Giroud located in the middle of Place d'Italie in the 13th Arrondissement close to other tourist attractions and restaurants.

And being where it is, the entrances to the Metro station called the Place d'Italie stop are right next to this garden area and serve lines 5, 6 and 7, which have even been put on the supplementary list of historical monuments in Paris.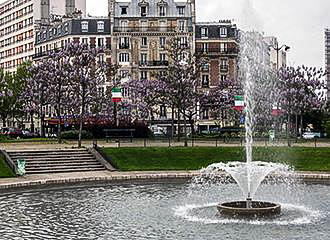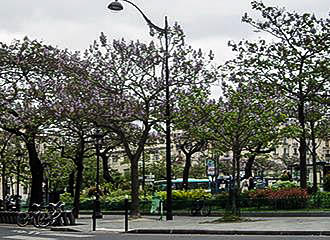 Yet for those of you that like your own means of getting around the city, there are also two Velib stations for the self service bike rental scheme, which are located within only a few metres, as well as the Paris bus system on numbers 27, 47, 57, 64, 67 or 83, that you can use.