Square Saint-Medard in Paris

This is a small garden dating from the 1800s that was originally laid out on the old cemetery next to a historical church called the Eglise Saint-Medard and has park benches, a water point and childrens playground.


About Square Saint-Medard

The Square Saint-Medard was named after the church, which is located right next to it and was first laid out in around 1875 on the site of the old cemetery, and there are many different types of trees including sycamore, chesnut and linden.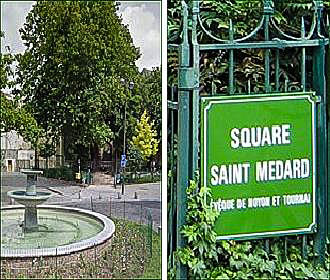 Also, you will find roses, rhododendrons along with camellias, which were the third most popular cut flowers after roses and dahlias in the 19th century, that were originally only introduced to Europe from China back in the 1700s.

There are numerous other different varieties of flora to be discovered within the Square Saint-Medard, that makes it a lovely little place to relax on one of the park benches, some of which are shaded by the large trees. And this means that this square in Paris has now been given the title of an Espace Vert Ecologique, or Ecological Green Space as it translates to in English.

But there was also once a bronze statue of a woman and child located here, yet it disappeared during World War II and the only thing left is the stone base that it used to be positioned on. However, there is a far more recent addition of a childrens playground, so while the little ones are enjoying themselves, you can admire the facade of the Saint-Medard church with some parts dating from the 15th century and other additions from the 17th and 18th centuries.
Visiting Square Saint-Medard in Paris

You will find the Square Saint-Medard located on the south side of the Eglise Saint-Medard in the 5th Arrondissement of Paris, yet it is only open from approximately 9.30am through to around 5.30pm daily.

Now when it comes to public transport in Paris, the nearest Metro station is the Censier - Daubenton stop serving line 7 or in the opposite direction you have the Les Gobelins stop also serving line 7.