Grande Galerie de l'Evolution Museum

This is part of the Natural History Museum in Paris located within the Jardin des Plantes and is a historical museum suitable for all ages that is located in a 19th century renovated building, which is handicapped accessible as well.


About the Grande Galerie de l'Evolution Museum

The Musee National d'Histoire Naturelle or MNHN for short, is the Natural History Museum of France and was first founded during the French Revolution in 1793, although the origins date back as far as the 1600s.

The particular section called the Grande Galerie de l'Evolution is just a part of the whole museum and this is housed within a very impressive building with a glass roof that dates from the 19th century.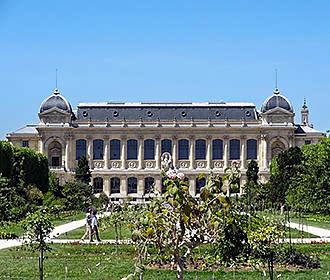 Located within the Jardin des Plantes, which are the original Botanical Gardens in Paris that were first founded back in 1626, the Great Gallery of Evolution has seen many curators over the years as it has expanded.

However, it was closed for around thirty years due to the need for many improvements and restoration of both the building and the exhibits, and eventually after much needed work was completed, this museum in Paris reopened its doors in 1994.

The impressive staircases are historical monuments in their own right, and they were originally constructed to allow visitors to access different levels of the gallery within the Natural History Museum and were closed to the public for many years. But now they are open again, and you will be able to discover statues at every step you take and with 27 busts of important naturalists for the museum, this is just one of the more factual highlights of the visit.

Another one of the improvements made to the Grande Galerie de l'Evolution was adding a new and technologically advanced sound and lighting system, which really brings the exhibits and themed areas to life.

For instance, under the nave you can discover the marine world including coral reefs with the sounds of water, etc and you can hear the cries and calls of many different animals, which adds to the whole experience.
From elephants to tigers and monkeys to sharks there are so many impressive exhibits, not forgetting the view from the glass lift that goes past different birds all suspended as though they are flying.

Yet one of the main attractions and probably the most recognised is the centrepiece display within the nave of animals in a procession known as the African Savannah, plus there are many other themes such as the Amazon rain forest and more.

Another space called the Galerie des Enfants was also added in 2010, which has been designed specifically for families who have children ranging in age from around 6 to 12, where they can discover more about different environments through to the diversity of life on this planet, and much of the area is practical where they can touch as well as ask questions, etc.

Additionally, an even more recent innovation, which is the first in a museum in France, is a room dedicated to virtual reality, and with five VR stations, this offers a unique experience that is located on the third floor of the museum and starting with Journey Into the Heart of Evolution, over time there will be different experiences that coincide with events and features at the museum.

You will also be able to discover the Espace Cafe de la Grande Galerie de l'Evolution on the first floor of this museum, which open from 10am through to 5pm, but is only accessible to those that have a ticket for the museum.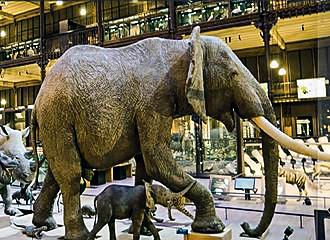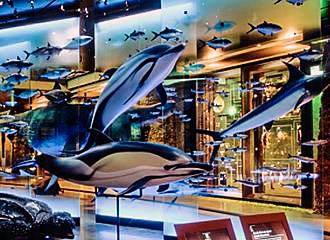 However, this cafe is closed on a Tuesday and on certain National French holidays such as 1st May, yet it is an ideal place to stop for a drink or snack, while still being able to admire some of the exhibits on display within the impressive Grande Galerie de l'Evolutuion Musee National d'Histoire Naturelle.

There is also a boutique located on the ground floor by the lobby of the great Gallery of Evolution, which provides a great range of souvenirs, books, different objects, posters, etc, with items catering to all ages and tastes.

Visiting the Grande Galerie de l'Evolution Museum

As we have mentioned previously, the Natural History Museum of the Grande Galerie de l'Evolution is located within the Jardin des Plantes botanical gardens in the 5th Arrondissement of Paris very close to the River Seine.

And as you will see, there are numerous other tourist attractions located here including a very historical menagerie zoo with many endangered species, along with the garden itself and other museums, not forgetting those nearby and within a very short walk, such as the open air sculpture museum.

You will find that the Grande Galerie de l'Evolution is open from 10am through to 6pm on a Monday and then on a Wednesday through to a Sunday, however, it is closed on a Tuesday and on certain other National French holidays such as 1st May. Plus we would like to point out that latest time you can purchase a ticket is 45 minutes before closing time.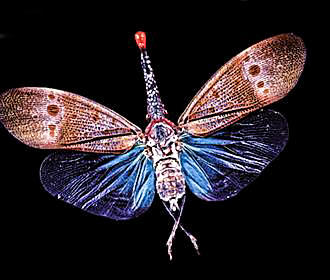 This museum in Paris is accessible to the disabled and there are toilets along with a dedicated baby changing area within the Grande Galerie de l'Evolution, not forgetting the cafe if you wish to have a short break, meaning that you can enjoy a complete family day out.

As of 2020, the cost of entry is €10 for the Grande Galerie de l'Evolution, but it is free for those that are disabled and for certain people such as students under the age of 26, etc, yet this is only applicable upon providing proof of eligibility.

However, you can also purchase a ticket for the Grande Galerie de l'Evolution and either the temporary exhibitions or the Galerie des Enfants for a cost of €12 or all three for €14 as of 2020. Yet we would like to point out that the virtual reality room is an additional charge of €5 as of 2020.

Yet if you wish to discover other areas of the Jardin des Plantes such as the Galeries d'Anatomie Comparee et de Paleontologie with the dinosaur skeletons and plant fossils, then if you present your full price ticket from the Grande Galerie de l'Evolution, you can get a reduction on the cost of entry to other attractions located here within the Jardin des Plantes.

Group visits are also welcome and you can have a guided visit on a Saturday, however, these are only possible by reservations prior and by telephoning 08 26 10 42 00, which is a cost of €0.15 per minute for the call, yet if you are phoning from a mobile or abroad, then this cost may vary and depend upon your normal phone tariffs as well.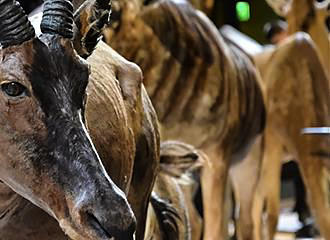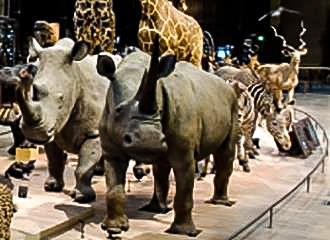 Access to the Grande Galerie de l'Evolution

So being such a popular tourist attraction, there are numerous different means of public transport in Paris that will get you close by, and the nearest Metro stations are the Gare d'Austerlitz stop via lines 5 and 10, the Censier Daubenton stop via line 7 or the Jussieu stop via lines 7 and 10.

Yet the RER station serving the RER C Line is also located at the Gare d'Austerlitz train station plus this also services the TER and Intercities trains that come into Paris from other regions of France.

Alternatively, you have the Batobus water bus shuttle service that has a stop very close by on the River Seine, which is actually called the Jardin des Plantes stop. In addition to these options, you have the bus lines 24, 57, 61, 63, 67, 89, 91 and 215 along with the Noctilien Night Bus Service via Lines N01, N02 and N31 that will also get you near to the Grande Galerie de l'Evolution.

Not forgetting you also have the bus tours in Paris such as the company called l'OpenTour that is still within walking distance although a bit further away , but if you prefer more flexibility, then there are also Velib stations located close by, which are for the self service bike rental system in the city, plus there are public car parks located close by for those of you with your own vehicle.