Viaduc d'Austerlitz railway bridge in Paris

One of the bridges over the River Seine, this is purely a rail bridge which was designed at the start of the 1900s for the Metro between the Gare de Austerlitz on the left bank over to the right bank close to the Canal Saint-Martin.


About the Viaduc d'Austerlitz in Paris

Because of restrictions that were imposed by the river navigation authority, due to the fact that it would be deemed unsafe to have any kind of pier within the River Seine, a viaduct for the new Metro rail link would have to be constructed as a single span over the river.
And it was the engineer Louis Biette accompanied by Fulgence Bienvenue that came up with the design for a single span railway bridge over the River Seine, and at the time, this metal bridge spanning approximately 140 metres, was a record stretch of any other previous bridges in Paris constructed.

The construction of the Viaduc d'Austerlitz was started in 1903 and finished the following year, it is made of metal and has two reversed steel parabolic arcs that are joined together at three points along with a suspended deck, which is around 8.5 metres in width.

Yet it was not just the bridge itself that became a feat of engineering, as even the approaches had to have a clever design in order to make the railway line work, although the left bank was not an issue.
But the right bank had buildings and different structures already in place, which meant rather than get these demolished, a solution to this problem needed to be found, and the result was a curved structure for the railway that bends round and then goes underground at the Place Mazas before re-emerging by the Quai de la Rapee Metro station.

You will also find some ornamental decorations on the Viaduc d'Austerlitz in the form of marine style reliefs such as sea shells and dolphins that were produced by the artist and architect Jean-Camille Formige. And in addition to these the footings are etched with figures of the coat of arms for Paris.


Visiting Viaduc d'Austerlitz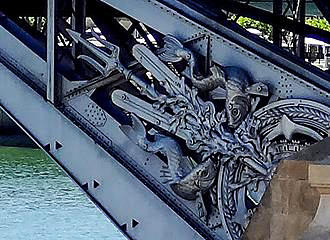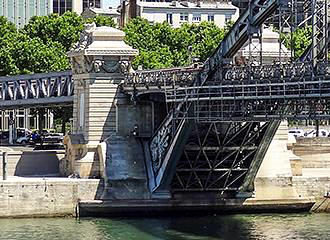 You will be able to discover the Austerlitz Viaduct located upstream of the bridge that has the same name and downstream, the next bridge over the River Seine is the Pont Charles de Gaulle, which is in the direction of Bercy Park and it stretch from the 13th Arrondissement over to the 12th Arrondissement.

The nearest Metro stations to the viaduct are at the Gare d'Austerlitz train station on the left bank or the Quai de la Rapee stop on the opposite side, both of which serve line 5 of the Metro, however the train station itself also has line 10 of the Metro and the RER trains for line C.