Le VIP Paris Dinner Cruises and Hotel on the River Seine

If you are thinking of proposing to your loved one or just wish to have romantic weekend away in Paris, what could be better than to do something unique, like staying on a yacht hotel on the River Seine, enjoying an evening dinner cruise, or even a fun casino style evening with cruise and a night on board the yacht, all in a luxurious and refined atmosphere for a magical experience.


About Le VIP Paris Yacht Hotel

The VIP Paris is literally like the name suggests, a place for very important persons, but at the same time, it is somewhere that anyone can enjoy from all walks of life and is not only for celebrities, etc, and is a unique experience for those of you that want something completely different while you are on holiday in Paris.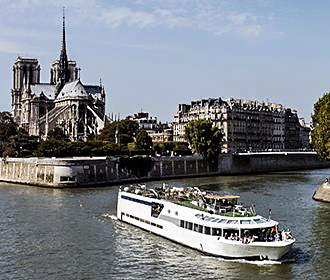 Now, Le VIP Paris is actually classed as a yacht hotel, which is located on the River Seine and provides 24 rooms on this floating hotel in Paris with nine being standard and twelve being superior, along with two junior suites and a presidential room that has its own 18 metre squared balcony at the aft of the boat.

Each of the rooms is a classic style with mahogany wood yet modern features and en suite, plus has air conditioning, a mini bar, reading lamp and desk, plus free WiFi and room service. But obviously like all hotels there are extras depending upon what type of room you book, such as a larger bed, your own lounge and an additional LCD TV within the suites, etc.

There is a sun deck on the boat where you can enjoy aperitifs, even a meal and after dinner drinks, plus there is the panoramic restaurant, which as the name suggests, has large windows allowing impressive views towards the many different monuments in Paris that you can admire if you are on the dinner cruise.
The Dinner Cruise and Themed Casino Evening with Le VIP Paris

Le VIP Paris Yacht Hotel offer a dinner cruise on the River Seine called the Magic Paris by Night and as of 2015 this is a cost of €127 per person, and is reserved for couples only, where you are welcomed on board at 7pm with last arrivals being 7.30pm.

The departure itself for the cruise on the River Seine then begins at 8pm so that you can start to discover the different monuments and tourists attractions lit up for that romantic prelude before the three course dinner which starts being served at 9pm.

The gourmet French cuisine changes with the seasons, but could be a starter such as Scallop carpaccio with citrus and pistachio followed by a main course of Veal, creamy polenta, mushrooms, carrots and a spicy gravy with Moka, the a dessert of passion fruit cheesecake for instance. However, there is a vegetarian option available as well.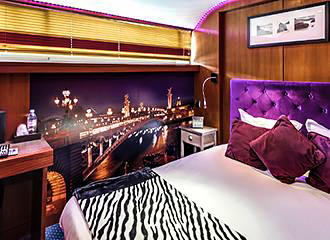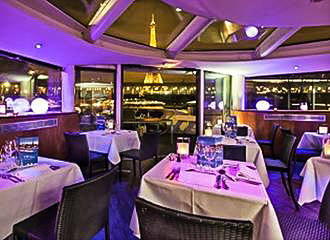 And if can get your eyes away from your partner to look at more landmarks you pass, you eventually arrive back at the dock after dinner at 10.30pm.

Now one of the special evenings that Le VIP Paris provide, is called Casino Royale en Seine and this is a combined package with a fun casino evening, the Paris by Night cruise and one nights stay on board in one of the yachts hotel rooms.

You would arrive at the Le VIP Paris yacht at approximately 6pm, so that you can get settled into your cabin prior to the restaurant opening where you could have an aperitif, and at 6.30pm you are provided a special ticket for the fun games at the casino event, which is run by true croupiers, starting at 7pm.

At approximately 8.15pm the sightseeing evening cruise on the River Seine starts, and you are seated for dinner for the gourmet three course meal accompanied by soft live music by a singer.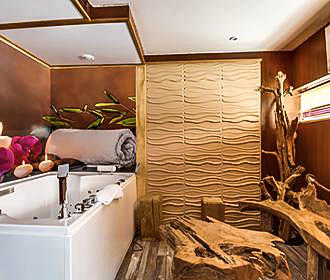 At 10.30pm the Casino games tables for games such as Black Jack and Roulette re-open, yet the yacht does not get back to its dock until 10.45pm and after the finish of the casino evening you can relax in the lounge bar, before retiring back to your room for a romantic night on board the yacht.

You will find that the normal cost for this special evening is from around €318 per person, but obviously it does depend upon what type of room you choose, like we mentioned earlier, although Le VIP Paris Yacht Hotel does also provide special offers and we have seen this package for only €255 per person as of 2015.

Now breakfast is an option that you can also request after your nights stay, although there is an extra charge, and room service is also available, but we would like to point out that drinks are not included in either of the above.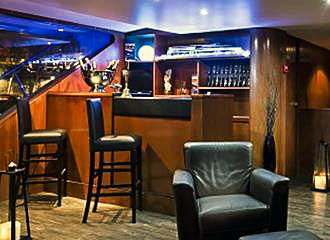 Visiting Le VIP Paris Yacht Hotel

You will find that the VIP Paris has its own private car parking facilities at the mooring dock in front of the yacht on the Port de la Rapee.

However, for those of you who are arriving by public transport, then there are two train stations in Paris that are located only approximately a 5 to 10 minute walk away and these are the Gare d'Austerlitz and the Gare de Lyon that serve both the RER trains and the Paris Metro.