The POPB Stadium Now AccorHotels Arena in Paris

The Palais Omnisports de Paris-Bercy, referred to as just the POPB or the Bercy stadium, has changed to AccorHotels Arena in a 10 year naming rights deal, and located by the River Seine close to the Parc de Bercy, it is the largest indoor sports arena in France with versatility for many different sporting events along with concerts that are held throughout the year.


A bit of history

It was back at the start of the 1980s that the city of Paris first decided to have a sports palace that would be located along the River Seine on a large scale to hold major sporting events, but something that would stand out from other stadiums.

Spread over an area of around 55,000 metres squared on the Right bank of the River Seine in an area that was once famous for its wine houses, the architects chosen for the design concept were Michel Andrault and Pierre Parat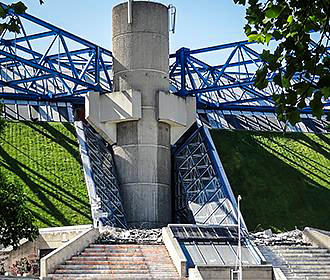 ---
Work started in 1981 and with a very unique and unusual design in a pyramid shape that has walls covered in a sloping lawn, along with a metal framed roof that was designed by Jean Prouve, which is supported by four enormous concrete columns, it took around three years to complete and finally open in 1984.

At the time of opening it was called Bercy Arena and with an original device for technical applications that was designed and realised for the first time in the world, it then changed its name to the Palais Omnisports de Paris-Bercy stadium and could accommodate a wide variety of lighting effects, sound and special effects, whether it be for shows, concerts or various types of sporting events.

The flexible space of the main arena is suitable for most sports events and can even accommodate water sports, plus with a capacity of up to 17,000 spectators where there are no structural columns to obstruct visibility, this stadium in Paris has become a very popular venue for all types of events and was very technically advanced for its time.

However, times change and with new technologies available, the Palais Omnisports de Paris-Bercy, known as POPB for short went through a major overhaul in order to accommodate up to 20,000 spectators at any one time, along with yet another architecturally ambitious project that was fully realised by 2015.

Something that is very unusual in France, although is well known in the USA, is where a large company gets involved and secures a naming rights deal, which is exactly what happened with this Paris arena, which has been named the AccorHotels Arena POPB for the re-opening in November 2015.
The deal is actually for ten years where AccorHotels pay several million Euros each year to have the naming rights for the stadium, which can be extended for another ten years, and this concept of naming rights has also happened with other stadiums in France, such as the ones in Bordeaux and Nice.


About the AccorHotels Arena POPB

After the re-opening of this stadium, it means that even more people can enjoy the atmosphere of a concert, show or sporting event, which is home to the Paris Masters ATP Tour tennis tournament, and stages numerous other sporting events.

In fact, the AccorHotels Arena is classed as one of the best stadiums in the world and is on par with the O2 Arena in London, UK and the Madison Square Garden in New York, USA.

From handball to table tennis tournaments and basketball through to show jumping or martial arts, these are some of the events organised at this fully renovated stadium that has more space for spectators, VIPs and the performers or sports stars.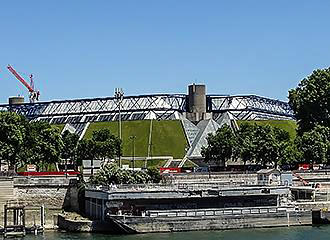 ---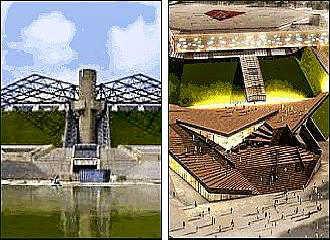 In addition to these sporting events, you could take the opportunity to see concerts with performers such as Johnny Hallyday who has performed here no less than 70 times, and many others who have performed at this entertainment venue such as Alicia Keys, The Who, Fleetwood Mac.

Lady Gaga, Shakira Iron Maiden, Katy Perry and U2 are all live in 2018 along with many others, not forgetting numerous sports events like the WWE, FEI World Cup Finals in show jumping and dressage, the Harlem Globetrotters Paris Masters tennis and many more.

Yet the Palais Omnisports Paris-Bercy stadium has played to host to numerous others stars that have performed here over the years including Madonna, Phil Collins, Lionel Richie, Celine Dion, Sting, Depeche Mode, etc along with other major sporting events such as gymnastics championships, boxing and many more for a varied programme that continues year after year.

You will find that there are no less than fourteen different outlets for fast food snacks, sandwiches and confectionary, along with drinks, beverages, ice creams, etc and the AccorHotels Arena also has a two-storey bar with a live music programme organised every week, plus an actual restaurant called The Showtime L'Equippe, which is a bistro style restaurant that has 130 seats and is also open to the public.

In addition to this, the construction of an esplanade with terraces creates a link between the Bercy area and the venue, that makes accessing the stadium far easier, plus there is a completely new lobby area of 2000 metres squared with large windows making it like a glass front and topped by a wave-shaped canopy, this opens on to the Rue de Bercy to provide an airy and bright space with better access.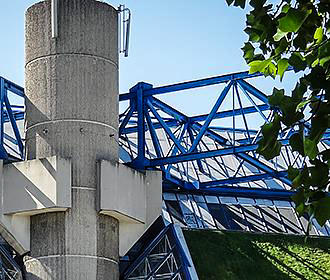 ---
Access to the Palais Omnisports Paris-Bercy stadium

For information and booking tickets you can do this well in advance via their dedicated website or through one of the official partners, but there are sometimes tickets available on the day approximately two hours prior, although, this is not a guarantee as many events are complete sell outs well before the day.

Plus being the largest inside arena in France there are many different access doors including the main entrance known as the Grand Hall entrance, which is located at ground level and also provides access to the disabled via an elevator, or lift, to other floors and areas of the stadium.

And on an average, doors open between one and a half hours and two hours before the event, just purely because of the amount of people it can accommodate, which allows for easier flow.

So, once inside, you will find that getting to your seat is actually quite straightforward as each access point is assigned a letter of the alphabet, such as the Balcon or Corbeille that are numbered between A and U. Whereas the Orchestra Pit is numbered X to Z and is accessed via the Pit and Orchestra entrance in the direction of the Parc de Bercy.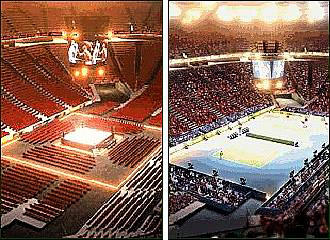 ---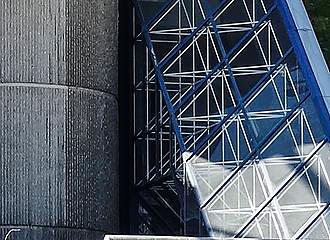 Now as we mentioned earlier, the Accor Hotels Arena, formerly the Palais Omniports Paris Bercy stadium, is located on the right bank of the River Seine in the 12th Arrondissement, and is situated at the edge of the Parc de Bercy, which is the contemporary park in Paris.

In fact, this park is also home to the restored wine warehouses called the Pavillons de Bercy with the Musee des Arts Forains fairground museum, the Cinematheque Francaise with its world renowned cinema museum and film archives, plus Bercy Village, which are just a few additional tourist attractions in Paris around the Bercy area you can discover while visiting this area.

And even though getting to the AccorHotels Arena POPB is relatively easy by car, parking spaces are limited and it is a requirement to book a space within the dedicated Arena car park at the time you book your tickets, although there are public car parks close by as well. Just make sure you allow plenty of travel time due to the weight of traffic around the area.

However, utilising the public transport in Paris is the far easiest option and in fact, the Gare de Lyon train station is only around 900m away from the Bercy area, but if you are feeling energetic you could always walk along the River Seine to the park and this stadium.

When it comes to Metro stations, the closest to this stadium is the Bercy stop serving the lines 6 and 14, however, if you are travelling via the RER trains, then the nearest train station is located on the opposite bank of the River Seine called the Bibliotheque Francois-Mitterrand stop serving teh RER C Line.

Alternatively, the Bus lines 24, 64, 87, 109 and 111 along with the Noctilien Night Bus Service via lines N32, N35 and N130 will also get you to this park and the AccorHotels Arena POPB stadium.