Agence Parisienne du Climat in Parc Bercy

This is the Paris Agency for Climate Control, which provides free advice to residents on how they can save money on energy, improve or renovate their property to make it more environmentally friendly, etc.


About the Agence Parisienne du Climat

The Agence Parisienne du Climat is known as APC for short, and is the Paris environment and climate agency that provides free advice to people wishing to reduce energy consumption, thus helping the city combat climate change.

One of their missions is to examine different technological advances and innovations in the field of energy, provide energy audits on buildings and provide advice including financing renewable energy sources, legislations, regulations and more.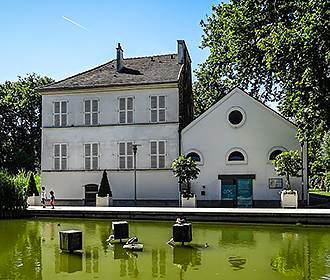 ---
So if you are a resident in Paris or own a property in the city, you can obtain free and independent advice on topics such as renovation, environmentally friendly materials such as solar energy, how to improve your energy consumption including insulating your home better, and much more. All with a view to helping you save money, improve the environment and help against climate change.

And you will find that the Agence Parisienne du Climat is open on a Monday to Friday from 10am through to 6pm with advisors ready to help discuss your needs and provide free information via telephone on +33 (0) 1 58 51 90 20 or via email.

But even if you are only on holiday in Paris and want to enjoy seeing the lovely lake and the pavilion, this is a beautiful setting within a large park called Parc de Bercy that has so many tourist attractions all in one place, which can make this a great day out for all the family.
Visiting the Agence Parisienne du Climat

You will find the Agence Parisienne du Climate within the Pavillon du Lac, which translates to Lake Pavilion and the building is named after the beautiful lake right outside, which is situated in the Parc de Bercy park in the 12th Arrondissement.

Now when it comes to reaching here via public transport in Paris, the nearest Metro stations are the Cour St Emilion stop via line 14 or the Bercy stop serving lines 6 and 14, or alternatively the Bus lines 24, 64, 87, 109 and 111 along with the Noctilien Night Bus Service via lines N32, N35 and N130 will also get you close by.

However, across the River Seine after walking over the Pont de Tolbiac bridge you could reach the Biblitheque Francois-Mitterrand train station that serves the Metro again on line 14, but also the RER trains via the RER C line.