Les 400 Coups restaurant in Paris

Le 51 was the original restaurant at the Cinematheque Francaise, but this has since changed to Les 400 Coups as of 2014 and is also known as the Restaurant Cinematheque, which is certified child friendly with Sunday brunch, snacks and different menu options.


About Les 400 Coups

In keeping with the theme of the Cinematheque Francaise and its world renowned impressive museum, Les 400 Coups takes its name from a 1959 French drama film, which was the debut film for director Francois Truffaut, who went on to receive the Cannes Best Director Award.

First opened in the October of 2014, Les 400 Coups is run by Severine Haiat and Elizabeth Conter who worked for ten years in the cinema and opened their first restaurant in 2009, so this was the ideal opportunity for them to bring together both of their passions.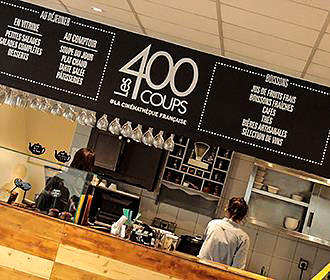 You will find that this restaurant tries to be as eco-friendly as possible and with this in mind, they installed a compost system for waste food, and the recovery of this is by a company called Moulinot who transform this waste into methane, that then supplies electricity to the city of Etampes, which is located on the outskirts of Paris in a south westerly direction.

Inventory is very strictly controlled and they have a variable portion system in place that caters for an individual's appetite, rather than a set amount as standard, which also helps to eliminate food waste.

If you are dining in, then you will find that porcelain crockery is used, whereas if you decide upon a take-away option, then Les 400 Coups utilises biodegradable and compostable containers.

Les 400 Coups is also certified kid friendly and high chairs are available for the very young, plus there is a dedicated area specifically designed for children with books, a play area including a chalk board along with a screen of Chinese shadows, etc. In addition to these aspects, there is also child formula available at weekends, plus birthdays for up to 15 children can be organised.
The Cuisine at Les 400 Coups restaurant

You will find that the cuisine is comprised of fresh seasonal ingredients that changes very frequently depending upon what produce is available, with many of the items being organic and care has been taken to select products from local sources such as bread from the Winocour family of millers and bakers in Yvelines.

Farm eggs are derived from the Black Chicken of Marans from a forest farm, which are included within all their pies and cakes. Seasonal vegetables and fruits are utilised, the charcuterie products are from the Mas family and the Fromagerie Beillevaire is the supplier of all their cheese and dairy products.

All food is prepared on site or from specific local small producers, so you can be assured of homemade freshness and quality which has a twist between French and Japanese inspirations, plus there is a selection of French wines and small variety of beers, some of which are organic or seasonal.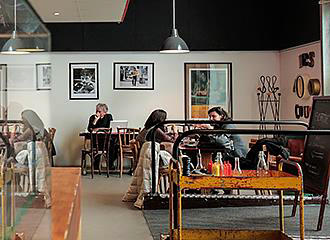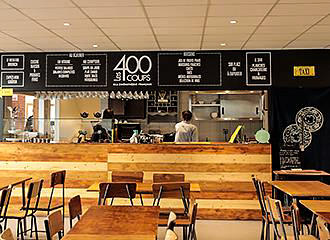 Therefore, as you are probably gathering by now, everything constantly changes on the menu and there are even different items on a daily basis, which could be different soups, sandwiches, salads, desserts, etc and even the fresh fruit juices change each day.

Some of the items you may find on the menu that you can eat in or take away could include a Cheeseburger or Bacon cheeseburger served with fries and mesclun salad, Fish and chips with either a wasabi or tartare sauce, Duck with mashed parsnip and fried mushrooms, Salad of spinach sprouts, hot goat toast & honey, roasted sweet potatoes. cumin, pumpkin seeds and hummus or Tuna tataki, Daikon turnip and radish red meat, salad mustard leaves, garlic and sesame oil.

There is also a Sunday brunch available on a Sunday lunchtime, with a mini brunch available for children as well, and this is very popular with families, although on this day there are only a few other basic meal choices available. Yet formulas are also available such as a soup or salad and plate of the day for approximately €14, a sandwich and drink for around €7 or a soup and pie for around €10.

Of an evening there are platters available, which are either cured meats from the Maison Mas or cheeses from the Fromagerie Bellavaire and you can choose from a small, large or an extra large platter for two people, with another option of having a small platter accompanied by a glass of Chianon wine for €12. A variety of Tapas is also available served in small pots.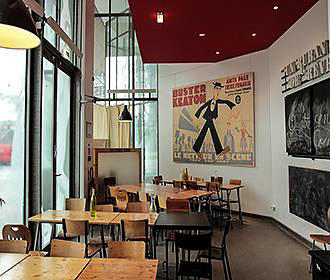 Access to Les 400 Coups

Located at the Cinemateque Francaise, this cafe style restaurant in Paris is situated in the 12th Arrondissement bordering on the contemporary Parc de Bercy close to the shopping area of Bercy Village and many other tourist attractions that are within walking distance.

It is also very close to the River Seine, where you will also find cruise boats along with music venues such as the Batofar, plus within this park in Paris there are many other things to discover such as the gardens and the Maison du Jardinage, the Pavillons de Bercy, which are the restored wine warehouses that now hold the Musee des Arts Forains, and much more.

Now, Les 400 Coups is open throughout the year on a Monday from 11am through to 3:30pm and 7pm during Parisian school holidays. Then on a Wednesday through to a Friday it is open from 11am to 8:30pm, however on a Saturday is open from 11am until 10pm and on a Sunday from 11am to 7pm.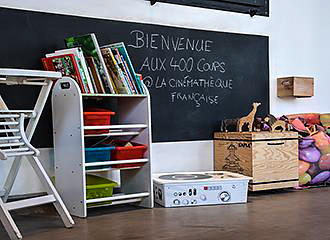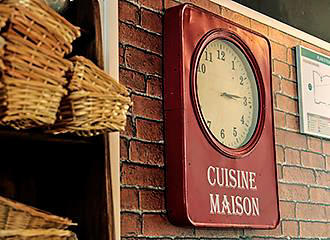 You will find that it is always closed on a Tuesday and on any major National French holidays such as 25th December, but we would like to point out that the times can vary and be adapted depending upon events that are taking place at the Cinematheque Francaise and the Musee de la Cinemateque Francaise.

But privatisation for functions, corporate events and parties including children's parties can be organised and you would need to contact them for more information and costs, which can include guided visits of the Musee de la Cinematheque as well.

It is also highly recommended to make a reservation for a weekend, especially for Sunday brunch or a Saturday even meal.

Getting to this restaurant is also very easy via the public transport in Paris with several different options including the Metro stations called the Bercy stop on lines 6 and 14 or the and 6, along with the Cours Saint-Emilion stop.

There are also the Bus lines 24, 64, 87, 109 and 111 along with the Noctilien Night Bus Service via lines N32, N35 and N130 that will get you within walking distance of Les 400 Coups as well.

Alternatively, if you are travelling via train, you have the Gare de Bercy that services the TER and Intercities trains, plus on the opposite bank of the River Seine accessed via the Pont de Tolbiac, there is the Bibliotheque Francois-Mitterrand stop that serves the RER trains for the RER C Line.