Jazz Club Musique l'Improviste on the River Seine in Paris

Sometimes just known as l'Improviste, this is a converted canal barge located on the River Seine in Paris that specialises in Jazz concerts and offers bistro dining with a cocktail bar and outdoor music on the terrace during warmer months.


About Club Musique l'Improviste

The converted canal boat called the Improviste was first opened in October 2011 and it used to be moored on the Quai de la Loire at the Bassin de la Villette on the Canal de l'Ourcq, however, it has since changed its location to the Quai d'Austerlitz on the River Seine close to other floating entertainment venues in Paris.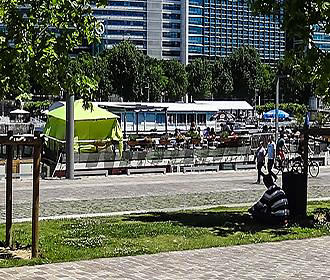 The high quality of different musicians and groups combined with an idyllic setting on an intimate and stylish renovated canal barge, have made this a very popular venue for Jazz enthusiasts. And during the summer months they have now opened a large terrace complete with palm trees, a covered pergola, sofas, chairs, sun umbrellas, etc for open air concerts and music.

On a Thursday there are specific events organised with completely free entry and the first Thursday of every month is called the Jam Vocal, with the second being called the Aperitif Spritz and Jazz, then on the third and fourth Thursdays there is a variety of events like Caribbean Jazz Flemenco, and most of these start at 5pm.

However, there are numerous other concerts that are organised throughout the year, although we would like to point out that many of these do require an entry fee. But Club Musique l'Improviste also supply a combination offer of the concert along with either a starter and main course or main course and dessert for €35 as of 2015.
Club Musique l'Improviste also provide what they call a Musical Brunch, which is held on a Sunday afternoon from noon where you can enjoy a hot and cold buffet with sweet and salty or sour delights, that will satisfy virtually anyones tastes, and this is a cost of €25 as of 2015.


Visiting Club Musique l'Improviste in Paris

You will find this entertainment venue in Paris open on a Tuesday to Sunday from 10am through to 1am, and it is located on the Quai d'Austerlitz in the 13th Arrondissement very close to the cultural venue of Les Docks - Cite de la Mode et du Design.

There is a great programme of Jazz concerts along with salsa, hip hop and other music events organised, and you can even purchase a club card to get a free concert along with discounts to others, but any person is welcome, although reservations are highly recommended.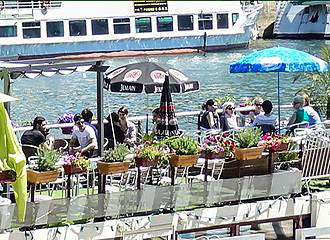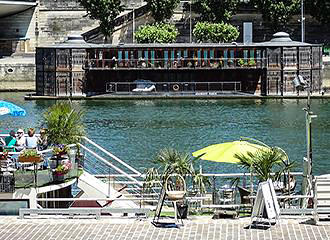 Now when it come to getting to the Club Musique l'Improviste, the nearest Metro stations are the Gare d'Austerlitz train station serving lines 5 and 10 along with the RER trains for line C, plus the Quai de la Gare stop serves line 6. But over the River Seine on the opposite bank you have the Gare de Lyon train station serving lines 1 and 14 of the Metro along with the RER trains for lines A and D.

The buses numbered 24, 29, 57, 61, 63, 89 and 91 will also get you close by, but there is also the Noctilien, which are the night buses in Paris that run when the normal buses stop, and always starting with the letter N, the numbers N01, N02, N11, N16, N31, N32, N33, N34, N35, N131 and N133 will also get you close by to this floating music venue.
Address and contact details
Club Musique l'Improviste, 36 Quai d'Austerlitz, 75013, Paris, Ile de France, France

Mobile Tel: +33 (0) 6 50 32 63 54


Related information
Club Musique l'Improviste photos
River Seine
River Seine photos
Transport options
Paris Metro lines 1, 5, 6, 10, 14
Bus lines 24, 29
Bus line 57
Bus lines 61, 63
Bus line 89
Bus line 91
Night bus lines N01, N02
Night bus lines N11, N16
Night bus lines N31, N32, N33, N34, N35
Night bus line N131, N133
RER Train lines A, C, D
Attractions close by
Cite de la Mode et du Design
Pont Charles de Gaulle
Cafe Barge
Wanderlust
Boeing Flight Simulator
Train Bleu restaurant
Gare d'Austerlitz
Emmanuel Fremiet statue
Galeries d'Anatomie Comparee et de Paleontologie
Jardin des Plantes
Menagerie Zoo
Jardin Tino Rossi
Canal Saint-Martin
Grande Galerie de l'Evolution
Square Theodore Monod