Gare Denfert-Rochereau is the oldest train station in Paris

This is actually the oldest train station in Paris, still standing as it was with its unusual layout, in the fact this station was built as a circle, yet it is still in use today as an RER train station with has architecture dating from the 1800s.


About Gare Denfert-Rochereau

This historical train station was designed by Alexis Dulong and construction started way back in 1842, yet it was not completed until the year 1846, and at that time it was named the Gare de Sceaux, which was due to the fact that it was a part of the old Sceaux railway line at the time.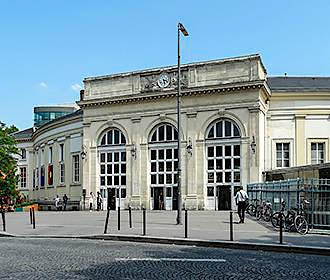 It was Claude Arnoux who had originally designed a rail network going into Paris that worked on a large gauge, yet also required places where trains could turn around, and this was why this train station was originally constructed.

In fact, the train station itself is circular, which meant that trains could turn around by doing a u turn on a loop, or racket as it is referred to. However, the type of railway track designed by Arnoux was not to last, due to the complexity of the type of trains that would have to be constructed to negotiate this track gauge and the types of curves.

But this train station in Paris did survive, can still be seen today, and is now classified as an historical monument in Paris, with its two allegorical figures on the top part of the front facade located either side of the clock. And these two bas relief allegory sculptures on the top triangular pediment were designed to depict two different railway inventions.
Of course, over the years, there have been additions and renovations, and track 3 along with platform 3 of the Gare Denfert-Rochereau were in use at one point, but this changed in 1937 when a new configuration was adopted with the introduction of electric trains. And it was in 1937, that a canopy on Platform 3 was installed.

And in 1977 the Gare Denfert-Rochereau became an RER train station for line B in order to extend the line to meet up with line A of the RER, or Reseau Express Regional as it stands for, at Chatelet - Les Halles.

However, even more recently, the track 3 and platform were only used to park trains, that is, until renovations were started on this platform, so that it could accommodate passengers once more, and this officially re-opened in 2014, but still with the same renovated canopy from 1937.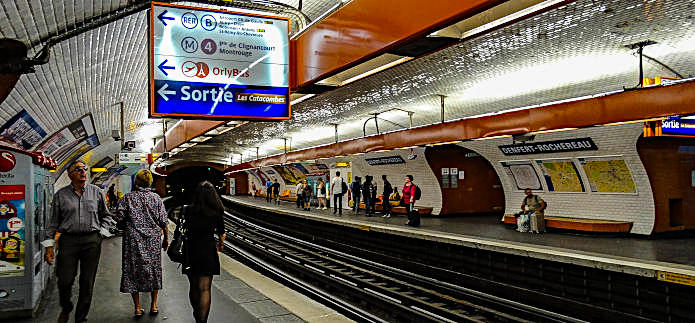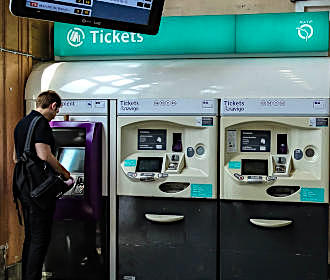 So even though this station sees thousands of commuters daily, there are not many that understand the importance of this historical building, or even know that it is the oldest train station in Paris that has been classified as one of the historical monuments within the city.


Visiting Gare Denfert-Rochereau Train Station

Obviously, as you have realised this is a train station in Paris that serves the RER via line B, and it is also a connection hub to the Metro line 6, and located within the Place Denfert-Rocheleau, this historical building can be found within the 14th Arrondissement of Paris.

You do also have different Paris buses that will get you to this part of the city including numbers 38, 68, 88 and 216.