Square Jacques Antoine in Paris

This is one of the small squares in Paris located within the Place Denfert-Rochereau that was name after the architect who designed the building for the French Mint, and not too long ago it was also home to a very large monument that was dedicated to Raspail, but unfortunately only the base of this remains today, yet there are a few park benches where you can sit and relax and enjoy the gardens.


About Square Jacques Antoine

This square was first laid out back in 1896, and was named after the French architect Jacques Denis Antoine, who designed the Hotel de la Monnaie, which is the building for the French Mint in Paris.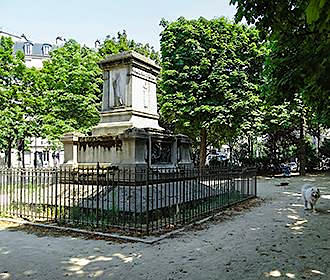 Now the Square Jacques Antoine is actually triangular shaped and is a small square in Paris that is planted with flowering cherry trees and horse chestnuts, along with bushes on the edges, and you can also find a few park benches where you can sit and relax.

It is also known as the Square Jacques Antoine - Espace Canin, which means that this is also a designated dog area, where people can take their dogs for a stroll, providing they are kept on a lead.
But going back to the 1800s, it was in 1889 that a large monument dedicated to the doctor, chemist and French politician, Francois Vincent Raspail, was created by the artist and sculptor Leopold Morice, with a bronze statue of the gentleman positioned on top.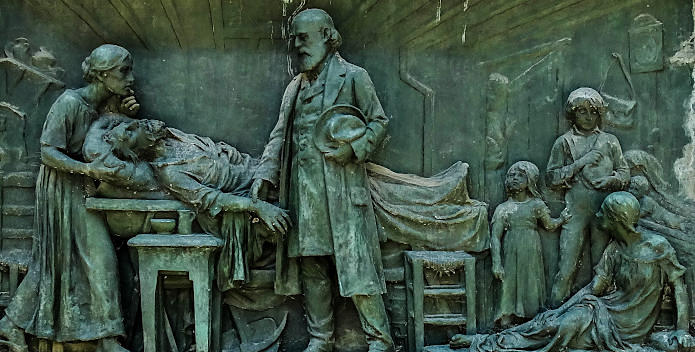 Unfortunately, during the German occupation, this was melted down along with numerous other statues in Paris, yet has never been replaced. But you can still admire two bronze bas reliefs on either side of the stone base, with one that depicts Raspail as a politician, and the other depicting his life as a doctor, which were also designed by Leopold Morice.

There is also an inscription on the column, which states F V Raspail and the dates 1794 - 1878, which was his date of birth and death, and he was laid to rest within the Pere Lechaise Cemetery in Paris. Then there is another bronze sculpture that looks like a laurel wreath and a branch stretching upwards, and underneath this are the words Souscription Nationale, which translates in English to National Subscription.


Visiting Square Jacques Antoine in Paris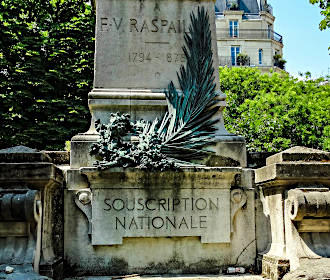 The Square Jacques Antoine is one of three green areas located within the Place Denfert-Rochereau in the 14th Arrondissement, which is also home to the Catacombes de Paris, along with other museums in Paris that are related to World War II including the Musee du General Leclerc et Musee de la Liberation de Paris.

You may be pleased to know that the square is accessible to the disabled, plus it is open 24 hours a day, every day of the year.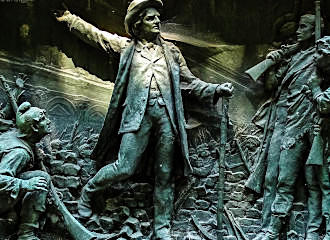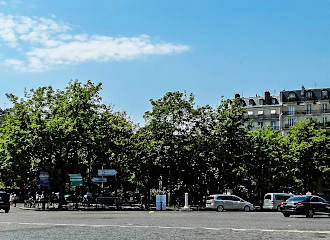 Now when it comes to getting to the Square Jacques Antoine via public transport in Paris, you will find that the nearest Metro station is at the historcal Gare Denfert-Rochereau train station serving Metro line 4 and line 6, although there are other entrances also around Place Denfert-Rochereau.

Yet the oldest train station in Paris also serves line B of the RER trains, which is great for getting to Charles de Gaulle Airport.

Additionally, you could also utilise the Paris Buses, and the bus lines 38, 59, 64, 68, 88 and 216 along with the Noctilien night buses via lines N14, N21 and N122 that will all get you close by, not forgetting the OrlyBus, which is the dedicated shuttle bus for getting to Orly Aiport that has its stop outside Gare Denfert-Rochereau.