Jardin Atlantique public gardens at Gare Montparnasse

The Jardin Atlantique is a public garden that is located in the Montparnasse area of Paris and is situated above the Gare Montparnasse train station tracks and platforms and has its own specific theme, and includes outdoor activities.


About Jardin Atlantique

The Jardin Atlantique was created in 1994 by the landscape and design architects Francois Brun, Christine Schnitzler and Michel Pena and is located above the Gare Montparnasse train station in the 15th Arrondissement of Paris.

The garden itself is on a large roof above the Gare Montparnasse that is approximately 17 metres above ground level and is supported by 12 pillars and there are large ventilator shafts that had to be strategically placed to allow air flow within the station itself, and the garden is spread over an area of over 3 hectares.

The concept for the garden was originally inspired by the significance of the newer Gare Montparnasse train station that transports people to the Brittany region and the Atlantic Ocean. However, the original station was named the Gare de l'Ouest and is where General Philipppe Leclerc made the German commander Von Cholitz surrender during World War II, but this was torn down to make way for the Montparnasse Tower, which is the only skyscraper in Paris.

Anyway, getting back to the Jardin Atlantique, the design is meant to relate to the ocean hence the name of Atlantic Garden and there are several hundred different trees and plants with one side of the main promenade area depicting Europe such as plane and hackberry trees and the other depicting America with lime trees etc, by the use of different types of trees and plants.
The garden itself is like waves with its undulating lawns and pathways, plus there are two elevated walkways that are meant to be like gangways on a ship and lampposts that are meant to represent ships masts.

There are numerous evergreen pines along with perennial plants provides a variety of colours including shades of white mauve and blue that reflect colours of the azure and ocean.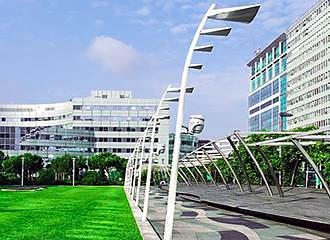 Plus the Jardin Atlantique was also inspired by the geometrical lines of a French styled garden and those of English landscape gardens with some dense vegetation, however the ocean theme is ever present like the blue railings that are around the childrens play area which are meant to represent the railings on a ship, plus this area is in a pontoon design as well.

This is a lovely place for travellers to relax prior to leaving the Gare Montparnasse train station, but it is also a great park for those on holiday in Paris, because at one side of the garden there are tennis courts that link with a sports club, there is a fitness area, two table tennis tables and as we mentioned earlier, the childrens play area along with plenty of different benches.

In addition to these, there are many different monuments and water features to discover and one called the Fontaine des Hesperides, produced by the sculptor Jean-Max Llorca is composed of several large meteorological instruments with a thermometer measuring temperature, an anemometer measuring the wind speed, a rain gauge, etc and this is surrounded by jets of water.

You will also discover a sun deck, a secluded and peaceful garden area for meditation and relaxation, and this area has mature trees that provide welcome shade on those hot summer days.

Yet there was once also the Memorial du Marechel Leclerc de Hauteclocque and the Liberation de Paris museum along with the Musee Jean Moulin, that is dedicated to Jean Moulin who is renowned for the part he played within the French Resistance during World War II.

Although in more recent times these museums in Paris have moved to Place Denfert-Rochereau where there is also now an additional section that you can discover, which is underground and was a command centre during World War II. They have also changed their names slightly to the Musee du General Leclerc et Musee de la Liberation of Paris et Musee Jean Moulin.


Access to Jardin Atlantique

When you reach the Montparnasse area there are sign posts directing you to two different lifts on the road running alongside that are available to access the Jardin Atlantique. However, there is also a staircase located on the second level of the train station located near the departure lounge that will also provide you access to the garden, although any of these are not as clearly marked as they could be.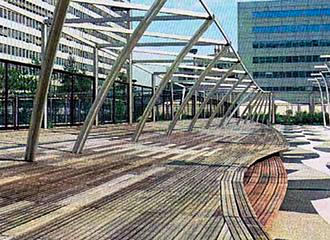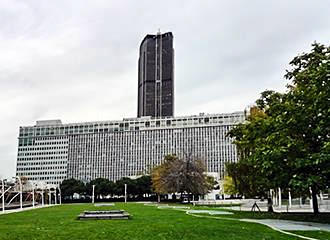 Located within the 15th Arrondissement of Paris, because there are several office buildings located at the edge of the garden, you will find that many workers frequent the Jardin Atlantique on their breaks or for a tranquil lunch in the sunshine, but there are still many quiet spots to enjoy.

And being a public park, it is completely free of charge and open every day of the year, although only from dawn until dusk, so the hours vary depending upon the time of year, and the nearest Metro station is at the Gare Montparnasse train station serving metro lines 4, 6, 12 and 13. This train station also serves the Transilien line N, the Ter and high speed TGV trains as well.

However, you can also access this garden in Paris via bus on numbers 28, 39, 58, 88, 91, 92, 95, and 96, but we would like to point out that only parts of the Jardin Atlantique Garden are accessible to the disabled.

Guided tours of many gardens in Paris are organised each year, and the Jardin Atlantique is no exception and these are organised by the Direction des Parcs et Jardins located at 1 Avenue Gordon Bennett, 75016, Paris. So, for further information on one of the garden tours available, you would need to telephone +33 1 40 71 75 60.