Brasil Tropical dinner and cabaret in Paris

With its warm and exotic decor, the Brasil tropical will make you feel like you are at a carnival in Rio with the traditional Brazilian cooking through to the rhythms of salsa and lambada combining a dinner, show and DJ for dancing.


About the Brasil Tropical

The Brasil Tropical is one of the largest Brazilian clubs in France and one the largest Brazilian venue in Paris, which provides a whole evening of fun and entertainment in an exotic and enchanting setting, and is ideal for a night out when you are on holiday in Paris.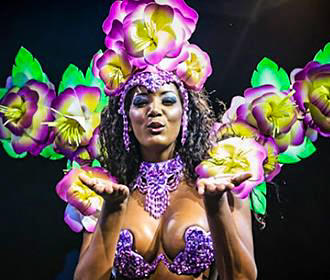 This is a dinner spectacle venue, where you can enjoy a meal, have a drink, watch a cabaret show and then dance to the early hours, all in the one place, with a theme of Brazil, making you feel like you were at a carnival in Rio.

You start off the evening with a welcome reception and a cocktail then a meal is served at 8pm, which is based on traditional Brazilian cuisine accompanied by the rhythms of salsa and samba music in the background.

And there is a wide selection of different meats available to choose from such as chicken legs, sausages, lamb and pork that is cooked on a large rotisserie and these are accompanied by Feljoada, which is a national dish of Brazil based on black beans or there are salads and rices as well. Desserts vary depending upon what is available through the seasons.
Wine is also served, but at the discretion of the management, and at the end of your meal you are also served coffee.

After your meal, under the artistic direction of Zaza Fernandez the cabaret show itself starts at 10pm where you can enjoy different Brazilian dances including the samba and lambada from the impressive troupe in their elaborate costumes, singing, the limbo and other acts from different artists, and this show in Paris lasts one and a half hours.

Then it is time to party the night away with dancing to the sounds from a DJ until 1am, to round off a fun and enjoyable evening of entertainment in Paris at the Brasil Tropical.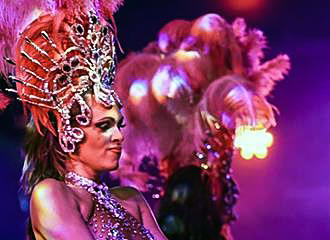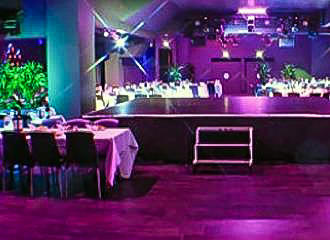 Access to Brasical Tropical restaurant and cabaret

The Brasil Tropical is located in the 15th Arrondissement close to the Tour Montparnasse Tower and lots of other tourist attractions in Paris such as the Musee Jean Moulin and the Memorial Leclarc and the Liberation of Paris museum that are located in the Jardin Atlantique above the Gare Montparnasse train station.

There are three different formulas to choose from and as of 2013, the basic one called Tropical is €95 per person, whereas if you opt for the Fortaleza at €115, then you also get the added benefit of a half bottle of champagne as well.

Yet the ultimate formula is called the Prestigio for a cost of €185 as of 2013 and for this you get champagne, which is served at the discretion of the management along with the wine in addition to having privileged seating for the cabaret performance.
You do have to book your tickets in advance and this can be done via telephone on +33 (0) 1 42 79 94 94, and the time of arrival is 7.30pm for your welcome cocktail, but please do bear in mind that smart casual dress is required and no trainers are allowed.

The Brasil Tropical can also accommodate events such as private and corporate functions, plus they can even provide services such as drop off and pick up for you outside the venue, so that you do not have to worry about how you are going to get back to your hotel in Paris in the early hours.

However, if you are thinking of arriving via public transport in Paris then the nearest Metro station is the Montparnasse Bienvenue, plus the RER trains also arrive at the Gare Montparnasse train station in Paris.
Address and contact details

Brasil Tropical, 36 Rue du Depart, 75015, Paris, Ile de France, France

Tel: +33 (0) 1 42 79 94 94
Fax: +33 (0) 1 43 20 18 40


Transport options
Paris Metro lines 4, 6, 12, 13
Bus line 28
Bus line 58
Bus line 68
Bus lines 82, 88, 89
Bus lines 91, 92, 95, 96
Night bus lines N01, N02
Night bus lines N62, N66
Night bus line N145
Attractions close by
Tour Montparnasse
Mix Club Nightclub
Square Gaston Baty
Cesar Palace Cabaret
Musee de La Poste
Jardin Atlantique
Maison de la Bretagne
Musee Bourdelle
Coupole Brasserie
Fondation Cartier pour l'Art Contemporain
Ludovic Trarieux monument
Lion of Belfort statue
Fontaine des Quatre Parties du Monde
Jardin du Luxembourg
Observatoire de Paris