Square Gaston Baty in Paris

This triangular shaped square was named after an actor who worked at theatres in the Montparnasse area, and there is a small childrens playground along with a statue of Chaim Soutine who was an expressionist painter, plus there are pretty flowerbeds and park benches where you can relax.


About Square Gaston Baty

The Square Gaston Baty is actually triangular in shape, covering an area of just over 1000 metres squared, and was renovated in 2013 to provide additional entrances, a larger childrens playground and more flowerbeds to complement the existing plants, bushes such as holly shaped like cones, and the lime trees.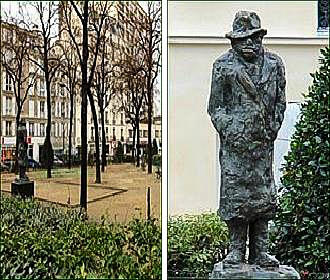 Now this square was named after Jean-Baptiste-Marie Gaston Baty, usually just known as Gaston Baty, who was a French playwright and producer that was born in 1885, and he was a major influence in theatre during the 1920s and 1930s, often performing at theatres in Paris within the Montparnasse area, which is where the Square Gaston Baty is located.

You will also find that there is a bronze statue located within this square in Paris, that is dedicated to the memory of Chaime Soutine, who was born in Russia, yet resided in Lithuania, before arriving in Paris in 1913, and this was created in 1967 and installed within the square by the City of Paris in 1987.

And this life sized statue was produced by the Lithuanian artist, Arbit Blatas, who was a friend of Chaime Soutine, and he arrived in Paris when he was only 18, and became well known for his Expressionist style of paintings and sculptures, which is why his works can be discovered in many different places and prestigious museums throughout the world.


Visiting Square Gaston Baty
The Square Gaston Baty is located in the 14th Arrondissement close to many other tourist attractions in Paris including the Gare Montparnasse Cemetery and the garden above the Gare Montparnasse train station, which is home to different museums.

And when it come to reaching here via public transport in Paris, the nearest Metro station is the Edgar Quinet stop serving line 6, and the Gare Montparnasse serves one of the Transilien trains on line N that serves specific areas of Ile de France, along with metro lines 4, 6, 12 and 13.

Now, you may be pleased to known that the Square Gaston Baty is accessible to the disabled, and there are three different entrances, which are located on the Rue du Maine, the Rue Jolivet and the Rue Poinsot.

But you will only find It open from 9am at weekends and on National French holidays, and from 9.30am during the weekdays, yet closing times vary from as early as 5pm in winter through to approximately 8.30pm in summer.