La Coupole Brasserie in Paris

The Brasserie La Coupole is probably one of the most famous brasseries in the world and is a symbol of the history related to the Montparnasse area where it is located, and being a true Art Deco masterpiece, this venue is registered with the historical monuments in Paris.


About La Coupole restaurant

It all started with the determination of Ernest Fraux and Rene Lafon who were originally from the Auvergne region of France and this restaurant was decorated out in an art deco style during the roaring twenties, with pillars treated in imitation marble, Cubist inspired mosaics and pilasters adorned with paintings by minor masters of the time.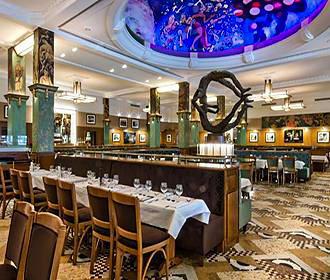 The grand opening of La Coupole was in 1927 and was attended by artists, novelists, models, socialites, easy women and many others, with the action flitting between the tables and the American style bar.

Numerous famous people were to be seen at La Coupole including Man ray, Pablo Picasso, Mistinguett and Josephine Baker, and then after world War II when France was liberated, things started to change, but this restaurant in Paris still continued to thrive, yet with a different feel although this art deco brasserie was still frequented by famous people like Jean-Paul Sartre who always sat at table 149.

The years continued to fly by at La Coupole, which is where Marc Chagall celebrated his 73rd birthday and Francois Mitterrand came to eat one of the famous Indian lamb curries that have been served at this restaurant since it first opened.
Also, this brasserie in Paris has not changed all that much over the years and still has the same art deco style feel, yet in 2008 four artists came together to decorate the interior dome in order to reflect the original spirit of La Coupole, which has always been nature, women and celebrations and so, the enchantment continues with this piece of history in Paris.


Cuisine at La Coupole restaurant

The chef and his team are always renewing their menu according to the different seasons and what fresh produce is available, however, you can always be sure that the traditional Indian curry of Label Rouge lamb is still being served and has become a part of the tradition of this art deco historic brasserie.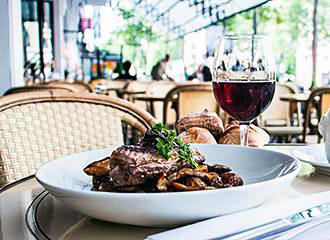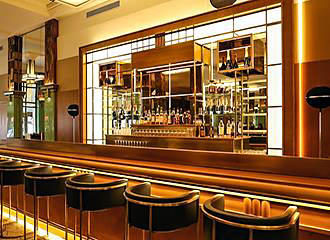 There are many delights on offer from the a la carte menu like starters such as Burgundy snails marinated in Chablis, Duck Fois Gras with fried chutney and toasted country bread or cooked and raw salmon with fresh green beans, lemon confit and a bitter herb cream, and these range in cost from €9 up to €21.

A la carte main courses range in price from €20 up to €41 as of 2012 and for fish you could choose whole lobster roasted in its juice Waldorf style with celery, apple, walnut, cream of truffle and lobster sauce or fillet of sea bass with Noirmoutier sea salt, fresh herbs and spices served with steamed leaks. Meat main courses could be a farmhouse chicken supreme from Landes cooked Pot-au-feu style in a tarragon sauce or breast of duck served with apple and mango French toast.

Yet other options could be a sirloin steak of Charolais beef tartare from the Burgundy region in France or the sumptuous Dover Sole, yet for another completely different type of meal how about trying the Sauerkraut and sausages with Riesling from the Alsace region.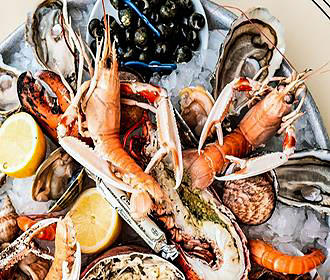 The very tempting desserts range in cost from €8.50 to €12 and are delights such as crème brulee with Bourbon vanilla, profiteroles with warm Valrhona chocolate, apple tart with fresh milk ice cream or tiramisu with amaretto and caramalised hazlenuts to name but a few desserts on offer.

However, there are actually menu options available such as a starter and main course or a main course and dessert for a cost of €29, which is available from a Sunday evening through to a Friday evening, but not on the eve, or the day of a national French holiday. You can also opt for a three course option, which is a cost of €34 as of 2012 and is available every day except for the evening prior to a holiday and on the day of a national French holiday. Plus there is a childrens menu available for those aged between 4 and 12 that includes a main course, dessert and drink for €13.

Shellfish is also a major speciality at La Coupole, with the oysters and seafood chosen for their quality, freshness and origin and there is a fabulous range of different oysters such as the Normandy Grand Cru oysters. And you can also get seafood platters which range in cost from €26 up to €115 such as the Royal Platter which includes a whole crab, whole lobster, 4 langoustines, 4 prawns and a selection of oysters.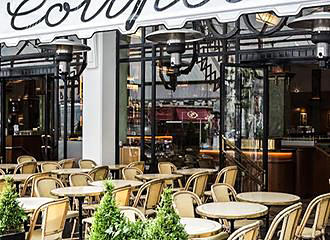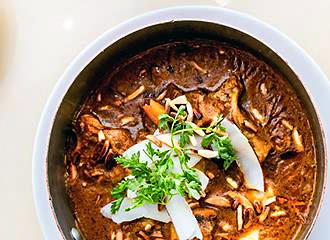 Then there is a terrace menu from €8 through to around €26, where you can soak up the sun and enjoy the neighbourhood ambience along with a quick bite to eat, such as a La Coupole Club sandwich served with French fries, a lobster salad or Caesar salad and much more. But you can also purchase seafood to takeaway.


Access to La Coupole restaurant in Paris

Located in the 14th Arrondissement of Paris close to Tour Montparnasse Tower, La Coupole is open every day of the week serving breakfasts from 8am on a weekday and 8.30am at weekends.

There is a continuous service from 12 noon through to 12 midnight from a Sunday through to a Wednesday, yet from a Thursday through to a Saturday, this brasserie and restaurant stays open until 1am.

It is not necessary to book a table, although during peak times this is recommended, yet if you are planning to arrive as a group of ten people or more, then you would need to book in advance.

In addition, there is free WiFi internet access, plus this historical art deco monument in Paris can also accommodate special events with its private salon, the dance hall, American bar and famous pillars of the roaring twenties, whether it be for a personal celebration or a corporate event.

There is also a valet service at night from a Monday to Saturday, staff speak French, English and Spanish, and the menu is even laid out in English as well for those of you who are not too good at understanding the French language.

The nearest Metro station is called Vavin, on line 4, or there is the major Paris Montparnasse train station close by to La Coupole as well.