Tour Montparnasse Tower in Paris

Even though the Tour Montparnasse Tower is one of the more modern monuments in Paris and is still criticised by many who do not think there should be any sky scrapers within the city, because of its location and its height, it has become one of the major tourist attractions in Paris due to the fabulous panoramic views.


Facts about the Building of Montparnasse Tower

The official name for the tower is Tour Maine-Montparnasse, but is usually just known as the Tour Montparnasse or Montparnasse Tower, and at a height of over 200 metres, it is the only skyscraper in Paris

When you look at the history of the Tour Montparnasse, you find that it ended up being built above the Metro and several underground lines, which meant that everything had to be reinforced substantially. In fact, the building foundations were constructed with 56 reinforced concrete pillars that are 3.5 metres in diameter each and these go down as far as 69 metres below ground level.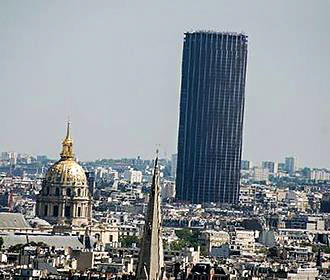 ---
Weighing in at an impressive 150,000 tons, there are six underground levels and a total of 59 floors that provides a total surface area of just over 120,000 metres squared and with a facade of 40,000 metres squared, which means this high rise tower has a total of 7,200 windows.

There are 5 freight lifts and an additional 25 lifts that sever different floors. One of these is a lift that will take you to the 56th floor, and this is one of the fastest lifts in the world, that will get you to this floor for the panoramic views in 38 seconds at speeds reaching 60 kilometres per hour during the climb.


Visiting Tour Montparnasse Tower

Known as the Panoramic floor, the 56th floor of the Tour Montparnasse Tower is accessible to tourists, enabling you to get the best possible views of many different monuments in Paris, as it is in a central location within the city.

Protected from the wind and rain, this floor is heated in winter and air conditioned in summer and is a comfortable location for the panoramic views through its large plate glass windows that provide a 360 degree view over the city of lights.
On this floor there is a Visitors Centre with a permanent exhibition containing 185 archive photos of Paris displayed gallery style on the walls, plus there are interactive panels where you can discover more about some of the famous monuments and landmarks in Paris that you will be looking out towards.

In addition to these, there are interactive markers and quizzes, all multilingual, that provide details and information on many different tourist attractions and things that have the city famous including the bridges over the River Seine.

And although you will be whisked up to this floor very quickly via the lift, if you do want to go up to the roof terrace on the 59th floor, then this is only accessible via stairs, but this is an outside viewing platform, which is actually the highest in Paris, and therefore is ideally suited for a walk around on a nice day.

But getting back to the 56th floor of the Tour Montparnasse Tower, there is a souvenir shop for mementos, books etc all relating to Paris and its monuments along with a cafe in Paris located here called the 360 Cafe where you can stop for snacks, beverages and a bit of relaxation.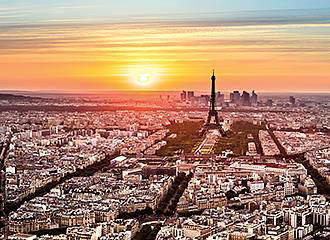 ---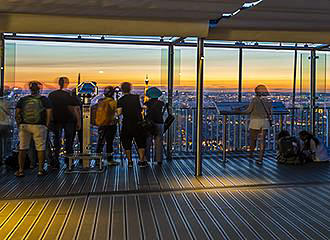 Yet if you are more into French cuisine with fine dining, then why not consider booking a table at the Ciel de Paris that is also inside the Montparnasse Tower, which is a gourmet restaurant in Paris and the highest restaurant in Europe that serves gourmet French cuisine, with of course the fabulous panoramic views, especially of an evening when the city of lights is transformed.

There are also orientation tables dotted around, so that you are able to discover different tourist attractions in Paris from all different angles, and to give you an idea, on the west side you have the famous Eiffel Tower where you can view it in all its glory level in height between the 2nd and 3rd floors.

On the north side you can see Les Invalides, which is home to different museums in Paris and the Tomb of Napoleon Bonaparte I, then further on to the Sacre Coeur Basilica and toward the Roissy-Charles de Gaulle airport far into the distance.

To the east and by looking down you will see the famous Montparnasse Cemetery, but further off is the Place de la Bastille with its Colonne de Juillet or July Column and the further again is the Bois de Vincennes.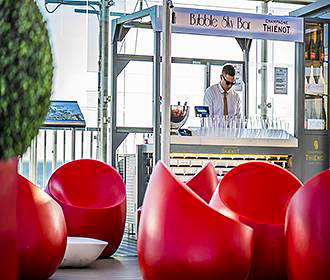 ---
There are of course many other monuments and landmarks in Paris that you will be able to spot such as the famous Musee de Louvre Museum, the fabulous Notre Dame Cathedral and the Arc de Triomphe to name but a few others.


Access to the Tour Montparnasse Tower

The Tour Montparnasse Tower Visitors Centre on the 56th floor is actually open every single day of the year and from April through to September this is accessible from 9.30am through to 11.30pm.

However from October to the end of March on a Sunday through to a Thursday this area is open from 9.30am through to 10.30pm, but on a Friday Saturday and on all national French holidays it is open from 9.30am through to 11pm. Yet we would like to point out that the last lift up to the panoramic views and the visitors centre is a minimum of half an hour prior to closing time.

The cost of entry to the 56th floor and to the viewing terrace on the 59th floor for an adult is €17 as of 2018, but students and those aged between 12 and 18 have a reduced price of €15 and a child between the ages of 7 and 11 is a cost of €9.50. Children under the age of 4 are free. For those that are disabled with proof, the charge is only €8.50 as of 2018, but the outdoor roof terrace would not be accessible.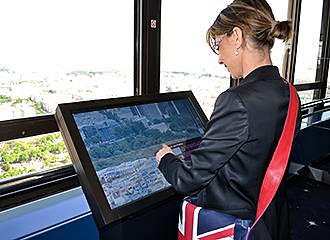 ---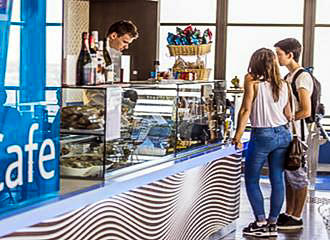 Guided visits for groups are also available, but these do need to be booked in advance by telephone to the partners called Cuitival on 0825 05 44 05, with the call being charged at 40.15 per minute, however, this cost may vary if phoning from abroad or on a mobile phone.

Now to get to the terrace, visitors centre, the cafe etc you would need the entrance at the foot of the Tour Montparnasse Tower on the Rue de l'Arrivee side and you will find that there is a paid public parking area located beneath the Tour Montparnasse for those of you with your own vehicle.

Alternatively, if you are arriving via public transport, then the nearest Metro station is called the Montparnasse-Bienvenue stop, which serves lines 4, 6, 12 and 13 and this is actually at the Gare Montparnasse train station that serves the TER, TGV and Transilien lines.

However, the Buses via lines 28, 58, 82, 89, 91, 92, 94, 95 and 96 along with the Noctilien Night Bus Service via lines N01, N02, N12, N13, N61, N62, N63 and N145 will get you within walking distance of this tourist attraction.

Yet for those of you arriving in Paris directly from Orly Airport or Charles de Gaulle Airport, you will find that there is a stop located by the Gare Montparnasse for Le Bus Direct, which was formerly known as Les Cars Air France and is also only a short walk away from the Tour Montparnasse.