Ciel de Paris Restaurant in Paris

The Ciel de Paris is a gourmet restaurant that is located within the Montparnasse Tower and this is not just the highest restaurant in Paris with its fabulous panoramic views, but it is actually the highest restaurant in Europe and provides gourmet French cuisine for a night to remember.


About the Ciel de Paris Restaurant at Montparnasse

Designed by the interior designer Noe Duchaufour-Lawrence, the decor of this gourmet restaurant has recently been transformed into a modern, contemporary and bespoke venue on the 56th floor of the Montparnasse Tower with its fabulous views of the city where you can see the Eiffel Tower and many other landmarks.

Looking around the Ciel de Paris you will see that it is fitted out in soft satin grey with a sleek curved central bar, soft amber lighting from the lights around the circular mirrors on the ceiling and chairs made of grey resin with orange leather to match the warm subtle glows from the lights.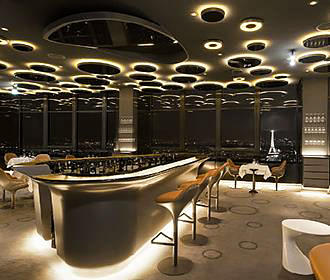 Just having a meal here is a unique experience you will never forget, not just with the decor or the fine gourmet French cuisine, but for the panoramic views from the tallest skyscraper in Paris and of an evening, when you can see the lights outside twinkling, this is an even more romantic setting.


The Gourmet French Cuisine at the Ciel de Paris

As you would expect there is an A la carte menu option available with starters such as lobster with salad wild herbs and truffle vinaigrette or Fois Gras with marbled beetroot confit, spices and apple chutney with dried fruits. Then another course could be something like a fillet of fish with a champagne emulsion, chard, artichokes and candied chestnuts in a spicy sauce.

When it comes to a main course it could be beef tenderloin with truffle sauce, potato risotto, charlottes and mushrooms or farmhouse poultry stuffed with Fois Gras and served with seasonal vegetables. And then you also have some very tempting desserts like praline on old Breton shortbread from Brest in the Brittany region or poached pear with Tonka bean, soft caramel and hazelnut mousse.
As of 2018, the first course on the a la carte menu at the Ciel de Paris ranges in price from €32 upwards, the second course is from €40 upwards, which is the same price range for main course and then desserts are from €14, but of course this does not include any drinks.

However, there are different menus available and the first called Menu Balcon is available every evening, which includes a choice of starter, main course and dessert for a cost of €68 per person and although the menu does change a main course could be King prawns and squid Rizo with cockles and a herb butter sauce or Veal rump cooked at a low temperature with ratte potatoes and veal juice with tarragon.

The next is called the Menu Grand Ecran and with this you are guaranteed a table along the bay windows, so that you can enjoy the fabulous panoramic views to their utmost, and again this option is available of an evening and on a Sunday. For a cost of €136 as of 2018, you will obviously have a choice of starter, main course and dessert, plus you will get a bottle of champagne per person, or alternatively a combination of red and white wines and champagne as an aperitif along with coffee and mineral water.

However, if you have a slighter tighter budget, then you could opt for the Lunch Gourmand, or the Dejeuner Gourmand in French, which is available on a weekday from midday through to 2.30pm, although this is not available on any of the French holidays or on a Sunday.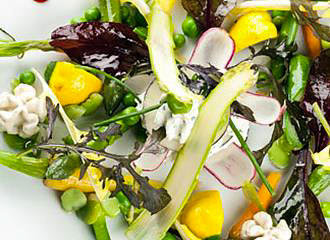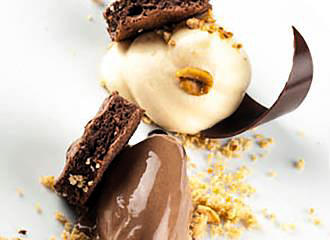 But with this option you could have a three course meal of starter, main course, dessert and coffee for €39 or two courses of either starter and main or main and dessert with coffee for only €30 as of 2018.

Yet if you want to start the day on a high note, then you will be pleased to know that the Ceil de Paris is open for breakfast from 7.30am through to 11am. And for a cost of €15 you can have a continental breakfast with a choice of hot drinks, freshly squeezed fruit juice, three mini pastries and a brioche toast with butter, honey and jam. However, you could opt for an assortment of three mini pastries for around €4.50, again cost is based upon 2018 pricing.

Also, this is one of the restaurants in Paris that is also open as a tea room from 3pm through to 6pm and known as the Bar a Millefeuille, you can discover savoury or sweet delights.

Plus there is a cocktail bar, which is open from midday through to 6pm and then from 7pm through to 11pm and serves champagne, wines and an incredible range of different cocktails, with the average cost of a cocktail being around €19. There are also different food options served as being designed to share such as a pastry selection or variety of cheeses served with a salad and hazelnut dressing that range in cost from €14 upwards as of 2018. Yet the Champagne bar area is open until 1am in the mornings.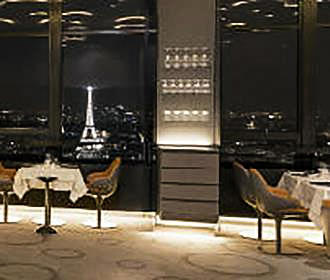 Access to the Ciel de Paris Restaurant at Tour Montparnasse

Located on the 56th floor of the Montparnasse Tower in the 15th Arrondissement of Paris, the Ceil de Paris gourmet restaurant is open every day for breakfast between 7.30am and 11am, lunch from midday through to 2.30pm and then again as a tea salon from 3pm to 6pm.

Then for the ultimate gourmet dinner this restaurant in Paris is open from 7pm through to 11pm with the first sitting being from 7pm through to 9pm and the second sitting from 9.30pm through to 11pm. Yet you could round off the evening at the Champagne Bar that is open until 1am.

Access is via a dedicated restaurant elevator which you will notice marked as Le Ciel de Paris, yet we would like to point out that because this restaurant can only accommodate approximately 145 people at a time, reservations are required for any of the menu options or the a la carte dining experiences.

You will also find that most people get dressed up when they are going to be eating out in Paris and this restaurant is no exception, so smart dress is required, especially of an evening.

As for getting to the Ciel de Paris, if you have your own vehicle, then there are paying car parks close by, such as on the Rue du Depart or the Rue de l'Arrivee, where you need Zone C to be closest.

However, if you are utilising public transport in Paris, then you would need the Metro station called Montparnasse-Bienvenue that serves lines 4, 6, 12 and 13 and this is at the Gare Montparnasse train station that serves the Transilien and TGV trains.

Alternatively, the bus on numbers 28, 58, 82, 89, 91, 94 and 96 along with the Noctilien Night Bus Service via lines N01, N02, N12, N13, N61, N62, N63 and N145 will get you within walking distance of this gourmet restaurant with its impressive views over Paris.
Address and contact details
Le Ciel de Paris, Tour Maine Montparnasse, 56 eme etage - 56th Floor, 33 Avenue du Maine, 75015, Paris, Ile de France, France

Tel: +33 (0) 1 40 64 77 64


Related information
Tour Montparnasse
History
Transport options
Paris Metro lines 4, 6, 12, 13
Bus line 28
Bus line 58
Bus lines 82, 89
Bus lines 91, 92, 94, 95, 96
Night bus lines N01, N02
Night bus lines N12, N13
Night bus lines N61, N62, N63
Night bus line N145
Gare Montparnasse
Attractions close by
Mix Club Nightclub
Brasil Tropical dinner
L'Adresse Musee de La Poste
La Maison de la Bretagne
Musee Bourdelle
Square Gaston Baty
La Coupole Brasserie
Musee Jean Moulin
Jardin Atlantique
Musee Hebert
Fondation Cartier pour l'Art Contemporain
Musee Pasteur