The Sacre Coeur Basilica in Paris

You can see the impressive Sacre Coeur Basilica, which has a full name of Basilique du Sacre-Coeur de Montmarte, from virtually everywhere in Paris as it is located on the top of a hill in the Montmartre area 129m above sea level.

So whether you are driving in France to Paris via the notorious Peripherique ring road, arriving at one of the train stations like the Gare du Nord where the Eurostar comes in, or on one of the cheap flights to Paris, then one of the main landmarks in Paris you will see on your arrival is the Sacre Coeur Basilica.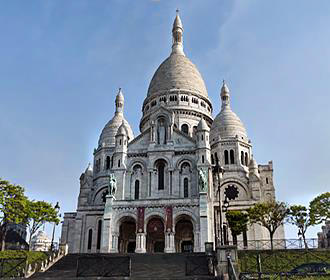 ---
The basilica can be seen from many other monuments in Paris like the Notre Dame Cathedral, the Arc de Triomphe, the Pompidou Centre, but just going to the Sacre Coeur Basilica and standing in front of it looking out onto Paris, provides a completely different perspective of the fabulous city of lights.

However, if you really want some spectacular views then by choosing to visit the dome on this monument, which is 200m above sea level, then on a clear day you can get to see the panorama views as far as 50km away, and in fact, after the Eiffel Tower, it is the highest point in Paris!

And yet the basilica is not just a monument in Paris for those that are sightseeing whilst on holiday in France, but it is also a place of pilgrimage and worship, with mass being held every day.
In fact you will find that many people go to the Sacre Coeur Basilica to pray, with the prayer to the Sacred Heart and prayer of adoration, or you may wish to go for confession and in addition to these, you can share your prayer intentions, or you could even ask for a candle to be lighted for you.

And when you look at the history of the Sacre Coeur Basilica and Montmarte area, you will find that this has been a sacred place for centuries with many famous saints like Joan of Arc visiting here.


Visiting the Sacre Coeur Basilica

The Sacre Coeur Basilica is located on a hill in Montmartre area in the 18th Arrondissement of Paris.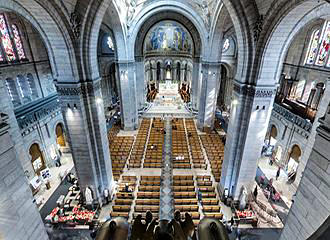 ---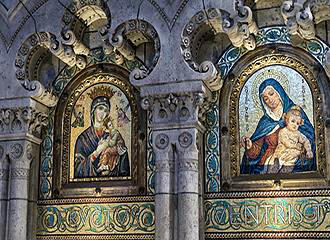 If you arrive by Paris bus via lines 30, 31 80 and 85, the nearest stop is at the bottom of the hill and it takes approximately twenty minutes to reach the Sacre Coeur Basilica, negotiating lots of steps.

Arriving by Metro, you would disembark at the Jules Joffrin Metro station and then either walk or take a bus to reach the top of Montmartre.

However there is a funicular (cable car) for those not so fit, which is the same cost as a Metro ticket. Although we would like to point out that it does not start right at the bottom and therefore there are still a few steps, and the same goes for the top where there are still steps to negotiate prior to reaching the Sacre Coeur. Also, because the cable cars can only hold a certain number of passengers, during the holiday seasons there is often a queue, but they do run every few minutes.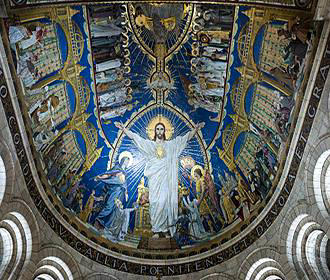 ---
Yet there is also another alternative, which is the Montmartrobus that runs from Place Pigalle to the top of Montmartre and stops at the Place du Tertre near the Sacre Coeur Basilica and then continues down the other side to Place Jules Jofferin and vice versa. And these smaller buses run up the steep small streets approximately every 15 to 30 minutes, which will save you quite a hike up all the steps, and at the same time keep some of your energy back for all the other tourist attractions you want to visit whilst in holiday in Paris!


Opening and service times at the Sacre Coeur Basilica

The Sacre Coeur Basilica is open every day from 6am through to 10.30pm for visitors with the last entry being 30 minutes prior to closing.

But if you want to climb up the dome to enjoy the fabulous views of Paris, then this is only open from 9am through to 6pm in winter and 7pm in summer. Plus it is also possible to visit the crypt, yet the times for this do vary quite considerably, so it wise to check prior, if this is something you would like to do.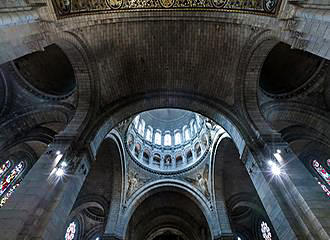 ---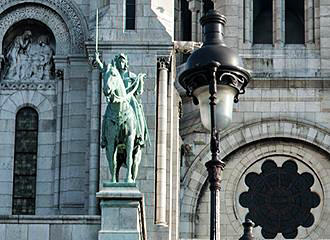 There is also a shop and a religious bookshop that are open every day except for a Monday between 9.30am and 5.30pm.

If you would like to attend Mass, then on a weekday these are conducted at 11.15am, 6.30pm and 10pm and on a Friday at 3pm there is a Mass with a time of adoration or Eucharistic procession. On a Sunday there is Solemn Mass at 11am, Mass at 6pm and again at 10pm.

Confessions are held every day between 10am and midday, between 2.30pm and 6pm and again in the evening between 8.30pm and 10pm.

However, throughout the year there are also special events that take place such as Holy Week and those of Christmas and Easter.