The Lapin Agile Cabaret in Paris

With the official name of Cabaret Au Lapin Agile, this is one of the traditional cabarets in Paris that has been running since before 1860 and is an ideal venue for all the family as you will not see half naked dancers like at the Moulin Rouge, the Lido or the Crazy Horse.


French folk songs

In contrast to many other cabaret shows, you will get to hear chansons, which are basically old French folk songs accompanied by the piano, some of which date back to the 15 century. You may also get to hear singers and songs from the famous Edith Piaf like La Vie en Rose, poems, other music and singalongs that get everyone involved.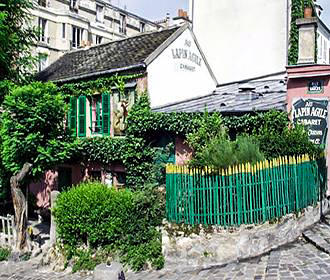 The history of Lapin Agile is fascinating and even though it is now classed as one of the major tourist attractions in Paris as it has become famous all over the world, especially through the painter Picasso, it still sticks to its true bohemian roots and therefore it is also very popular with the French and local Parisians.

This cabaret in Paris has a relaxed and very informal feel to it, just as it did in times gone by, like when Pablo Picasso and other famous writers and artists used to frequent the venue and the owners have still held on to these traditions that made the Lapin Agile so popular.

You will find yourself ending up sitting by an old wooden table that has the names and initials carved into them from numerous past visitors, and wherever you look you will see many of the old posters, poems, pictures, memorabilia and even copies of certain paintings that adorn the walls.
And because of this warm friendly and intimate atmosphere, everyone seems to join in and even the performers are casually dressed and interact with the audience, rather than being up on a stage. In fact, sometimes you do not even know whereabouts in the room that the next performance will start!

A night at the Lapin Agile cabaret will be something you will never forget with its unique atmosphere, however, a basic understanding of some of the French language can be beneficial, although there is no doubt that you will end up joining in, no matter how bad your French is, as it just cannot be helped!


Accessing Cabaret Au Lapin Agile cabaret in Paris

It is housed in a pastel coloured cottage style building on a steep cobbled street of the Butte Montmartre area of Paris in the 18th Arrondissement, this is also located close to the impressive Sacre Coeur Basilica.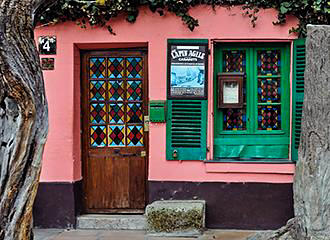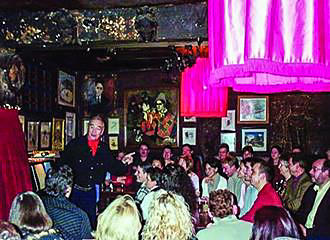 This quaint small building is easy to miss hidden behind some trees, and unfortunately you will not see the original sign hanging outside as this is now housed in the Musee de Montmartre, but there is a copy within the Lapin Agile so as to preserve this feature and its history at the same time.

And even though there are a lot of cabarets in Paris that do have their own restaurants, we would like to point out that this is not the case here, and therefore you would need to eat out prior to arriving for the evening, although there are plenty of restaurants in Paris that are located in the same area as this cabaret venue.

The Cabaret Au Lapin Agile is open on a Tuesday through to a Sunday from 9pm until 2am in the morning, although reservations are required due to the fact that it is a small place and is still one of the very popular tourist attractions in Paris that people come to visit from all over the world. Although we would like to point out that only French is spoken and no other language.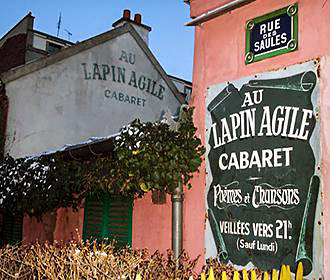 The cost of a show, which includes one drink is €24 per person and if you wish to have additional drinks then for an alcoholic beverage these are €7 each and a non-alcoholic drink is €6 per one.

Suitable for all the family, this informal venue means that the dress code is also casual and the entertainment normally runs for around four hours of an evening that makes it an enjoyable evening out doing something completely different.