History of Lapin Agile Cabaret in Paris

Located in the Montmartre area of Paris the Lapin Agile cabaret has been in existence for almost 150 years and this little pastel coloured house located at the corner of Rue Saint Vincent and Rue des Saules has a very rich and famous history, but is still going strong today for future generations to enjoy.


Folk songs around 1850 and 1875

It was on the northern slope of the Butte Montmartre on a cobbled street, that this enchanted house became a place for sing-alongs and folk songs in around the year 1850, and in 1875 a painter and caricaturist called Andre Gill painted a sign that had a rabbit jumping out of a saucepan. In French this painting was called Le Lapin a Gill and so the name soon became changed slightly to the Lapin Agile and then the full name of Cabaret Au Lapin Agile, which is still the same name this cabaret in Paris has today.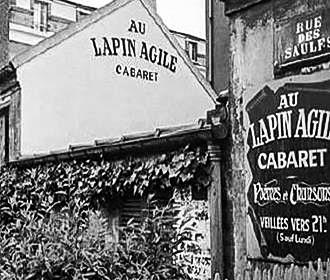 By the end of the 1800s there were many writers, poets, artists, sculptors, painters, comedians, musicians and singers that all came together of an evening for fun and laughter, yet influencing each other.

And the richness of these evenings were enhanced with Pere Freae with his guitar and cello playing and this is when everyone started to get together even more with friendship, singing together, recitals, etc.

Now one particular person was Picasso, who of course became one of the very famous painters and in 1905 he presented Pere Freae with one of his paintings that was located at the Lapin Agile until 1912 when Pere sold it for approximately 20 dollars. Incredibly, this very same painting was then sold at Sotheby's in 1989 for the incredible sum of 41 million dollars! This particular painting is now housed safely in a museum in New York, however, you can get to see memorabilia and other paintings etc at the Musee Picasso in Paris.
There are actually quite a lot of quirky and unusual tales although possibly the most famous story is that of the painter Boronali. You see, the work of Boronali was in an exhibition in 1910 and he gained much praise, especially for a particular picture, which was called Sunset on the Adriatic Sea, yet the admiration turned to laughter as the picture had been painted in from of the door of the Lapine Agile cabaret where Boronali used to frequent.

Getting back to the history of the Lapin Agile cabaret in Paris, unfortunately, the venue was going to be demolished, but was saved from this fate by Aristide Bruant, who was already a well known comedian and cabaret star that had his own cabaret venue but also performed at places such as the famous Moulin Rouge.

Then Aristide sold the Lapin Agile to the son of Freae, called Paulo, in 1922 for a favourable sum and under his management the cabaret started to flourish, and this improved even further when he married Yvonne Darte who was a singer.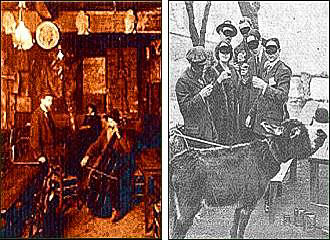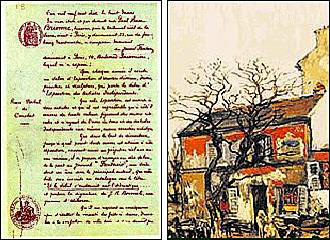 The show then continued to develop and many poets, singers, musicians and actors made the Lapin Agile their preferred cabaret venue for their debut performances and it also became popular throughout the world, not just with the French stars, but also for the many famous people from America and England who have enjoyed the atmosphere at the Lapine Agile, such as Charlie Chaplin who even played his violin there, Ernest Hemingway, Laurence Olivier and many more including the great pianist Sviatoslav Richter who was a regular at the cabaret venue.

Performances still continued and then in 1972, the Cabaret Au Lapin Agile was taken over by Yves Mathieu and since that date he, his wife and sons have been managing the venue with the same passion as Freae, so that the heritage of French song and the venue can continue for many years to come.

And of course, by sitting at one of the old wooden tables that has names carved into them from previous visitors, you can still get to experience this unusual and authentic French cabaret in Paris.