La Cremaillere 1900 Restaurant in Paris


Located in the Montmartre area by the Place du Tertre, La Cremaillere 1900 is a cabaret venue and restaurant in Paris that has a beautiful private garden along with a traditional feel restaurant complete with original beams.


A bit of history on La Cremaillere 1900

Originally the building was a shop from the year 1900, but in 1926 the store was purchased by Charles and Antoine Marino, and although they kept the original woodwork and beams, they turned the place into a restaurant and a cabaret venue.

They chose the name La Cremaillere 1900 and it soon became one of the most fashionable places in the area for musicians, singers, dancers, even chess players, artists and lovers, to mingle, enjoy the entertainment and the food on offer.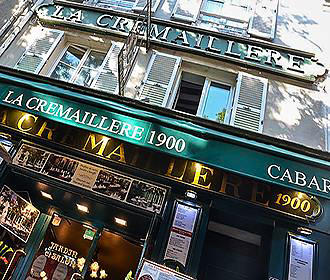 However, over the years this restaurant has changed hands several times, and then in 1987 La Cremaillere 1900 was purchased by a gentleman whos name was Rosenblum, and he set about improving the comfort level of the restaurant, the outside space along with the cabaret venue.

And after a few years, the cuisine also improved dramatically, especially with the introduction of the menu by the famous executive chef Monseur Boulard and now La Cremaillere 1900 has become one of the most popular cabarets in Paris in the Montmartre area that marries the art of dining with its entertainment.


About La Cremaillere 1900 restaurant and cabaret venue

This restaurant still has the traditional feel with lots of wood and a long bar with old pictures and paintings adorning the walls in between the windows and soft lighting, which in keeping with its name is decorated in a 1900 style with period paintings. Yet in contrast the tables are pristine with the crisp white table cloths all laid out with the carefully done napkins on each table.

However, there is also a beautiful private terrace with its cobblestones, chestnut trees, lamp posts, a Morris column and a fountain, where you can enjoy the traditional cuisine in fine weather and tranquillity, and when you decide to visit La Cremaillere 1900 restaurant you will feel like you are being transported back in time to the Belle Epoque era.
The Cuisine at La Cremaillere 1900

There is a wide variety of different dishes to choose from on the menu, which is traditional French food, with specialities of cuisine such as Boeuf bourguignon and frogs legs along with snails from the Burgundy region and duck Foie Gras.

There are set menus such as the Menu Renoir for €24 as of 2018 with a choice of starter such as Eggs in Cocotte with Smoked Salmon or French onion soup, a main course like Chicken breast with mushroom sauce or Lamb and pilaf rice with Colombo sauce followed by a dessert such as Home made apple pie or a Cheese plate.

The Menu Dali for €29 as of 2018 has a completely different variety of dishes and you could get delights such as Smoked duck breast duck liver, green beans, salad and tomatoes or Chicken liver terrine with Armagnac for starters, followed by a main course of Grilled Atlantic salmon served with shallots in a bearnaise sauce with potato gratin or Lamb shank with thyme and vegetables for instance, then a tempting dessert like Homemade Pear Pie with Almonds or Chef's Specialty Sweet Chocolate Cake.

La Cremaillere 1900 also has a Garden Menu called the Mucha du Jardin for €39 as of 2018, which again is a three course option and could be Homemade Duck foie gras with fig chutney or an assortment of seafood for starters, followed by a main course such as Pork shank Braised in Beer with a choice of Bearnaise, pepper or Roquefort Sauce and potatoes. Alternatively it could be Traditional Bouillabaisse with a combination of different fish or Veal T-Bone with mushrooms, then the dessert could be Pear and Chocolate charlotte or Red fruits iced macarons for instance.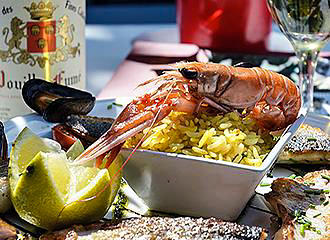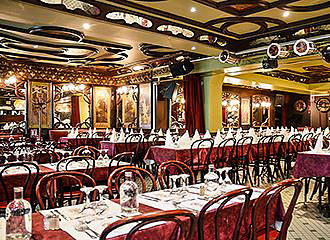 But for those of you that are just popping in for a quick snack before you visit one of the museums in Paris that are local like the Espace Dali, then you could opt for a toasted cheese and ham sandwich, a savoury omelette, one of their delicious crepes or even a burger and chips, plus there are also specials of the day, referred to as a Plat du Jour in French.

This restaurant also has a fabulous selection of seafood on offer such as whelks, prawns, langoustines, oysters and mussels and seafood platters that can be for one or two people consisting of crab, prawns, white fish, whelks, langoustines and much more, but all of specific qualities that have been rated and these range in cost from approximately €10 to €42 per person.

There are also a wide variety of different salads such as Cretan sheep's cheese salad with onion, peppers, tomatoes, cucumber and black olives, a Green salad with scallops, shrimps and smoked salmon or an Italian style salad with ham, parmesan, Mozzarella, basil, salad and tomatoes for instance.

For those of you that prefer Pasta, you could opt for a Lasagne bolognaise, Penne pasta with smoked ham and Roquefort cheese cream sauce or Pasta with basil and tomatoes sauce as an example.

Of course, there is always the a la carte menu to choose from at La Cremaillere 1900 and for starters which range in cost from around €9 up to around €20 as of 2018, you opt for a Homemade fish soup, Norwegian smoked salmon, A selection of cold meats, Burgundy snails or Frogs legs, plus others we have mentioned previously.

Meat dishes could be Duck confit with sliced potatoes baked with cream and cheese browned on top, a Grilled Entrecote rib steak with bearnaise sauce or Old fashioned traditional Boeuf Bourguignon with steamed potatoes. Yet for those of you that would prefer fish it could be Mussels and chips, a Fillet of St Pierre with Hollandaise sauce or a Hot Fisherman's plate with sea bream, smoked fish, salmon, etc.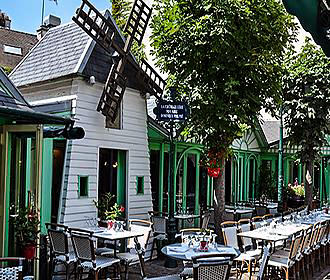 You will find that a main course varies in cost from around €12 up to €30 as of 2018 and the a la carte menu has plenty of other choices to suite virtually any persons tastes including some we mentioned above, not forgetting the fabulous desserts to round off a lovely meal.


Access to La Cremaillere 1900 Restaurant

Now we mentioned earlier that this place is a cabaret venue as well as a restaurant and shows, live music or just a pianist is held most evenings. However, they do a lot of different shows for groups along with private functions, so if you are thinking about seeing a cabaret show here, then you would need to book, and we would highly recommend that you organise this well in advance.

La Cremaillere 1900 is open from 9am right through to midnight so you can enjoy anything from a coffee break to a light lunch, or a full blown a la carte dinner with continuous service throughout these times. Plus you will be pleased to know that children are welcome, as are dogs on the terrace, yet it can also be a venue for a romantic dinner evening listening to the pianist.

Now when it comes to getting to the restaurant with public transport, you will find it located in the heart of Montmartre on the popular Place du Tertre in the 18th Arrondissement of Paris.

The nearest Metro station is the Abesses stop serving Line 12 or you could also utilise the Anvers stop that serves Line 6 and this way, rather than walking up the mass amount of steps you could then take the Funiculaire cable car.

However, there is also the Montmartrobus, which are the smaller buses that were designed specifically for the narrow streets of the Montmartre area, and one of these will take you right up the hill getting you very close to the Place du Tertre.