Le Passe-Muraille Sculpture in Paris

Based on a fictitious character by Marcel Ayme, this is a sculpture that has been designed as a man coming through a wall, and this unusual monument is located in the Montmartre area of Paris.


About Le Passe-Muraille Sculpture

The writer Marcel Ayme lived in the Montmartre area of Paris and since the 1980s the Place Marcel Ayme has been dedicated to this author.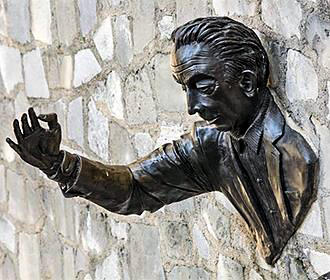 And one of the stories he wrote, which has been made into films, was all about a fictitious man called Monsieur Dutilleul who discovered that he had an unusual talent of being able to walk through solid walls. But instead of just using his talent for good, he abused his power and one day Dutilleul lost all his powers and ended up stuck in a wall.

It was in the 1980s that a sculpture was designed by the French actor Jean Marais, as a tribute to the author Marcel Ayme, and this monument in Paris is an interpretation of the character Monsieur Dutilleul half coming through a wall.

Made in bronze, Le Passe-Muraille is a larger than life person that has a leg and half his body missing, as though he has half managed to get through the wall and is a really good illusion, which provides an unusual photo opportunity for tourists that discover this sculpture while they are on holiday in Paris.
And there is one of the typical plaques you find all over the city located on the wall by the sculpture in a shape of a shield stating Histoire de Paris Le Passe-Muraille, which generally translates to History of Paris The Passer Through Walls and gives some details of the story behind this monument and the fictitious character.


Access to Le Passe-Muraille Sculpture

As we mentioned above, this bronze sculpture is located in the Montmartre area of Paris within the 18th Arrondissement by the Place Marcel Ayme and at the junction of the Rue Norvins, the Rue Girardon, the Rue Orchampt and the Avenue Junot, which is exceedingly close to where the French author Marcel Ayme lived.

Now when it comes to the Butte Montmartre area, this is very hilly with lots of narrow and winding streets along with numerous steep slopes and steps, so for the unfit, some of the area is not easy to navigate, and there is no Metro station very close by.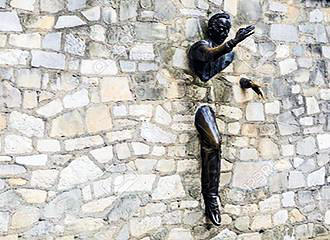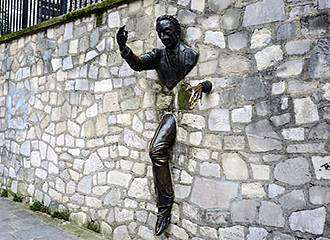 However, Le Passe-Muraille is within walking distance of the Saint Pierre de Montmartre church along with the Sacre Coeur Basilica, the Musee de Montmartre, Espace Dali and some lovely restaurants in Paris such as the Moulin de la Galette.

Yet the nearest Metro station is called the Lamarck - Caulaincourt stop on line 12, but you could also utilise the dedicated Montmartrobus, to get you reasonably close to this unusual sculpture and monument.